25 easy and delicious summer snacks for kids, all super healthy too!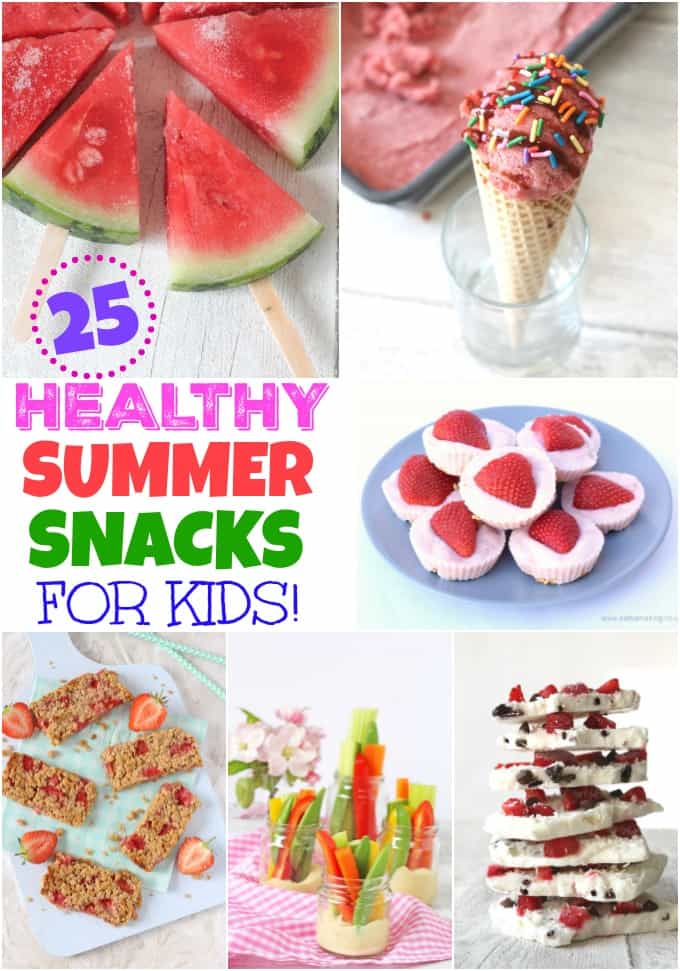 My small person is a complete "snackaholic"!
In the summer months when she is spending so much more time outside in the fresh air, I feel like she takes snacking to a whole new level and sometimes I find it difficult to keep up with her requests!
If your kids are constantly asking you to fetch them snacks, then try making a snack station in the fridge filled with healthy and filling snacks that they can help themselves.
I have a post all about how to make our own here: Fridge Snack Station for Kids.
With snack requests at an all time high over the summer months, I am always looking for new and healthy ideas for snacks to keep things exciting so here is my roundup of 25 of The Best Healthy Summer Snacks for Kids!
Happy Snacking!
A delicious and healthy snack made with just four simple ingredients. A great alternative to ice cream for kids and perfect for the summer!
Rainbow Fairy Wand Fruit Kabobs
This is a recipe that is very easy for your kids to help with (or to make entirely independently, depending on age!)
Watermelon Pops & Watermelon Slushies
Watermelons make fantastic snacks for kids as they quickly replace lost water and electrolytes. It has an incredible 92% average water content! It's also an excellent source of vitamin A, potassium and lycopene.
A super easy and very healthy recipe for Strawberry Sorbet made with just 3 natural ingredients. A brilliant frozen summer snack for kids! 
These healthy fruit popsicles use the whole fruit, rather than just the juice so kids get 100% of the nutrients in the fruit!
Super Easy Pineapple Ice Pops – 4 Ways
The super easy Pineapple Ice Pops might be the easiest popsicles you'll ever make!
Two Ingredient Strawberry Ice Cream
This two ingredient Strawberry Ice Cream is gluten free, dairy free, sugar free (apart from natural occurring fruit sugars of course) and vegan friendly.
Watermelon & Coconut Ice Blocks
These ice blocks are really yummy and the coconut isn't overpowering, which means even ardent coconut dislikers will enjoy them.
A healthy and fun snack for kids and perfect for parties too. Waffle cones dipped in chocolate and filled with lots of fresh fruit!
Healthy Watermelon Fruit Pizza
A healthy treat that can be frozen and served up on a hot summers day!
Raspberry & Coconut Energy Bites
Delicious and healthy energy bites packed full of oats, peanut butter, freeze dried raspberries and shredded coconut. A tasty and nutritious snack that adults and kids will love!
Chewy peanut butter granola bars! Not flaky, crumble all over your house granola bars… I promise:)
Chocolate Banana Frozen Yogurt Bark
A delicious and healthy snack made with just four simple ingredients. A great alternative to ice cream for kids and perfect for the summer!
Strawberry Frozen Yogurt Bites
Layered ombre strawberry frozen yogurt bites. Made with just two ingredients they are a fantastic and healthy snack for the kids to munch on this summer!
No Bake Almond Chocolate Bites
No Bake Almond Chocolate Bites are a perfectly balanced bite sized treat. They're nutty and chocolaty, and so tasty they probably won't last long. And as an added bonus, they're full of vitamins, nutrients and protein to give you a little natural energy boost.
Pomegranate Coconut Water Popsicles
Delicious and refreshing Pomegranate and Coconut Water Popsicles. A tasty and healthy frozen treat for kids this summer!
3 Ingredient Healthy Coconut Fruit Dip
This recipe has only 3 ingredients, takes just seconds to put together and always goes down a treat with my kids! It's great for lots of different occasions – try serving up as a healthy dessert, for party food or as part of a play date snack platter.
Child Friendly Hummus with Crudites
A child friendly hummus recipe served with crudites. Perfect as a snack or for summer picnics.
Strawberry Granola Frozen Yoghurt Bites
These bites taste just like little frozen strawberry cheesecakes. As well as being the easiest recipe ever, they are also perfect for pretty much any occasion, from after school snacks to desserts or to the most delicious breakfast idea for warm summer days!
Peanut Butter & Banana Popsicle
A super healthy, all natural, dairy free snack with only 3 ingredients!
These apple muffins are a great healthy snack that your kids can make as well as eat!
Healthy Strawberry Chocolate Chip Muffins
These Healthy Strawberry & Chocolate Chip Muffins are packed full of oats, banana, greek yogurt and honey and take just a couple of minutes to whip up in a blender or food processor.
Raspberry Ripple Frozen Yogurt Bark
Fruity Raspberry Ripple Frozen Yogurt Bark; an easy and fun snack to make this summer!
A delicious soft oat bar recipe packed full with sweet strawberries. A tasty and healthy snack for toddlers and older kids!
This spanish tortilla recipe is a twist on the original classic and makes a great healthy snack or lunch idea.