A refreshing and healthy summer snack for kids made with whole fruits.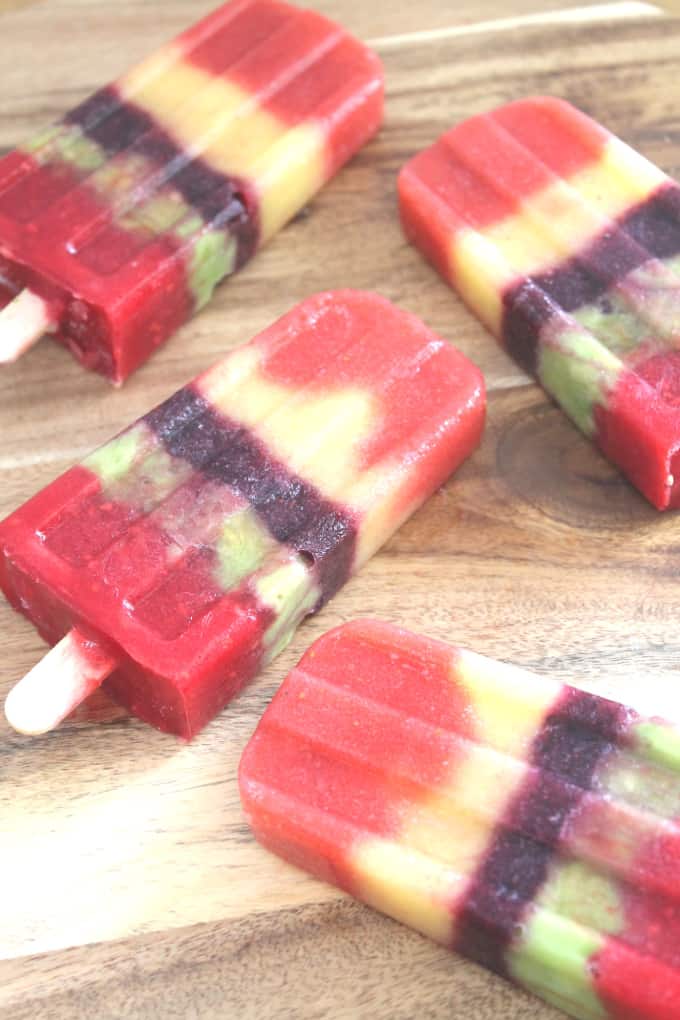 Looking out at the weather today it seems a bit odd to be blogging about popsicles. It's June so surely that means clear skies and warm days. Apparently not! Thankfully it was nicer over the weekend and I got a chance to use my brand new popsicle mold*. My fussy eater is obsessed with a certain brand of stripped ice lolly. My local shop only sells them singly and she was racking up quite a popsicle bill every week when the weather has been nice!
So I decided to make my own; much cheaper and probably a lot healthier too. It's also a great way to use up any last few bits and pieces of fruit lingering in the fridge or the fruit bowl. I'm all about reducing our food waste at the moment so this makes me happy!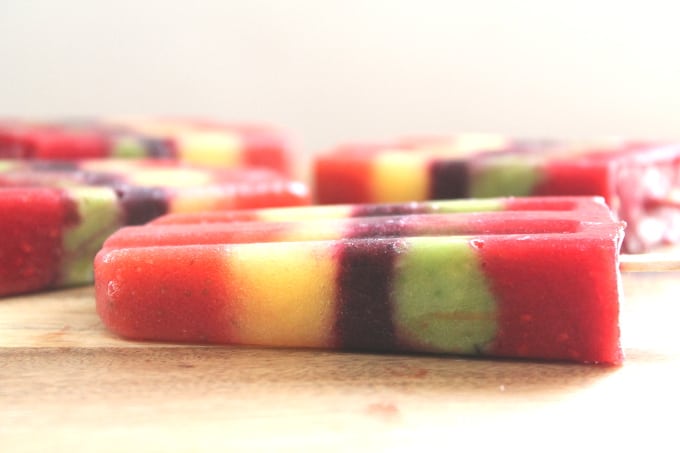 For these fruit popsicles I used strawberries, pineapple, blueberries, avocado and raspberries but you can try pretty much any combination depending on what fruit you have or what's available where you live. I had an avocado which was looking a bit beyond its best so decided to throw that in. I fully expected my fussy eater to dump the ice lolly when she got to that bit but she really surprised me by eating it all.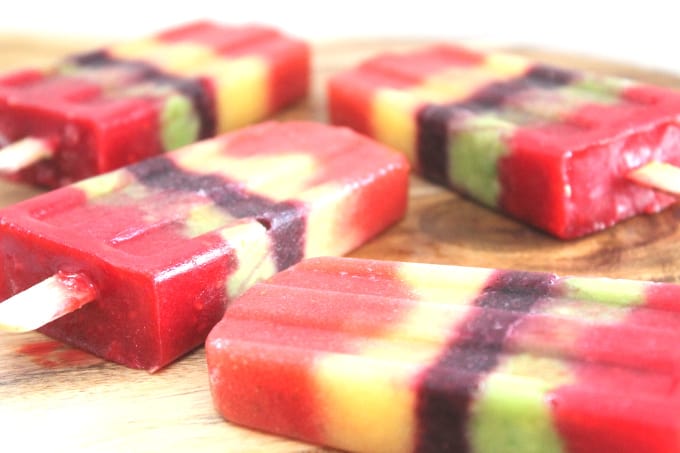 What I love about these popsicles is that they use the whole fruit, rather than just the juice so kids get 100% of the nutrients in the fruit (juicing removes the fibre and some water-soluble vitamins). And if it get kids eating fruit that they ordinarily wouldn't touch with a barge pole, well that's a massive bonus too.
Print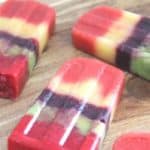 Fruit Popsicles
---
Prep Time:

4 hours

Total Time:

4 hours

Yield:

4

1

x
Category:

Snacks

Cuisine:

European
Description
A refreshing and healthy summer snack for kids made with whole fruits
---
Ingredients
150

g strawberries

150

g pineapple

125

g blueberries

1

small avocado

125

g raspberries
---
Instructions
Blend the fruits one at a time in a blender (clean out the blender between each fruit to ensure the colours don't mix).
Some of the fruits (pineapple and avocado) were a little difficult to blend so I added a splash of water to help.
Layer the first blended fruit into the bottom of the popsicle mould and place in the freezer until it is solid (approx 45 minutes). Once frozen, push a popsicle stick into the first layer of fruit.
Add the second layer of fruit and freeze and keep repeating until all layers have been frozen.
**This link is part of the Amazon Associates UK program for monetization. This means that if you click through and buy this product I will receive a small commission which will help me to run this site, pay for hosting, etc. However, monetization does not dictate my recommendations and I will only link to products that I have bought myself and use regularly.