Do you prefer your recipes in a more traditional cookbook format? I have two cookbooks, My Fussy Eater published in 2018 and We're Hungry published in February 2021.
COOKBOOK 1 – MY FUSSY EATER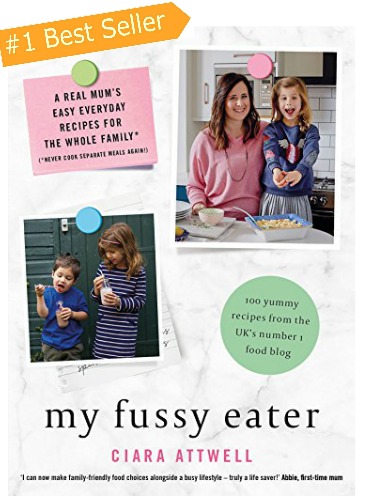 This book has over 100 recipes that the whole family will love, meaning you'll never have to cook separate meals again. All the recipes are made using simple everyday ingredients. Lots of the meals and snacks can be made in bulk, designed with busy parents in mind and there are also some leisurely recipes that can be made with the kids at the weekend.
The book has:
over 90 brand new recipes
20 of my readers most-favourite recipes from the blog
4 weeks of meal plan
8 different packed lunch ideas for kids
my top 10 tips for dealing with fussy eaters
My Fussy Eater is available to buy from lots of bookstore, Amazon and The Book Depository too (best for international delivery!)
COOKBOOK 2 – WE'RE HUNGRY
My aim with this book was to redefine batch cooking, expanding it beyond simply cooking double portions, chucking one in the freezer and hoping you'd remember to take it out before the freezer burn got too bad! There are 100 family-friendly recipes all made with simple ingredients and a pared-back equipment list. It's everything you need to know to make batch cooking work for you and your family.
Chapters include:
BREAKFAST – grab and go breakfast options that can be batch made ahead of time
LUNCH – lunch ideas for home, school or the office
BIG BATCH SNACKS – designed to feed hungry kids who demand snacks ALL the time!
The main focus of the book is family meals, broken down into the following sections:
ONE-POT WONDERS – quick and easy recipes all cooked on the hob in 30 mins
FAMILY FAVOURITES – classic recipes the whole family will love
SLOW COOKER – recipes prepped in the morning for no-hassle dinner later
COOK ONCE, EAT TWICE – leftovers transformed into an entirely new dish
FREEZER STASH BAGS – ingredient bags made and frozen ahead of time to make you a food prep master
We're Hungry is available to buy from Amazon, The Book Depository and lots of other book retailers.