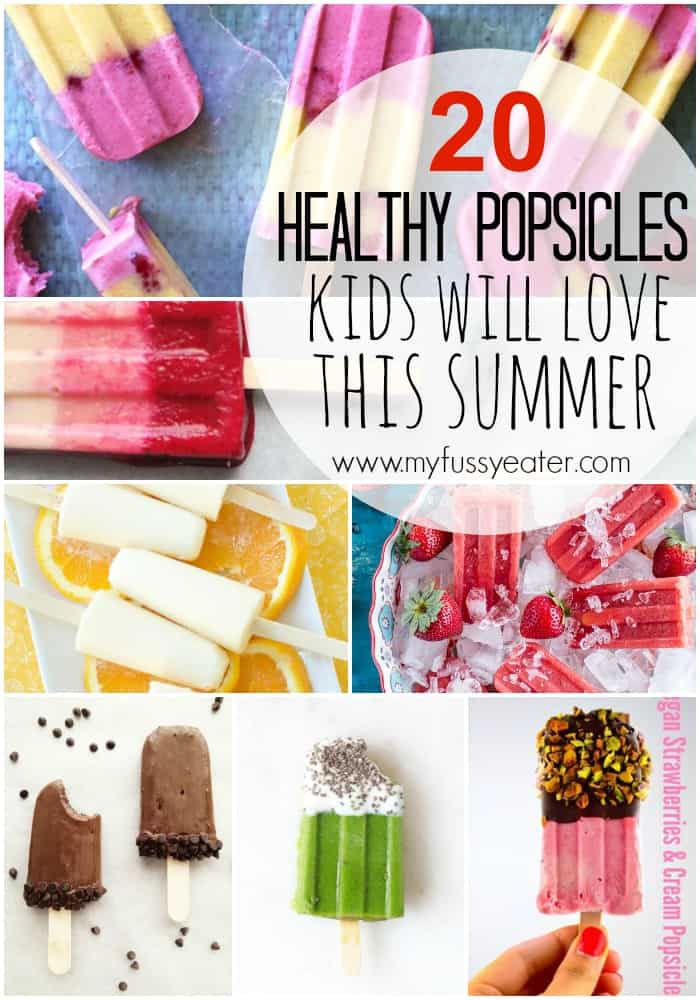 It's getting hot hot hot here in the UK this week and with a heatwave predicted for tomorrow I thought what better time to do a roundup of the best healthy homemade popsicles that your kids will love!
If you're thinking "hmmm, homemade healthy ice lollies…boring!" then stop right there because these twenty popsicles will have you ditching those store bought lollies and dusting off your popsicle mould!
From refreshing fruit based lollies to creamsicles and fudgsicles, there's something to suit all tastes and even the pickiest of eaters!
Pictured:
1. Raspberry Mango Popsicles {dairy free, gluten free, refined sugar free} (obviously leave out the rum for the kids!)
2. Strawberry Ombre Creamsicles
3. Orange Creamsicles {dairy free, gluten free, refined sugar free}
4. Two Ingredient Strawberry Popsicles {dairy free, gluten free, refined sugar free}
5. Avocado Fudgsicles {dairy free, gluten free, refined sugar free}
6. Green Smoothie Popsicles {gluten free, refined sugar free}
7. Strawberries & Cream Popsicles {dairy free, gluten free}
Other:
8. Watermelon & Kiwi Pops {gluten free, dairy free, refined sugar free}
9. Strawberry Yogurt Popsicles {gluten free, refined sugar free}
10. Pomegranate & Coconut Water Popsicles {gluten free, dairy free, refined sugar free}
11. Real Fruit Bomb Pops {gluten free}
12. Mango Lassi Pops {gluten free}
13. Peanut Butter & Banana Popsicles {gluten free, dairy free, refined sugar free}
14. Blueberry Protein Pops {gluten free, refined sugar free}
15. Raspberry & Apple Pops {gluten free, dairy free, refined sugar free}
16. Raspberry Lemonade Yogurt Pops {gluten free}
17. Kiwi Pineapple Popsicles {gluten free, dairy free, refined sugar free}
18. Mixed Fruit Popsicles {gluten free, dairy free, refined sugar free}
19. Strawberry Banana Popsicles {gluten free, dairy free, refined sugar free}
20. Strawberry Orange Popsicles {gluten free, dairy free, refined sugar free}