15 Easy & Delicious One Pot Family Meals; so quick to whip up on busy evenings with minimal washing up too!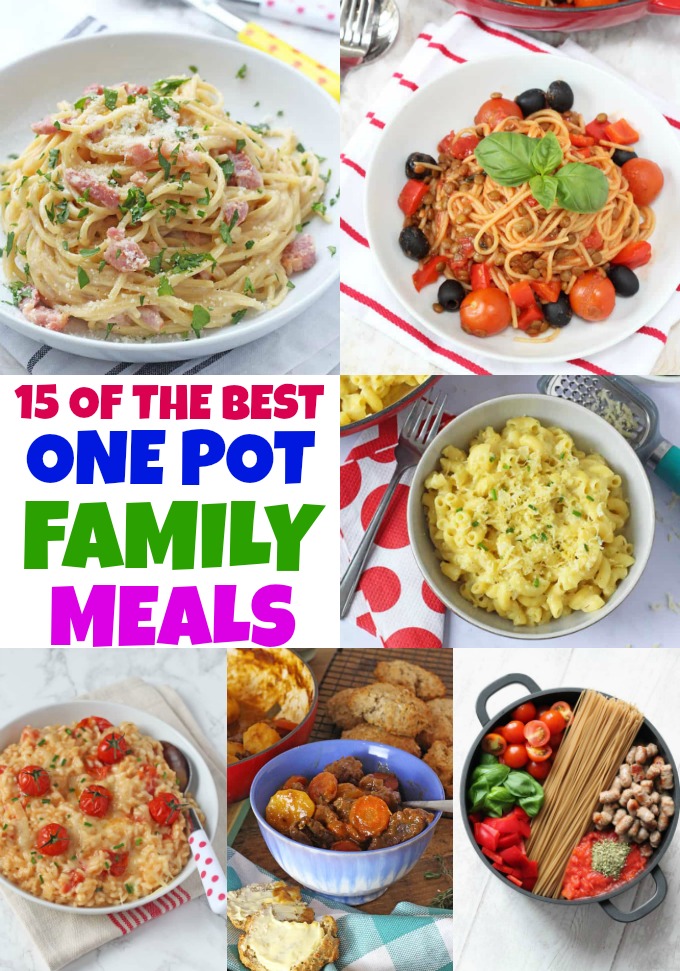 I love a one pot recipe! Perfect for busy weeknights when you don't have a lot of time to spend in the kitchen and with less washing up, it's a double win in my book!
We've even saved you time browsing on the internet by putting together 15 of The Best One Pot Family Recipes…you're welcome!
A delicious and super easy recipe for Spaghetti Carbonara, all cooked together in one pot. This tasty family meal takes just 15 minutes to prepare and cook, perfect for busy evenings when you don't have a lot of time to spend in the kitchen!
One Pot Cheesy Cauliflower Pasta
When you're in a hurry and need to feed the kids fast, try this One Pot Cheesy Cauliflower Pasta recipe, only 5 ingredients and ready in less than 15 minutes!
Chorizo & Chicken Spanish Rice
Chorizo and Chicken Spanish Rice, the perfect one pot winter warmer that will make enough for lunch the next day too!
A delicious and kid-friendly Baked Cheese & Tomato Risotto recipe, cooked in the oven to make it super easy!
One Pot Mac & Cheese With Hidden Veg
A delicious and easy Mac & Cheese recipe with hidden courgettes, made in one pot. Perfect for picky eaters who don't like eating their veggies!
There are some great health benefits to eating quinoa, it's protein rich, high in fibre, and also a fabulous source of iron. What I love most about this dish is you literally just throw it all in one pot and let it do it's thing!
This delicious and warming beef stew is so easy to make. All the ingredients are cooked together in one pan and left to slow cook for an hour.
One Pot Creamy Sausage & Tomato Spaghetti
Quick, easy and convenient, this gluten free One Pot Pasta is made with organic brown rice spaghetti and a creamy sausage and tomato sauce.
One Pot Red Lentil & Sweet Potato Coconut Curry
A great source of vegetarian protein, this one pot red lentil and sweet potato coconut curry is mild, tasty and quick to prepare making it a great midweek dinner. Suitable for vegans.
Easy Sausage & Butterbean Casserole
A quick and easy family dinner recipe; Sausage & Butterbean Casserole cooked on the hob in less than 30 minutes! I used pork sausages for this recipe but chicken, turkey or vegetarian sausages all work really well too. The butter beans are a great source of protein and fibre and I add in some sneaky vegetables too with some diced carrots!
A super easy Minestrone Soup recipe, ready in just 15 minutes. A perfect winter warmer for the whole family!
Tastiest ever beef stroganoff- a family favourite that is quick enough for a weeknight dinner! Kid friendly, freezer friendly and with extra veggies!
Whip up a quick and tasty meal for the kids in 5 minutes and just 3 simple ingredients with this Vegetable Rice & Egg Bowl.
Tomato, Basil & Lentil One Pot Pasta
A quick, easy and healthy meat free family recipe, all cooked in one pot and ready in just 15 minutes. Lentils are packed full of protein, fibre and iron, making them a really brilliant substitute for meat. They are also super cheap too, making this dish very budget friendly.
Instant Pot / One Pot Buffalo Chilli Chicken
Don't have an Instant Pot? This could be easily be made on the stove top or in a slow-cooker as well. This Buffalo Chicken Chili recipe has been a family favorite for over a year, is stupid easy, and keeps well for leftovers.
A super quick, easy and healthy family meal ready in just 5 minutes. You won't believe just how simple this Satay Vegetable Noodle recipe is to whip up.