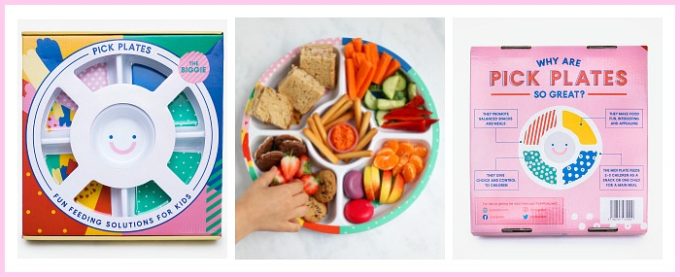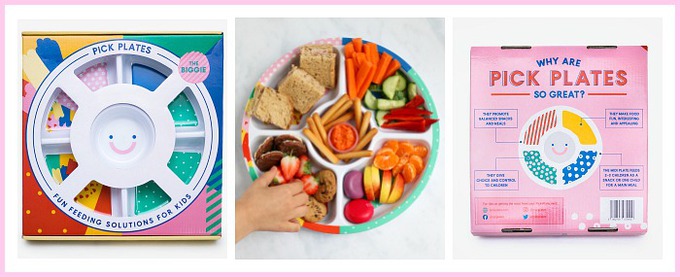 Get into the Christmas spirit with these easy Christmas snacks that are perfect for kids of all ages!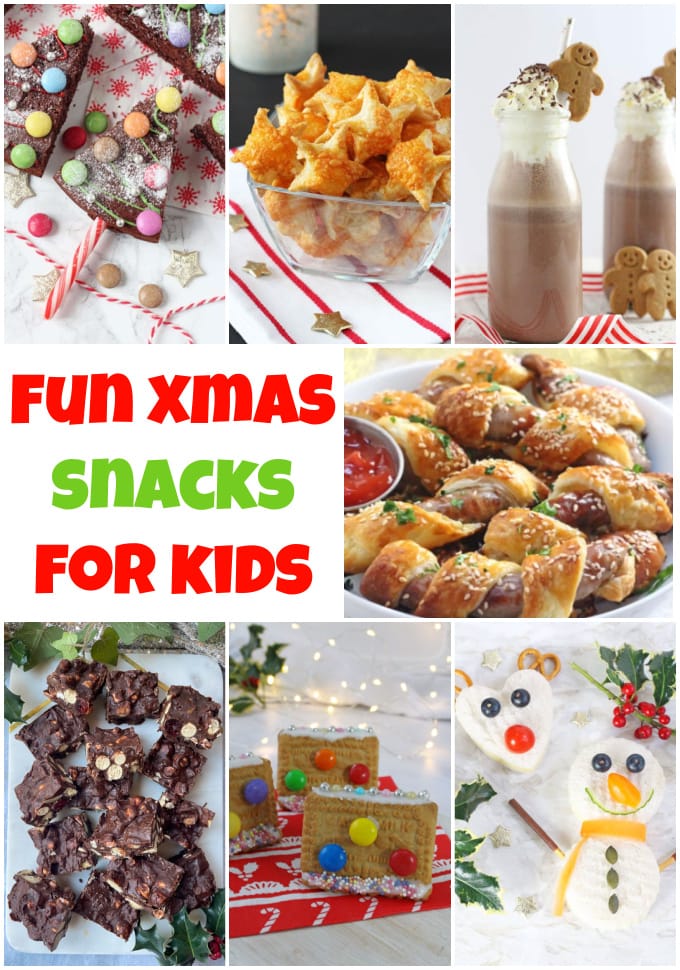 Christmas Food
One of our favourite things about the holiday season definitely has to be the food.
Of course there is the main event, being the Christmas Dinner itself and we have loads of Christmas Dinner Recipes that you can find here!
Then there are the Christmas parties! Food and tasty treats always feature heavily here whether it be a kid's party or a more grown up event.
But with Christmas and all things festive seeming to start earlier and earlier every year, and kids seeming to constantly be requesting snacks during the holidays, it's the perfect opportunity to get creative as well as a great way of getting kids in the kitchen preparing food.
Fussy Eaters At Christmas
If you've got a fussy eater in the house, then having them help with preparing food can be really beneficial. Even if they choose not to eat it, just getting them used to handling foods that they might be uncomfortable with can be a step in the right direction.
If you are already stressing about Christmas and your picky eater, then our Surviving Christmas With A Fussy Eater guide is something that you need to check out.
15 of The Best Christmas Snacks For Kids.
If you've got a bunch of kids coming round this Christmas then try this no-cook party platter. Easy to put together and full of delicious treats that they'll love!
Make these deconstructed Christmas Tree Sandwiches, perfect for a festive inspired lunch or even as starters for the kids on Christmas Day!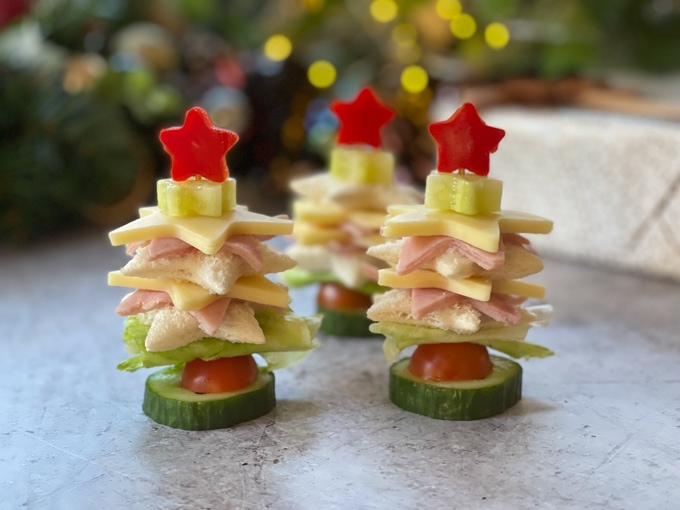 Buddy The Elf Breakfast Spaghetti but let's make it actually edible! The kids will love this twist for a fun Christmas breakfast.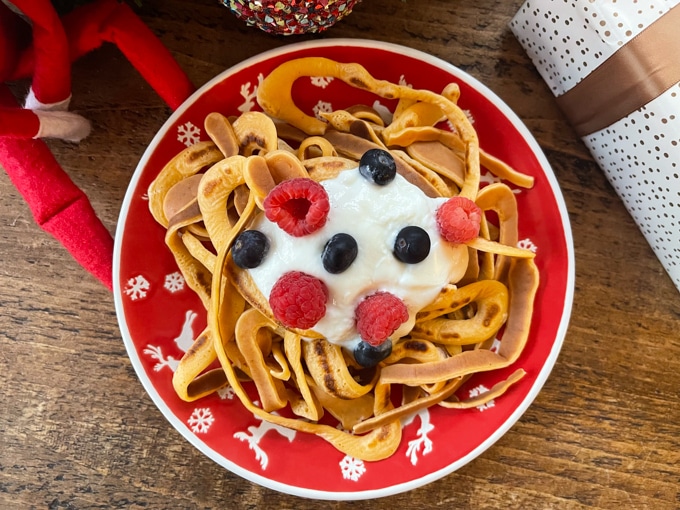 Candy canes and popcorn! What's not to love? Add a bit of white chocolate and some mini marshmallows into the mix and you've got some super cute Christmas treats perfect for an evening in in from of your favourite Christmas movie.
Or served in little festive cups, they are brilliant for little hands to dive into if you are having a class party.
Two things that always seem to be abundant in our house during the Christmas period are nuts and chocolate!
And they make the absolute best combination in these bite sized Christmas nibbles!
Not only are they very tasty, they can be put together and packaged up in less than an hour, making them perfect for last minute edible gifts for teachers, friends and family.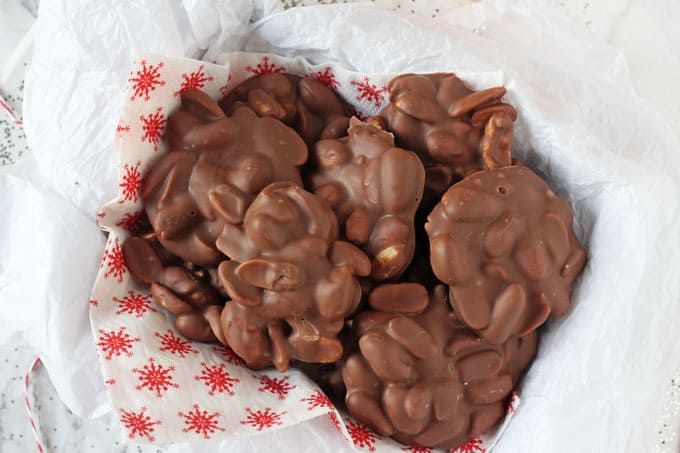 Anyone else buy those gingerbread houses that you can make yourself at home with the kids? And then massively regret it when it takes several hours, the icing "glue" doesn't perform as it should and there's mess all over the place?
Yep, us too! So we came up with these mini cookie houses instead.
You only need a handful of basic ingredients and you can happily let younger kids do this on their own. Thank us later, it's no biggie!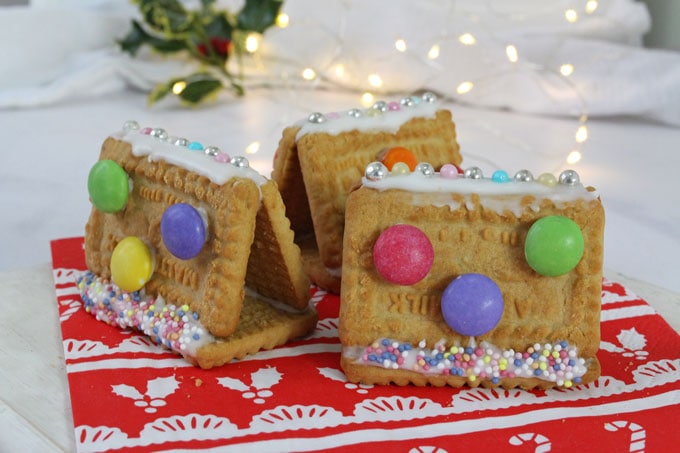 If you are looking for something a bit healthier without compromising on holiday cheer, then this is the recipe for you.
Despite being packed full of healthy ingredients, these Gingerbread Brownies really are absolutely delicious.
Topped with adorable little gingerbread men, they make a super cute school snack packed into a lunch box for older kids, or look great served at for a kids' christmas party.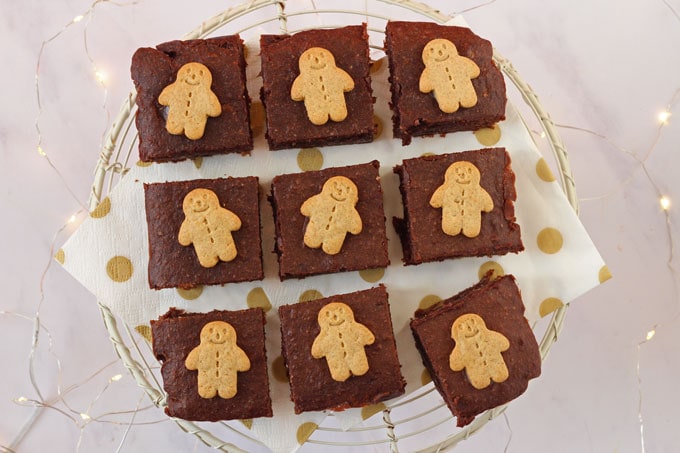 This is one that the whole family is sure to love this Christmas season!
I don't know about you, but Rocky Road has to be one of our family's favorite christmas traditions.
And these little bites are the perfect sweet treats to have on hand at home to enjoy with a hot chocolate.
They also make a gorgeous edible gift packaged up in a mason jar and ties with some festive ribbon.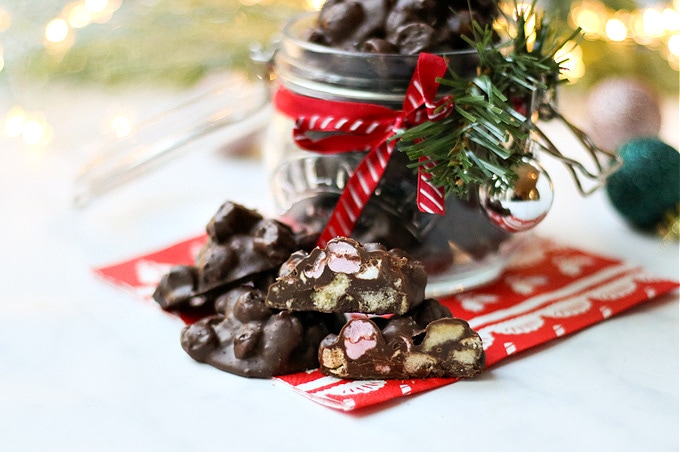 Puff pastry cut into a star shape with cookie cutters and topped with a really simple topping? How good can it be?
Let me tell you, these little Christmas themed snacks literally fly off the table the minute they land.
Sometime the easy recipes really are the best ones and the ones you'll make year after year.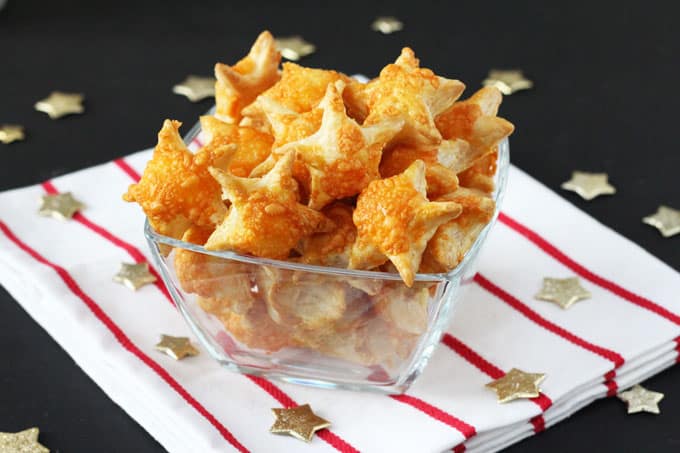 This time of year the kids are bound to have their fair share of sweet treats, so I do like to try and get them eating some fresh fruit here and there.
These satsumas dipped in melted chocolate and topped with coconut sprinkles are a brilliant healthy snack that you can give the kids guilt free.
This is also a great one to encourage picky eaters to try satsumas or clementines if it's not something they might usually eat.
These cake pops in the shape of a Christmas tree are a super easy way to get kids baking this festive season.
I'm always looking for ways to entertain the kids during the school holidays and they loved taking their time decorating these. Kids entertained – check! Fun holiday treat – check!
Hot chocolate or hot cocoa can be a bit of a risk with young kids but they needn't miss out on this festive treat with our kid-friendly frozen hot chocolate recipe.
They'll love adding toppings themselves and you could even make a cold version of my Hot Chocolate Station!
I don't know about you, but as we enter December and limp towards the end of term, my lunchbox inspiration has all but got up and left.
That's where these cute reindeer sandwiches come in! Grab your Christmas cookie cutter and with minimal effort their school lunch box will be talk of the lunch hall.
Other reindeer's are available but Rudolf has to be everyone's favorite reindeer right?
It's not Christmas without sausage rolls. Fact!
Kids love finger foods and these super easy sausage rolls using my cheat's hack will go down an absolute storm.
They're so easy to make and I guarantee you'll want to make them for ALL your holiday parties once you've tried them.
Another super easy recipe with not too many and only simple ingredients at that.
The Christmas period is always busy, but you can whip up a batch of these pastry straws for the kids in just 15 minutes.
This is also a great recipe to have on hand if you know you have loads of guests coming over and want a really quick and easy appetizer.
If you think healthy Christmas snacks wouldn't include ice cream, then think again.
This gingerbread ice cream is made with healthy ingredients and all the festive flavours for a tasty snack or dessert for the kids.
And the best part is that it's also gluten, dairy and refined sugar free so if you have kids that have food intolerance's then you're going to love this recipe.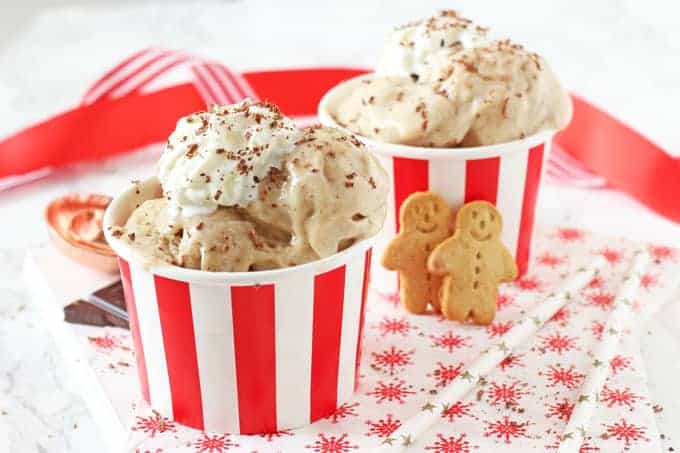 If you're looking for a fun activity to do with the kids then these Christmas Oreo Pops are perfect.
Easy Christmas treats that you can make and eat at home or package up individually as gifts for their friends.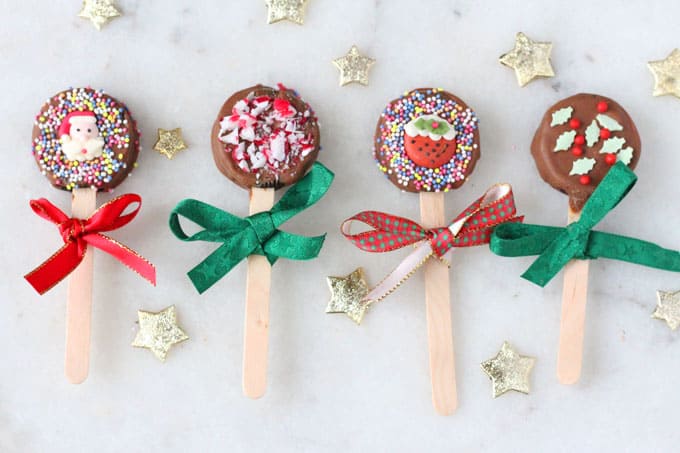 The delicious festive rocky road is great for using up leftover mince pies.
Or grab yourself a bargain at the supermarket and look out for packets of mince pies that have been reduced at the end of the day.
A few crumbled up mince pies really do add a tasty festive twist to this classic rocky road recipe.
These gingerbread star cookies are just the thing to be baking at Christmas.
Just like your classic gingerbread star biscuits, my Christmas cookies are made a little healthier with just a few ingredient swaps to balance out all those Christmas treats!
The cookie dough can also be frozen so you can make a batch and just defrost the dough when you are ready to make the cookies.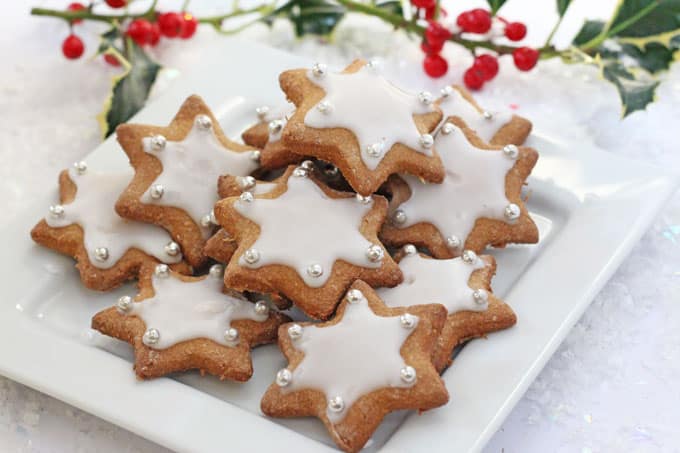 If you enjoyed these recipes, the please do let us know! Head over to Instagram and send us your pictures.
You can also see all our other brand new Christmas Recipes we are making this year.
Merry Christmas and a Happy New Year!
ORDER my new book THE FUSS-FREE FAMILY COOKBOOK out now. 100 healthy easy and quick recipes that the whole family will enjoy!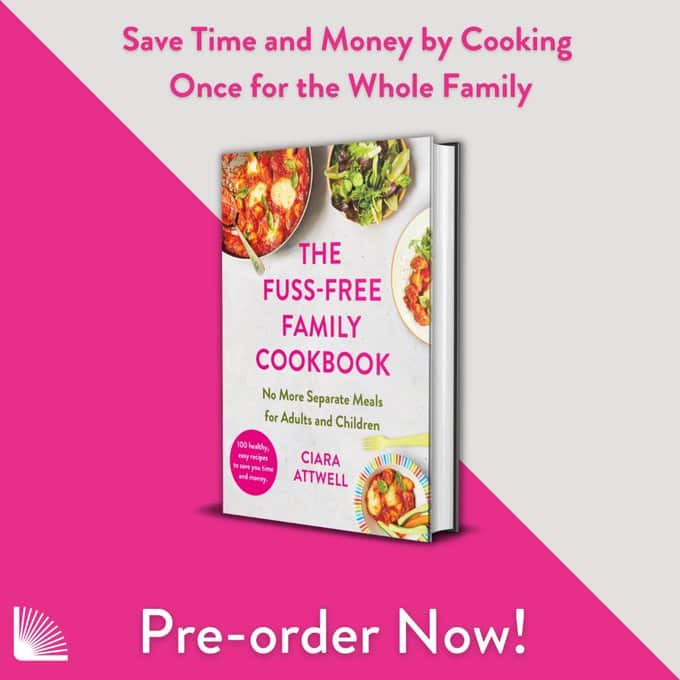 You might also like these Recipes & Ideas:
Looking for Elf on the Shelf ideas? Try these super cute edible Elf Donuts!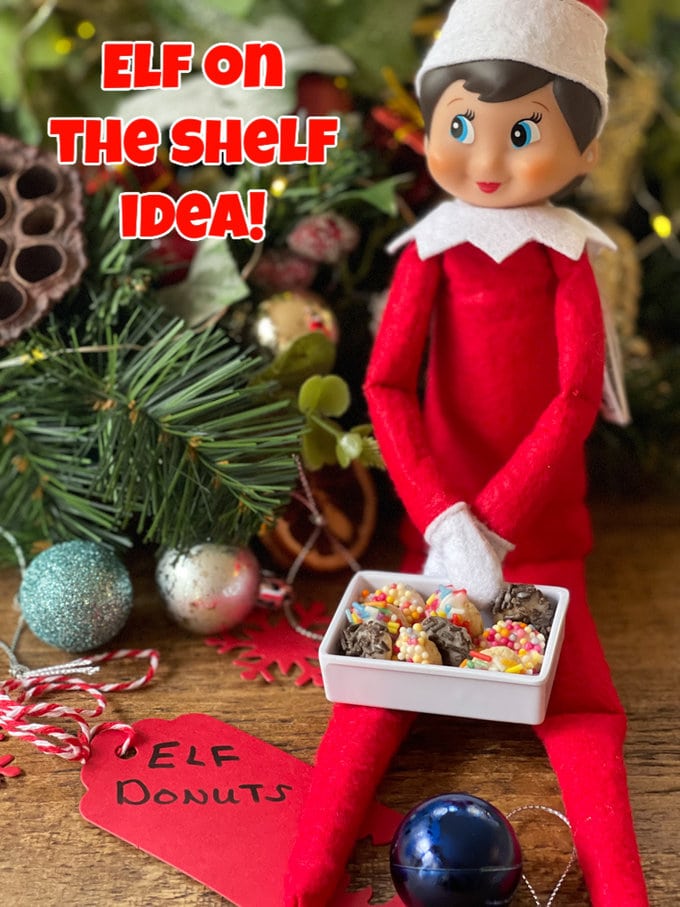 The kids will love making these super cute Chocolate Snowballs in a Jar as Christmas gifts for their friends!