15 Delicious & Healthy Grab-and-Go Breakfast Ideas for Teenagers. Perfect to hand to them as they rush out the door in the morning!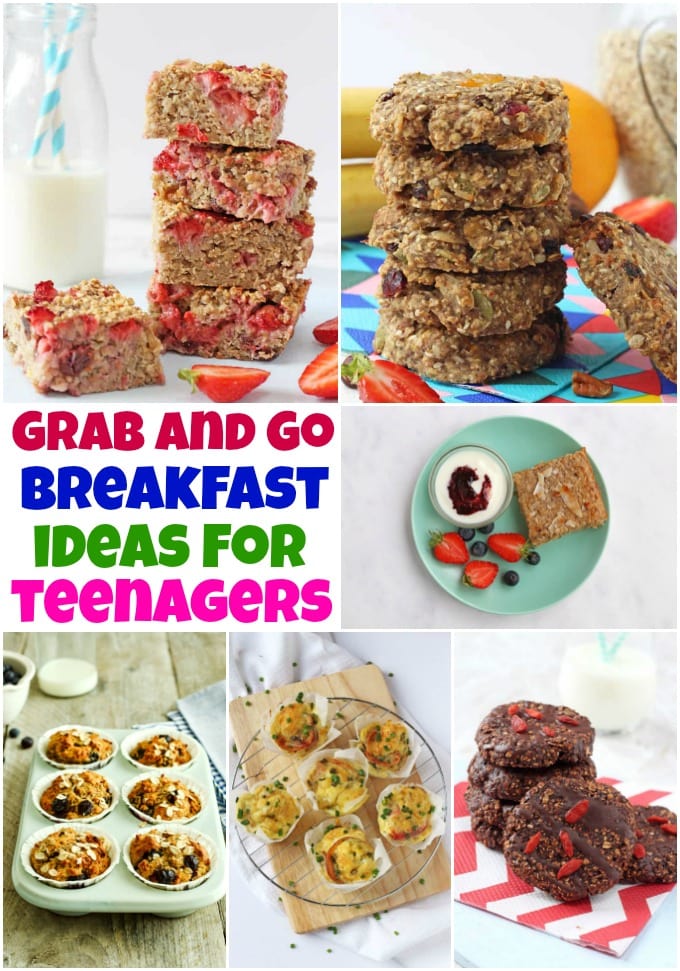 Breakfast time in a lot of family households can be a rushed and stressful time with everyone trying to get ready for work, school or college.
If you have a teenager in the house then the likelihood of them actually getting out of bed in plenty of time to consume breakfast at home before they leave can be pretty slim!
The teenage body experiences loads of physical and hormonal changes so it's really important that this is supported by a healthy and balanced diet.
With breakfast being said to be the most important meal of the day but most teenagers wanting to sleep in until the last possible moment or being "too busy" to make themselves breakfast, then the solution surely comes in the form of a grab and go breakfast that they can pick up on the way out the door and eat on the go!
We've put together our favourite 15 Healthy Grab & Go Breakfast Ideas For Teenagers!
Breakfast Bars
Coconut & Almond Breakfast Bars
Delicious gluten and dairy free Coconut & Almond Breakfast Bars. The perfect recipe to batch make at the weekend for a grab-and-go breakfast during the week!
Delicious and so easy to make, these Quinoa Breakfast Bars are made with Princes Peach Slices. Ideal for grab-and-go breakfast on busy mornings!
Strawberry Quinoa Breakfast Bars
A delicious and filling breakfast bar recipe, packed full of healthy ingredients such as quinoa, oats, bananas and strawberries. These bars make the perfect nutritious start to the day for the whole family and are a great grab and go breakfast!
These freezable oat breakfast bars are packed with brain boosting blueberries and are super easy to make!
Make Ahead Muffins
Blueberry & Lemon Weetabix Muffins
Delicious breakfast muffins made with Weetabix and wholemeal flour and flavoured with blueberries and lemon. Perfect for an instant breakfast for the whole family!
Bacon, Cheese & Chive Egg Muffins
The whole family will love these delicious Egg Muffins packed with streaky bacon, cheddar cheese and chives!
Healthy breakfast muffins packed with superfood ingredients such as manuka honey, chia seeds and flaxseed.
Spiced Pear & Oat Breakfast Muffins
Warming and fruity these spiced pear breakfast muffins are gluten free, dairy free and refined sugar free.
Healthy Berry Breakfast Muffins
Delicious and filling Berry Breakfast Muffins packed full of healthy ingredients including oats, yogurt, coconut oil, banana and apple sauce.
These savoury egg muffins make a delicious grab-and-go breakfast. Great to make in advance and store in the freezer.
Delicious and hearty Fruity Muffins made with filling and nutritious ingredients, perfect for a grab-and-go back to school breakfast for kids and adults too!
Breakfast Cookies
Healthy Chocolate Breakfast Cookies
Chocolate cookies for breakfast? Yes please! These cookies are packed full of slow releasing carbs, fibre and nutrients, helping to keep you and your family full until lunchtime!
Carrot, Apple & Oat Breakfast Cookies
Vegetable Cookies?! A delicious breakfast cookie recipe, packed full of healthy oats, carrots, apples and banana. Great for picky eaters!
Sweetened with bananas and a little honey, these Breakfast Cookies are packed with slow releasing carbs and fibre too. Perfect for feeding your family on busy mornings!
Oat & Banana Breakfast Cookies
Grab a healthy breakfast on the run with these two ingredient cookies!