These freezable oat breakfast bars are packed with brain boosting blueberries and are super easy to make!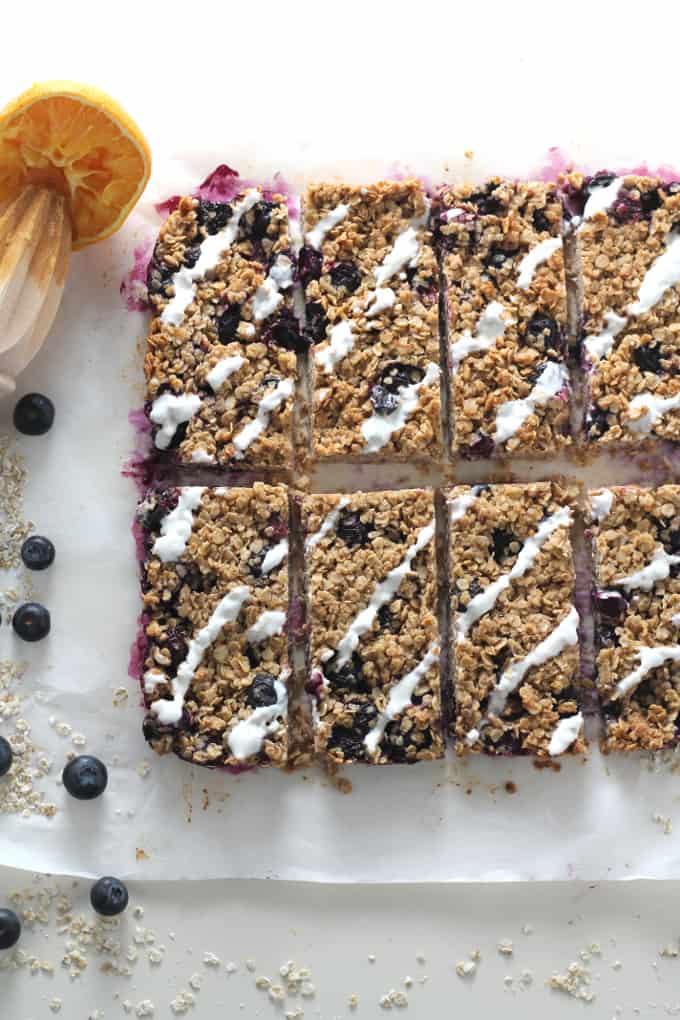 UPDATED RECIPE!
I think a few people were having problems with this recipe so I have changed the ingredients and also the directions to make sure that the bars do not crumble!
So it's nearly the end of January. How are those healthy eating resolutions doing? I have to say I haven't had the best month!
There have been lots of ups and downs and a ridiculous amount of illness between myself and the kids so there has been a bit too much chocolate consumed (mostly by me!).
That said we are still doing really well with our healthy breakfasts. A little too well really.
The kids have been eating either porridge or overnight oats every day from Monday to Friday so I think they are getting a little sick of them!
I thought it was time to liven up my oaty breakfast repertoire and so these Blueberry Oat Breakfast Bars were born.
Some of you might be wondering why I have called these "oat bars" rather than flapjacks?
Well to me a flapjack is slightly hard and crunchy (like these Chocolate Coconut Flapjacks) whereas this recipe is much softer and I thought that "oat bar" sounded a bit more breakfasty!!
So flapjacks, oat bars… call them what you want. Just try this recipe cause it is seriously good!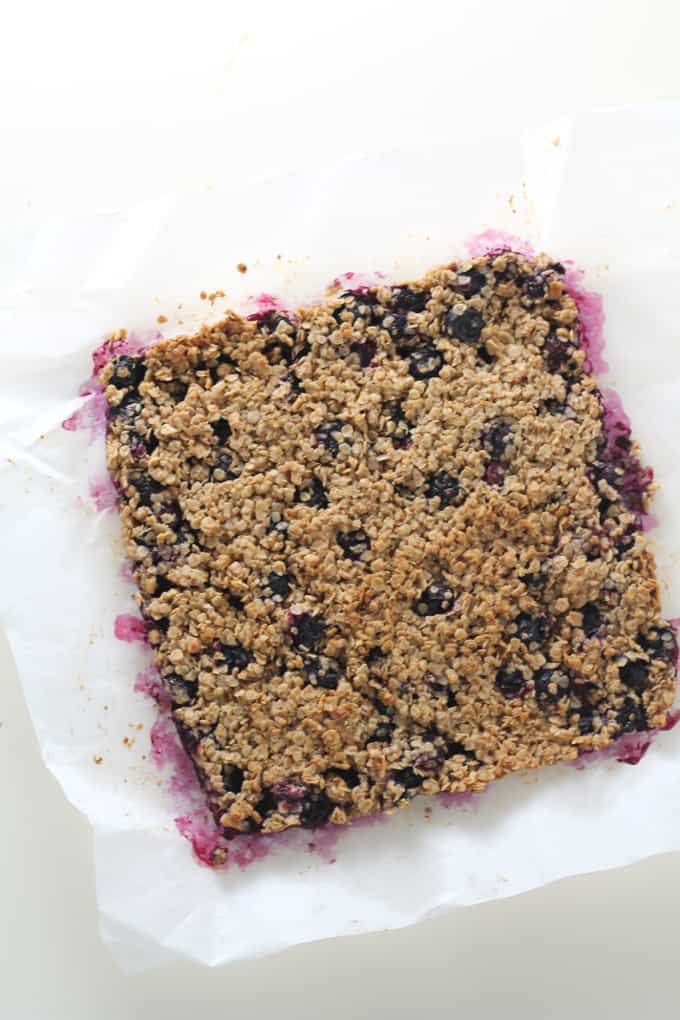 Sugar Content
When I blogged my Chocolate Coconut Flapjack recipe I did have a little rant about packaged flapjacks being labelled as "healthy" or "natural" when they in fact contain a scary amount of refined sugars and highly processed oils or margarines.
Some homemade recipes are not much better. One popular recipe site listed golden syrup, honey AND white sugar as some of the ingredients for its flapjack recipe. There is just no need for all that sweetener!
My recipe uses either honey, maple syrup or date syrup. Yes these are all still a form of sugar, but they are completely natural, not processed and won't send your blood sugar sky high (and won't have the kids bouncing off the walls!).
I also use coconut oil instead of butter. If you prefer to use butter than that's absolutely fine.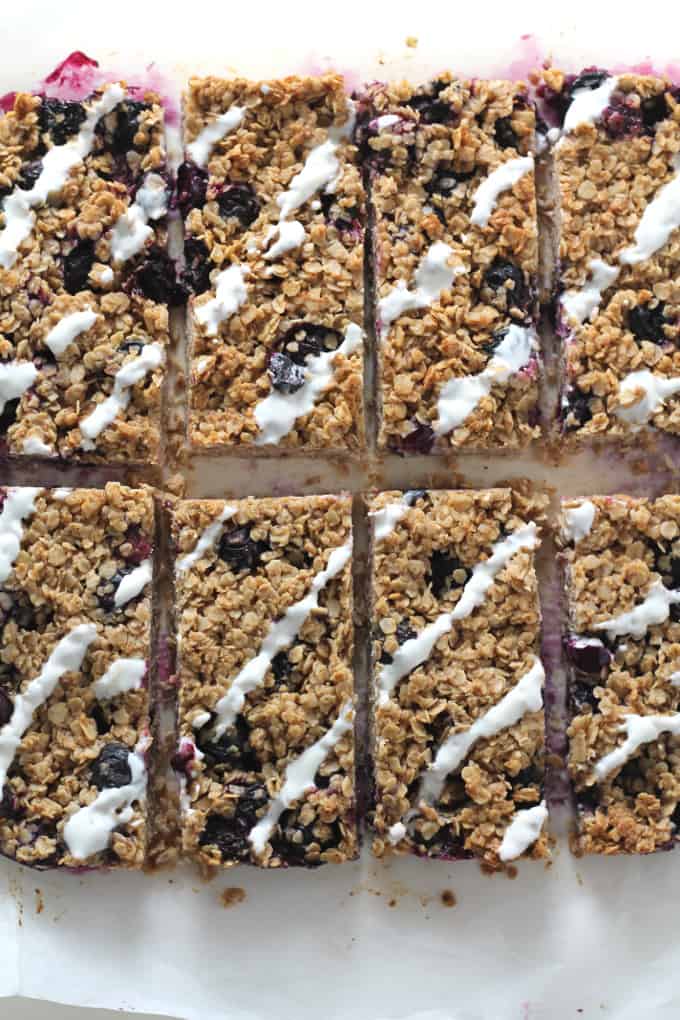 Ok, so mini healthy rant out of the way, what's so good about these oat bars? Well firstly they taste incredible! They are wonderfully soft and sweet, just perfect for breakfast.
I used almond butter in mine, which gives a very subtle nutty flavour without being overpowering. The fresh blueberries give just a small pop of tartness and of course provides that wonderful purple colour.
You can also customise the recipe to your liking. So add dried fruit or chopped nuts, or even substitute the blueberries for raspberries.
What I also love about this recipe is that these bars can be frozen in individual containers or freezer bags. They defrost in super quick time (mine took about an hour). You can take them out first thing in the morning and they will be ready when the kids get out of bed.
You could also pop a frozen bar into the kids' lunchboxes and it'll be ready by morning snack time.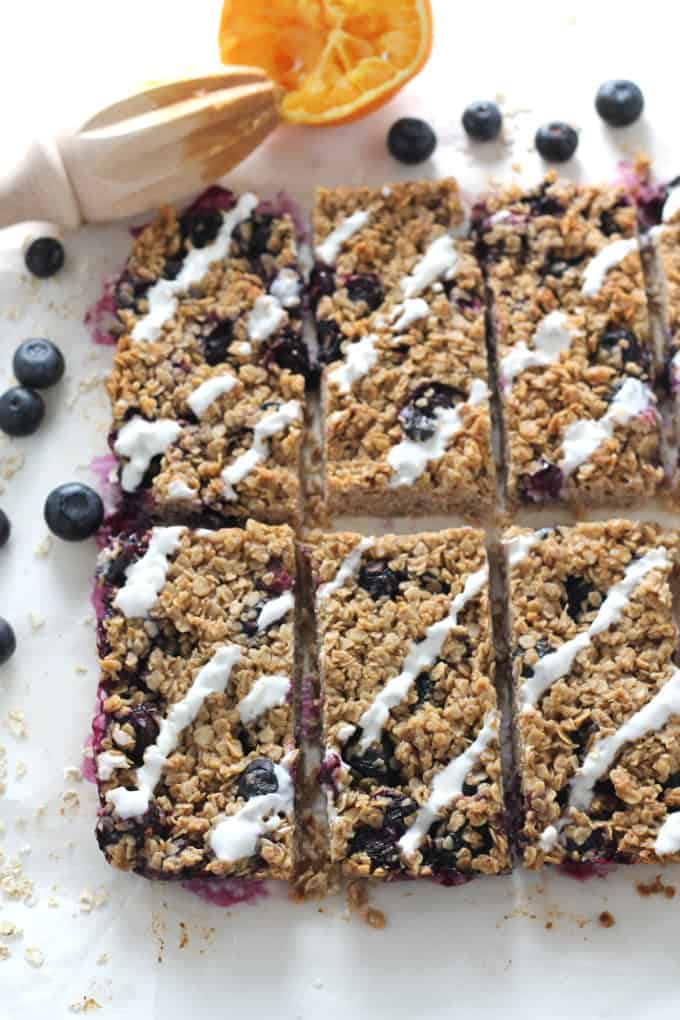 I would like to say that my freezer is now full of these oat bars but the truth is they have all disappeared. (Those food stealing fairies have been in my kitchen again!) But I plan to make a double batch this weekend for handy grab-and-go breakfasts over the coming weeks.
If you liked my Blueberry Oat Breakfast Bar recipe, then please do leave me a comment and a star rating below. You can also share your pictures with me on Instagram. I always love to see your creations!
ORDER my new book THE FUSS-FREE FAMILY COOKBOOK out now. 100 healthy easy and quick recipes that the whole family will enjoy!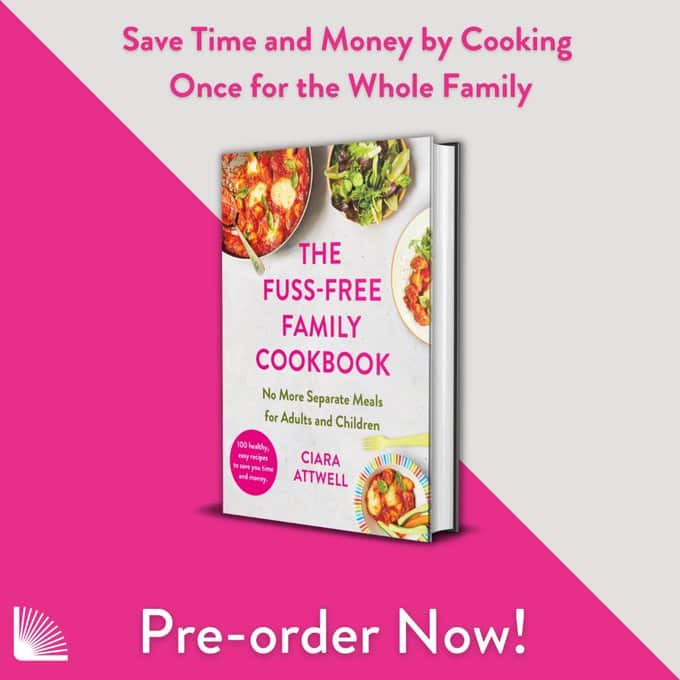 Print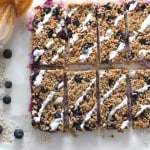 Blueberry Oat Breakfast Bar
---
Author:

Prep Time:

5 mins

Cook Time:

25 mins

Total Time:

30 minutes

Yield:

8

1

x
Category:

Breakfast

Cuisine:

European
Description
These freezable oat breakfast bars are packed with brain boosting blueberries and are super easy to make
---
Ingredients
Oat Bars:

5 tbsp

coconut oil (or butter)

4 tbsp

honey / date syrup / maple syrup

3 tbsp

nut butter

200g

/ 2 cups rolled oats

100g

/ 0.75 cup blueberries
Yogurt Drizzle Topping:

1 tbsp

plain yogurt / coconut cream

3 tsp

orange juice
---
Instructions
Preheat the oven to 170c / 340f. Line a baking dish with greaseproof paper. I used an 8in x 8in dish.
Melt the coconut oil, honey and nut butter in a large saucepan over a medium heat. Once melted and combined, stir in the oats and continue to mix until all the oats have been coated. Fold in the blueberries.
Transfer the mixture into the baking dish and firmly with the back of a spoon press down and into the sides to make it as compact as possible. Bake in the oven for 15-18 minutes or until the sides are just beginning to brown.
Leave to cool in the dish and then transfer to the fridge for at least 1 hour or preferably overnight. This is essential to stop the bars from crumbling and falling apart.
Once the mixture has completely cooled mix the yogurt (or coconut cream) and orange juice together and drizzle over the top and finally, cut into eight bars.
Notes
These oat bars will keep in the fridge for up to 3 days. They can also be frozen in individual containers or wrappers and defrosted at room temperature.