Reduce your food waste and save some money this Christmas with our 10 best recipes for using up your leftover Christmas dinner leftovers!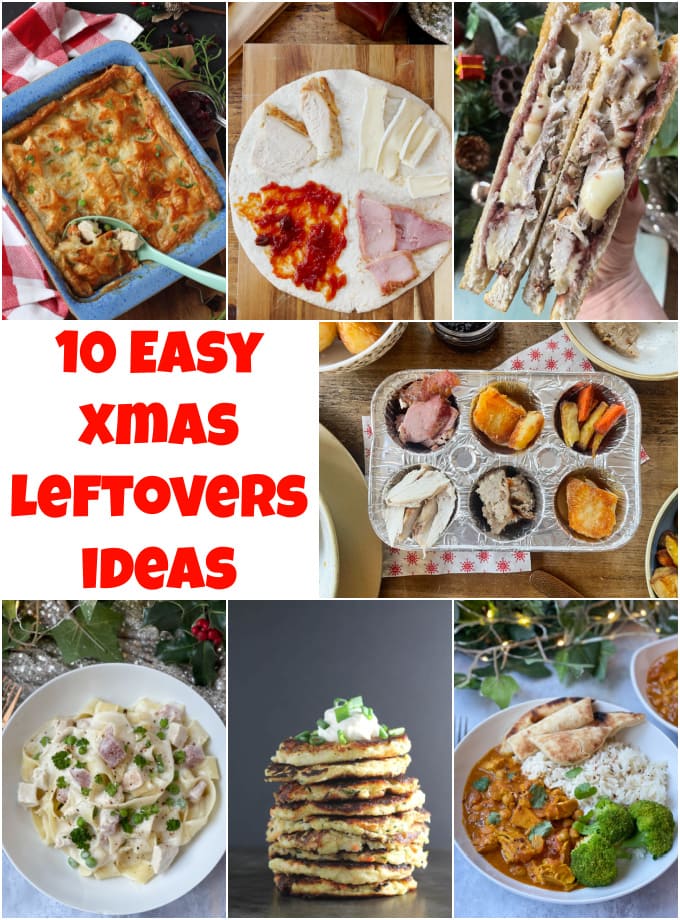 As an adult one of our favourite things about Christmas has to to be the food!
Of course it's a wonderful time for family gatherings but again this seems to also be synonymous with cooking up a great big Christmas feast to be enjoyed by the whole family.
And I think we've all been guilty of using the festive period as an excuse to tuck into our favourite treats!
Be it the Christmas chocolates, crisps and nuts or basically anything that's wrapped in puff pastry! Quality Street anyone???
But one thing that does quite often come with all this food, is hard work and lots of leftover food!
So this year with lots of us trying to save some money, we want to help you reduce your food waste which is an easy way to reduce what you are spending by showing you some great ways to repurpose some of that leftover food!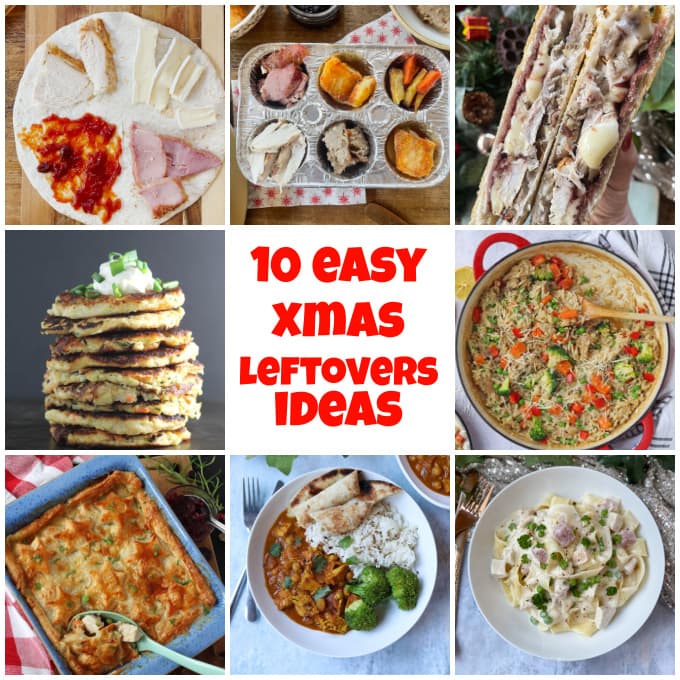 Leftover Christmas Turkey, Chicken & Ham Recipes
Don't get me wrong, I do love a leftover turkey sandwich, usually at about 10pm on Christmas Day with a large side of my Ultimate Christmas Cheese Board and a glass of something to wash it down in front of the fire!
But if you've got loads of leftover turkey meat, then you'll love these next few recipes!
Make the most of your leftover Christmas roast turkey with this super easy turkey curry recipe that the whole family will enjoy! This curry is mild enough for kids and can be prepared in less than 30 minutes so perfect for Boxing Day when you want to put your feet up a bit after all your hard work on Christmas Day.
This easy pasta recipe uses up both your turkey leftover AND any leftover ham you have.
Every year I either make this Christmas Ham In Coke, or one of my older recipes for this Easy Slow Cooker Christmas Ham.
So I usually have a bit of both ham and turkey to use up and this recipe is a great way to combine both!
And the best part is that it's all cooked together in one pot, so saves on the washing up too!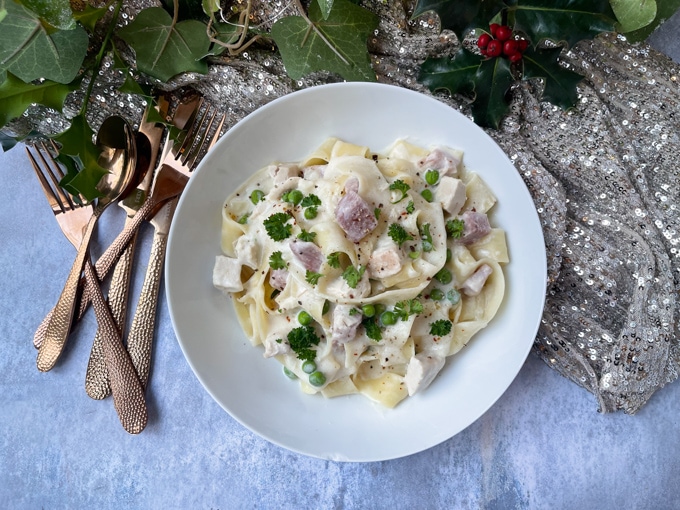 Over the last year, you've probably seen the tortilla wrap hack which is now referred to as the TikTok Wrap.
This is such a smart way to fold a wrap to ensure you don't lose any of your fillings! The sky is literally the limit as to what you can fill your wrap with and we've seen both sweet and savoury fillings!
I wanted to put a festive twist on this and what better way to use up your leftovers the following day than in a wrap!
I've filled mine with turkey, ham, brie, and cranberry but you can fill them with whatever you have hanging about. Got leftover roast beef? Chuck that in with some blue cheese and your taste buds are in for some good times!
This is not your regular turkey pot pie!!! This pie is so delicious and really doesn't feel like you are eating leftover ingredients at all!
Not only does it allow you to use up any leftover meat, but the leftover christmas veg gets an outing as well as the last knockings of the cranberry sauce!
And that little bit of brie leftover from the cheeseboard? Yep, you guessed it, that goes in too!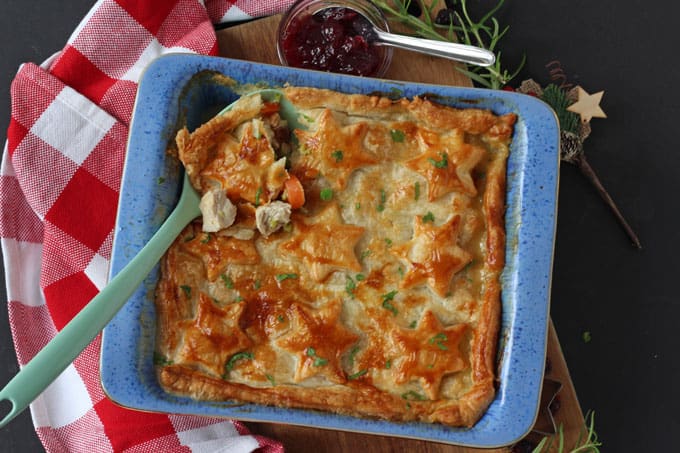 Whilst turkey is probably the most popular meat over the festive season, if you are only having a small gathering or are looking to keep costs low for your Christmas Day meal, then chicken is a fantastic alternative.
Not only is it much cheaper than turkey, but it cooks much quicker so less time spent in the kitchen!
If you are having roast chicken over the Christmas period, then this super easy risotto recipe is the perfect way to use up the leftovers!
It even uses the carcass to make a delicious stock! Zero food waste at it's best!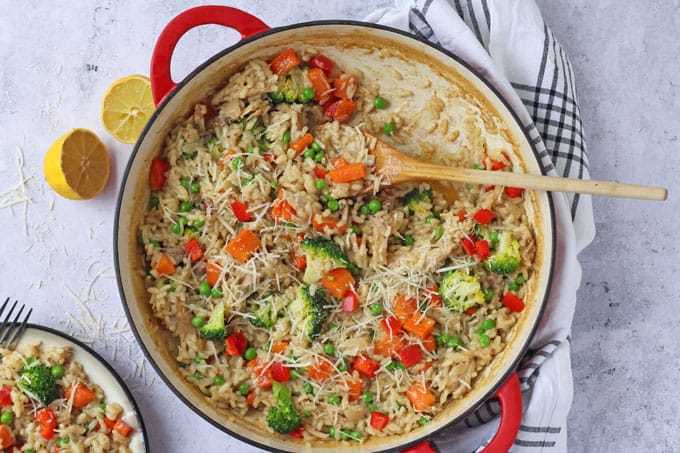 Fill with these trays with leftover roast turkey, ham, roast potatoes, veggies, leftover stuffing or any other leftovers you might have from your holiday season meals.
Then cover with tin foil and the tray can be put straight into the oven to heat up.
They are the perfect way to send your guests off with a meal for the next day or even to put together to deliver to guests that can't be there on the day!
Fed up with the same old boring leftover turkey sandwiches?
My airfryer toastie will take your leftover christmas sandwich to the next level!
This is the perfect recipe for boxing day when you want something tasty but want to put in minimal effort!
And the best thing is that you get to try out that airfryer you just got for Christmas!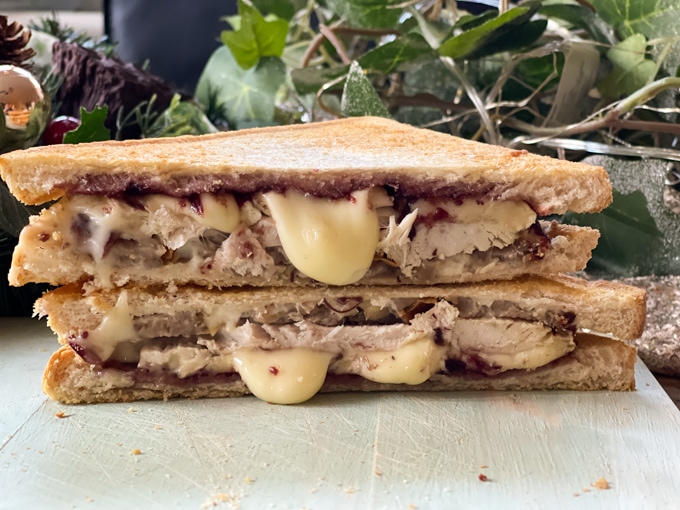 Christmas Leftover Veggies Recipes
We've got some fantastic leftover recipes to help you make the most of your leftover veggies so that absolutely nothing goes to waste this Christmas!
These bubble and squeak fritters are an excellent way of making leftover veggies a little bit more appealing to the kids! A slightly more modern take on a traditional bubble and squeak recipe, these fritters are perfect for brunch on Boxing Day with either a dollop of creme fraiche or a nice runny poached egg!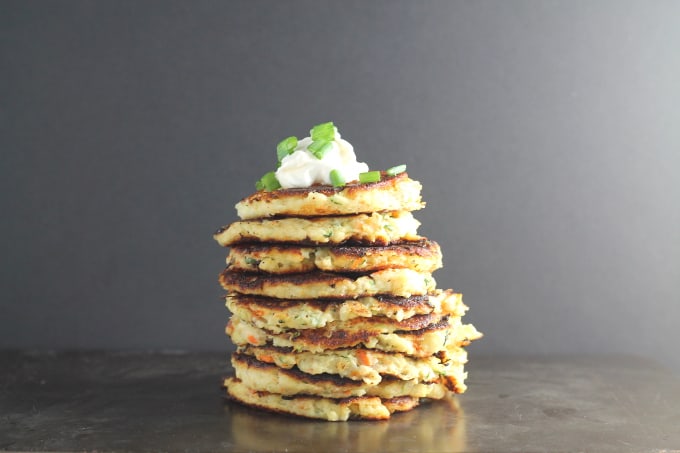 If you are looking for creative ways to use up your leftovers, then why not bring your leftover mashed potato back to life with these delicious mashed potato, ham, cheese and pea muffins! A really easy recipe that is ready in just 30 minutes.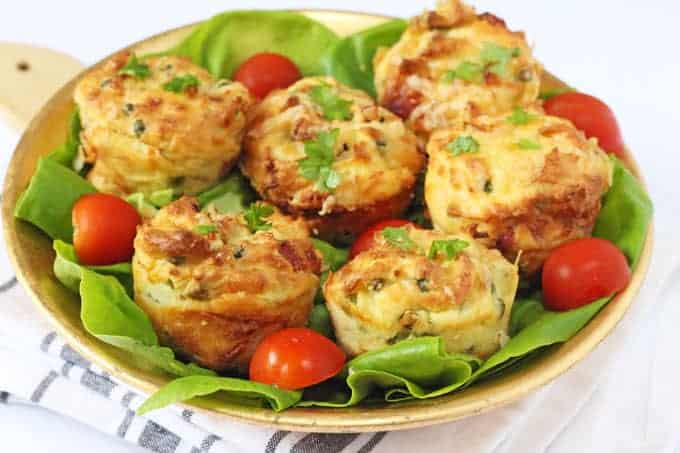 A quick and easy Christmas Leftovers salad with kale made from leftover Christmas turkey, ham and vegetables.
You can chuck this turkey salad recipe together in just 10 minutes so ideal for the day after your holiday dinner when you don't feel like doing too much!
Other Recipe Collections you might Like:
30 Minute Family Dinners – Our collection of 30 minute family dinners are all super easy to make, use easy to buy ingredients and with options for pasta dishes, curries, burgers and loads more, there something to please everyone!
The Best One Pot Family Recipes – One Pot Wonder recipes tend to be not only quick but super easy too, using everyday ingredients and with minimal prep.
From pasta recipes, to risottos, stews and even soup, we have 15 of the best One Pot Meals that the whole family will love.
20 Family Batch Cook Recipes – I don't know about you, but I tended to always think of batch cooking as being just for dinners, but in fact batch cooking is great for on-the-go breakfast muffins or bars, lunchbox fillers, and sauces as well as for evening meals.
Check out our collection of 20 Delicious & Easy Family Recipes That You Can Batch Cook For Busy Days!
PRE-ORDER my new book THE FUSS-FREE FAMILY COOKBOOK out 26th January. 100 healthy easy and quick recipes that the whole family will enjoy!