15 Delicious Nut-Free Snacks That You Can Pack Into School Lunches!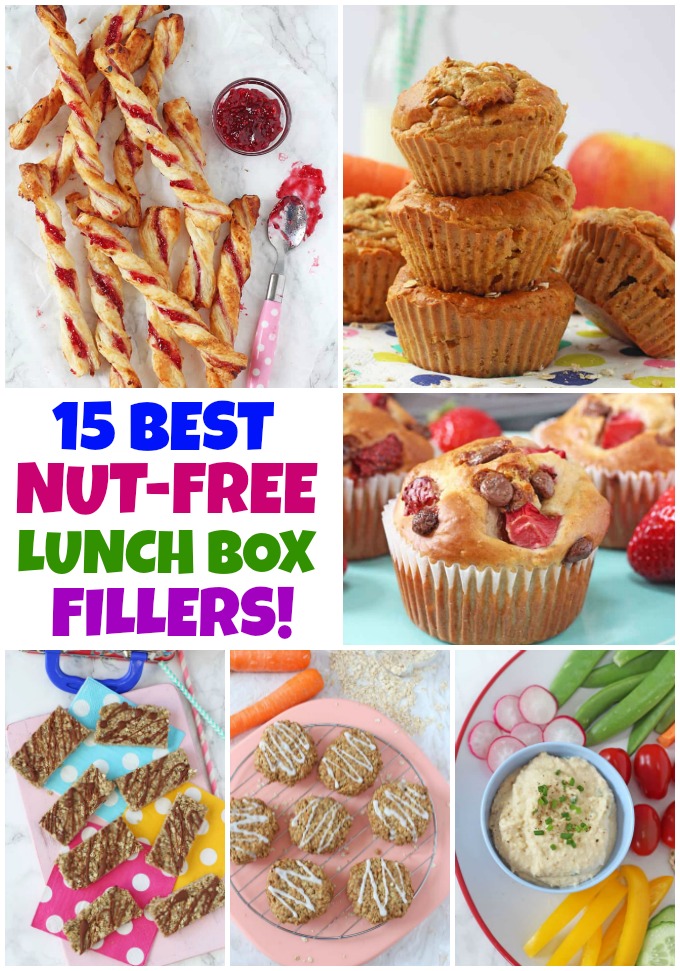 If you are a regular reader of the blog, you may have recently seen my post on Non Sandwich Lunchbox Ideas so you will know that I've been working on lots of lunchbox inspiration as the kids go back to school this week.
But as well as healthy and filling lunches, I know lots of parents are also looking for snack ideas to send to school or to bulk out their child's lunch. Buying snacks for kids can be really expensive but you can make your own at home for a fraction of the price. Most of these can also be made in bulk and will keep for several days. Some can even be frozen too.
Because most schools and nurseries now have a completely nut-free food policy, I've only listed recipes which are free from nuts and nut butter.
Here are my top 15 Nut Free Lunchbox Fillers that I hope might come in handy for everyone sending packed lunches and snacks to school for their kids!
Healthy, low sugar, wholemeal Cake Bars flavoured with banana, strawberries and orange. Perfect to pop into packed lunches or for an afternoon snack.
A delicious and easy banana bread recipe flavoured with orange and chocolate chips. This recipe is also a bit healthier using honey instead of refined sugar.
Delicious energy bars made with homemade sunflower butter, oats, flaxseed and coconut. They are the perfect nut-free snack for kids that can be popped into lunch bags or enjoyed as an after school snack!
Apple & Carrot Greek Yogurt Muffins
Made with lots of healthy ingredients such as carrots, apple, greek yogurt and oats, these muffins are an excellent after-school snack to feed hungry kids!
Chocolate Coconut Crispy Bites
These tasty Chocolate Coconut Crispy Bites are a brilliant afternoon snack for kids and adults too. They're also nut free so perfect to send to school as part of a packed lunch or snack box.
No Added Sugar Lunchbox Banana Cake
Cake is such an awesome treat for the lunchbox, it holds up well, is delicious and is a nice way to make it a little more fun.  And this no added sugar lunchbox banana cake is a favourite here!
Healthy Strawberry Chocolate Chip Blender Muffins
These Healthy Strawberry & Chocolate Chip Muffins are packed full of oats, banana, greek yogurt and honey and take just a couple of minutes to whip up in a blender or food processor.
These are easy to make and are that type of fill you up cracker rather than light and paper-like, these guys are therefore great for kids lunchboxes as they pack a hit in both taste and nutrition.
Raspberry Jam Puff Pastry Straws! A delicious sweet treat that the kids will love and are so easy to make!
This recipe is nut free, kid approved and super easy to make from really basic ingredients.
Banana, Avocado & Apple Baby Muffins
Delicious oat muffins with no added sugar or honey; sweetened naturally with banana, avocado and apple sauce! 
When it comes to bliss balls, there are so many chocolate ones and there are so many with nuts in them, but these lemon coconut bliss balls are nut free and delicious!  They taste so fresh and yummy and are perfect for the lunchbox.
A quick and easy recipe for Pea Hummus. Makes a super healthy snack for kids and great for lunch boxes too.
Plain popcorn is a pretty great snack with no nasties, but the addition of cheese turns it into a more sustaining snack perfect for lunchboxes.
Healthier Chocolate Chip Muffins
A delicious and easy Chocolate Chip Muffin recipe packed full of healthy ingredients like oats, greek yogurt and bananas. Perfect for an afternoon snack for kids or to add to their lunch box!
Nut Free Chocolate Bliss Balls
These bliss are a good way to get extra fibre in and they taste delicious! With some chia seeds in there we're also getting some Omega 3!
A creamy and cheesy dip made with chickpea and packed full of protein! A great way to get kids to eat their veggies!
These delicious cookies are gluten, dairy and egg free, low in sugar and packed with nutritious oats and carrots! A great way to get the kids into the kitchen cooking!