20 Delicious and Healthy Lunch Box Ideas for Kids That Aren't Sandwiches!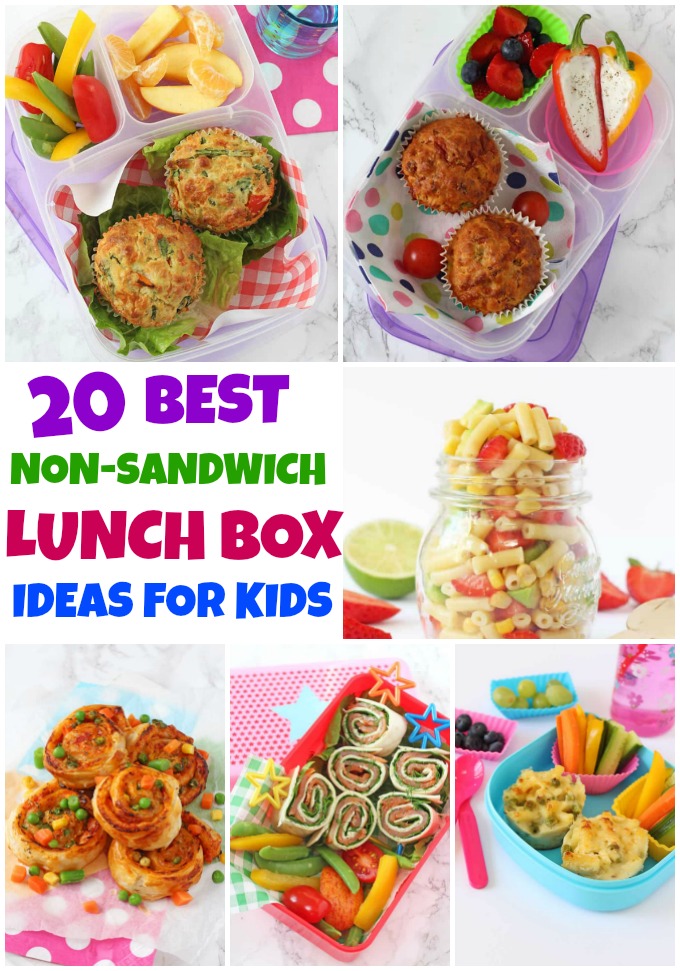 Kids all around the world are heading back to school or even starting for the first time this week and I know for many parents the thought of resuming "packed lunch duties" fills them with dread!
Trying to balance what your picky eating child wants for lunch with what you think will be nutritious and filling is not always easy.
I know my kids love nothing more than a simple ham or cheese sandwich but I'm always trying to widen our lunch box repertoire.
Don't get me wrong, there's nothing wrong with the humble sandwich a couple of times a week but when you're trying to introduce more variety into your family's diet, it's good to have some other options on hand too.
So here's 20 of my favourite healthy and filling recipe ideas to liven up your child's lunch box this new school year!
Salmon, Cream Cheese & Spinach Pinwheels
Really easy to make and packed with nutritious ingredients, these Salmon Pinwheels make an excellent lunch for kids either at home or packed into a lunchbox!
These little frittatas are a lunchbox hit! Enjoy them cold in the lunchbox or hot as an easy dinner, whatever way you eat them, these noodle and veggie frittatas are super yummy and so easy to make! These are perfect for upping your lunchbox game and making something fun and different that the kids will love.
Easy one-bowl Savoury Pizza Muffins, perfect for the kids' lunch boxes or as an afternoon snack! These lunchbox muffins are so easy to make, all the ingredients are mixed together in one bowl and then baked in a muffin tin in the oven.
5 ingredient eggy quinoa cups are perfect for the lunchbox! If your kids aren't fans of quinoa, this might be a good starter recipe, as it is absorbed by the eggs and the flavour of the cheese, just making them a little crunchier than quiche.
Macaroni Cheese Lunchbox Muffins
These Mac n Cheese Muffins (with peas!) are the perfect addition to a kids' lunchbox. This is pretty much just a classic Mac n Cheese recipe with peas added for a few extra nutrients!
A delicious and super easy pizza flavoured pasta salad recipe. Ready in less than 15 minutes and perfect for lunch boxes, picnics and BBQ's this summer!
This cucumber sushi for kids recipe is seaweed free, easy to make and so far kid approved.
These frittata fingers are packed, not only with cherry tomatoes, but also peas and peppers. Eggs are a really nutritious source of protein, making a healthy and delicious lunch. If you want to make these frittata fingers ahead of time, they can be cooled and then kept covered in the fridge for up to 2 days.
These muffins are gluten-free, but nice and filling and great for fuelling small tummies for breakfast, lunch and in the lunchbox! They freeze and defrost well.
Veggie Pizza Puff Pastry Roll Ups
Super easy to make and packed with mixed vegetables, these Veggie Pizza Puff Pastry Roll Ups are sure to go down a treat. These Pizza Roll Ups are absolutely delicious eaten still warm but they also taste great the next day too and make the perfect lunchbox treat!
Wholemeal Yoghurt Dough Scrolls – Cheese & Leek
Wholemeal yoghurt dough requires 2 ingredients, yep, that's it, 2 ingredients, self-raising wholemeal flour and greek yoghurt. Then the filling has 2 ingredients, meaning you only need 4 ingredients to make these cheese and leek wholemeal yoghurt dough scrolls.
Avocado & Strawberry Macaroni Pasta Salad
A delicious combination of avocado and strawberry makes this macaroni salad recipe the perfect summer meal and great for kids!
All kids love food shaped liked balls. Think about it, bliss balls, meatballs, they have kid appeal and these salmon and veggie balls are no different. Combining some of our favourite flavours, they have major kid approval! And, they go on skewers in the lunchbox, and we all know that food on a stick is a major winner for kids!
These Ham & Cheese Wraps and folded up like mini burritos and dry fried quickly to make them melting on the inside but soft and warm on the outside. So delicious and perfect for lunch at home or a packed lunch at school!
These are an upgrade from your usual mini pizza bases. And they are easy to make and gluten free. The brown rice mini pizzas also freeze well so they are perfect for back to school! Top them how you like, knowing that the base is super healthy.
Feel free to get creative! This cheesy vegetable muffins recipe is versatile in that you can use whatever veggies you happen to have in the fridge at the time, so feel free to experiment with the ingredients to your own tastes and what you have on hand.
Packed full of protein from eggs and cheese and with lots of added veggies, this nutritious lunch will help keep kids full all afternoon. Serve it with wholemeal bread or pitta bread for some slow release carbs and some raw veggie sticks on the side.
I think one of the best things about these Quick and Easy Lunchbox Quiches is that the flavours are adaptable. You can tailor them to what your child may like.
Delicious kid friendly sausage rolls packed with carrot and courgette. Everyone will love these Hidden Veggie Sausage Rolls!
Spinach & Cheese Savoury Lunchbox Muffins
Delicious savoury muffins packed full of vegetables like spinach and peppers. As well as being super delicious, these savoury muffins are really easy to make. Everything can be mixed in one bowl by hand so there's no special equipment required.
Cheese & Broccoli Frittata Fingers
These muffins are tasty yet mild, perfect for little taste buds. I used broccoli and courgette / zucchini in my recipe but I often use other veg depending on what I have in my fridge. It's also a great way to use up any leftover cooked veg that you have hanging round!