10 of the best kid-friendly recipes for fish and seafood! These Kid-Approved Fish Recipes are the perfect way to introduce fish to kids!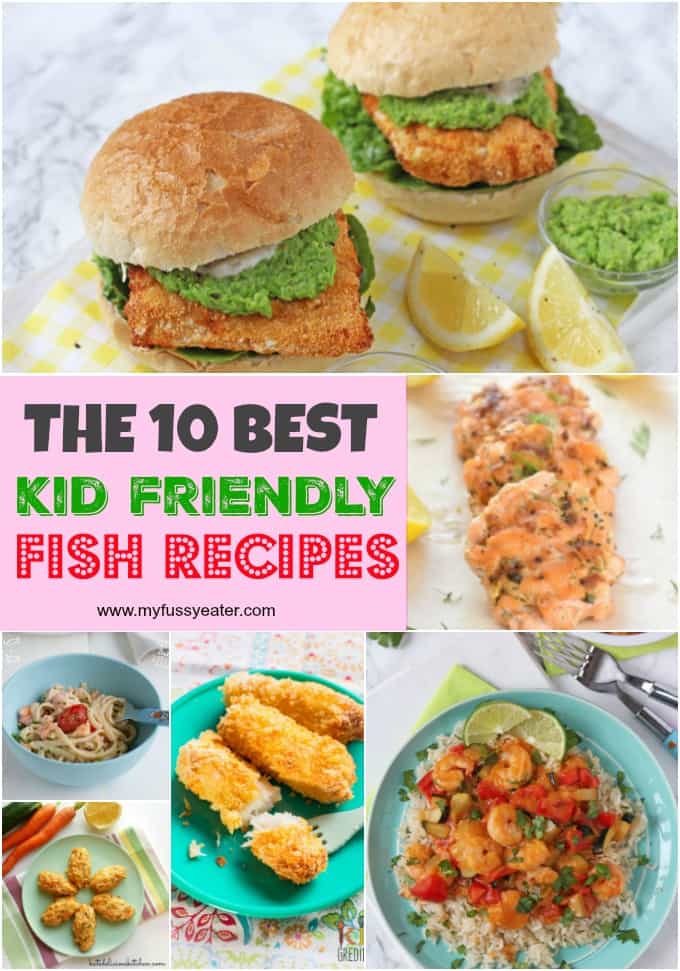 I kind of think that fish is the forgotten superhero of the food world.
We seem to be constantly reminded about the benefits of fruit and vegetables in our families' diet.
And they do indeed play a very important role in delivering the nutrients that we need!
But fish and seafood don't seem to be quite so high on our radars in terms of its health benefits.
There are so many fantastic health benefits to eating fish and here are just a few of the headline points:
Health Benefits of Eating Fish
* A great source of protein which helps build strong and healthy muscles and bones which is obviously key for the small people in our lives!
* Vitamin A contributing to healthy eyes and skin.
* It contains Vitamin B which helps convert food to energy and helps build new blood cells.
* Also contains Vitamin D to help absorb calcium
* Iodine which contributes to keeping metabolism at the right level.
* Contains Iron too to make new blood cells
* Oily fish such as salmon, trout, mackerel and fresh tuna are great sources of Omega -3 fatty acids which are important for brain development (perhaps why fish is often referred to as "brain food")!
How To Get Your Kids To Eat Fish
Now I know that a lot of people either "don't like fish" or presume that because they have a small person in tow, that fish will be a point blank refusal at mealtimes, but not all fish is strong in flavour (you know, like "fishy" fish!)
A lot of white fish like cod, haddock and tilapia for example, are very mild in flavour and there are so many different ways of cooking and presenting a fish dish that even the pickiest of eaters will be asking for more!
Thinking about how you serve fish when introducing it to kids is really important!
Putting it together with foods they are already familiar with or making it texturally familiar will all help!
Because it's so nutritionally beneficial, I really wanted to put together a collection of easy fish recipes for you to get your kids trying a wide variety of fish!
So, here's my roundup of 10 fantastic kid approved fish and seafood recipes your kids are sure to love!
Healthy Fish Recipes For Kids
These Tuna & Sweetcorn Bites are a great way to introduce fish to your picky eater. Small bites of mashed potato, tuna and sweetcorn in a crispy coating.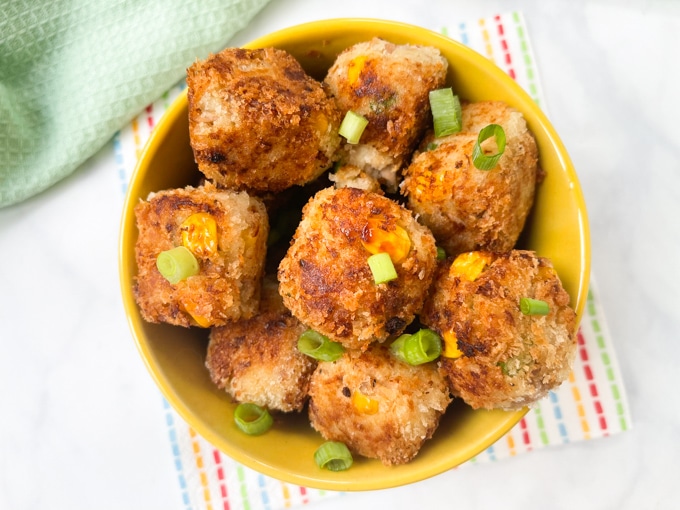 These are nothing like the store bought fish fingers that I grew up on, they actually taste and look like fish and are yummy! They are such a good starting point for kids who won't eat fish.
This is a great recipe for the whole family! Combining new food like fish with a food that a fussy eater is already familiar with (in this case, pasta) can be a good way to get them trying new foods!
Comfort food can still be healthy! These super tasty Fish Finger Sandwiches are lightly coated in breadcrumbs and then air fried for a crunchy coating! By using the fresh fish fillets in my recipe rather than store bought fish fingers, you can also save money!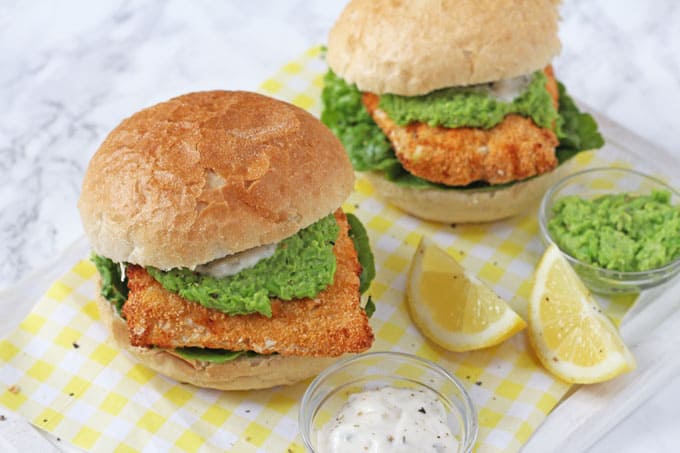 This frittata combines, tinned tuna, green beans, sweetcorn and new potatoes to make a really great finger food that little hands can easily get to grips with whilst introducing them to fish!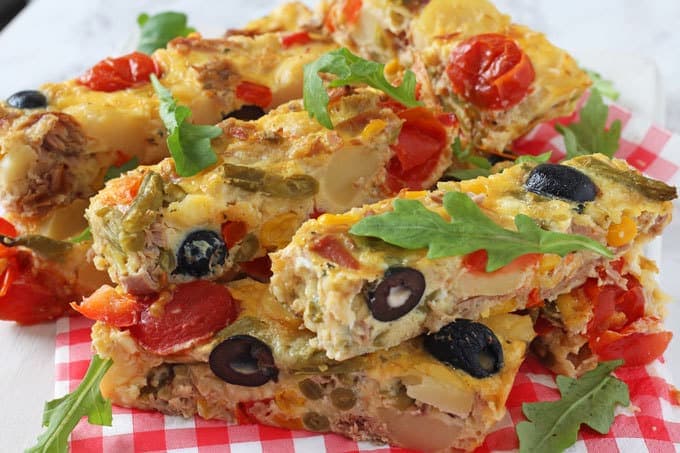 These homemade fish sticks or fish fingers can be made in a variety of ways with different coatings depending on your little one's tastes! And they can be made in advance and frozen ready to cook when you need something healthy on the family table fast!
These little fish tacos make a brilliant fish dinner that is light and summery! Let the kids get involved in putting their own tacos together to make dinner time more fun and interactive!
A simple creamy pasta dish made with salmon, frozen peas and cream. A great way to encourage get kids to eat fish and ready in just 15 minutes. The perfect mid-week family meal.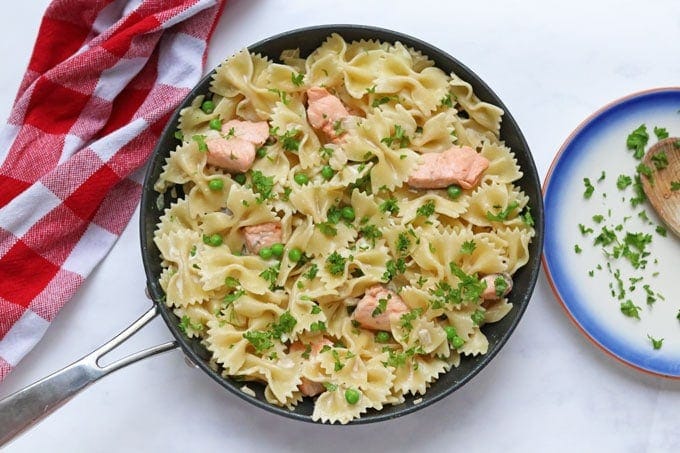 Salmon is one of those foods that I am always trying to get my kids to eat. It is a really great source protein for growing bodies, not to mention an excellent way to get essential Omega-3 fatty acids or "healthy fats" into them.
And these little golden brown baked fish nuggets are brilliant for little fingers!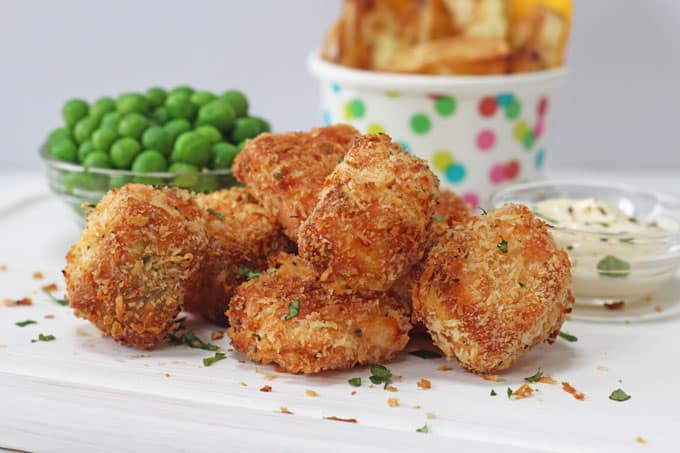 A quick, easy and super tasty Thai Red Prawn Curry recipe that's mild enough for kids. A new family favourite for sure!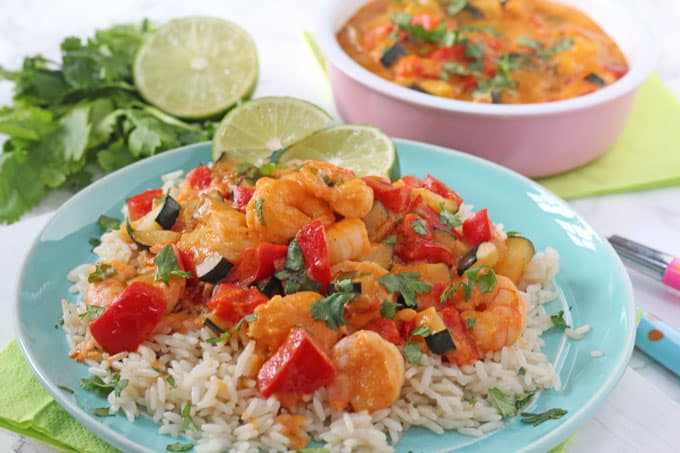 Serve these fish cakes with homemade chips or go super healthy with homemade sweet potato wedges with a side of homemade tartar sauce and you've got a really filling but healthy dinner for the entire family to enjoy together!
Super easy to make using only simple ingredients and really healthy too, your kids are sure to love this recipe for Lemon & Herb Fish Fingers.
Cod is perfect for little taste buds as it's not too overpowering and you can also adjust or even leave out the lemon zest to dial down the flavour even more if this is a first introduction to fish for kids!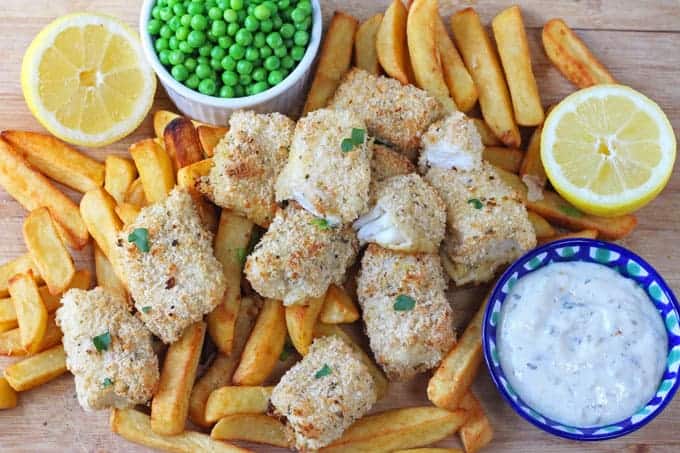 If you enjoyed these kid approved fish recipes, then please do leave me a comment and a star rating below. You can also share your pictures with me on Instagram. I always love to see your creations!
ORDER my new book THE FUSS-FREE FAMILY COOKBOOK out now. 100 healthy easy and quick recipes that the whole family will enjoy!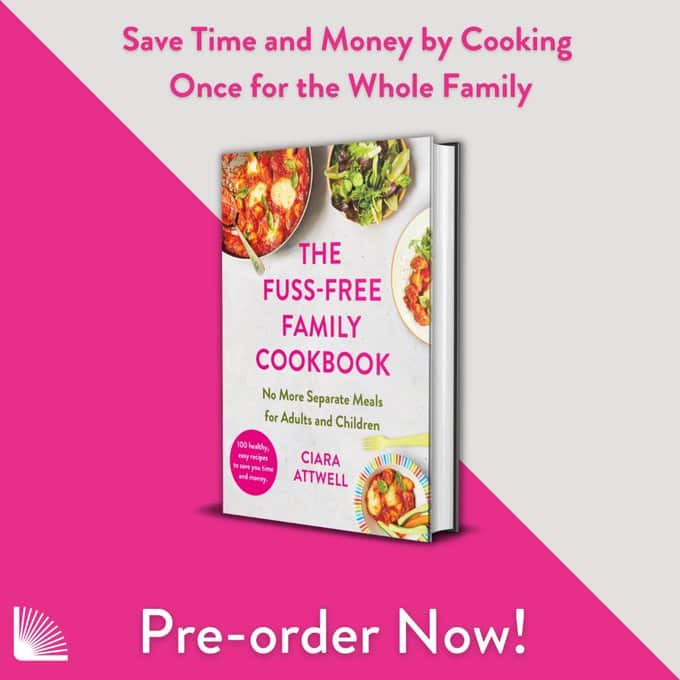 You might also like this Kid-Friendly Chicken Recipe collection