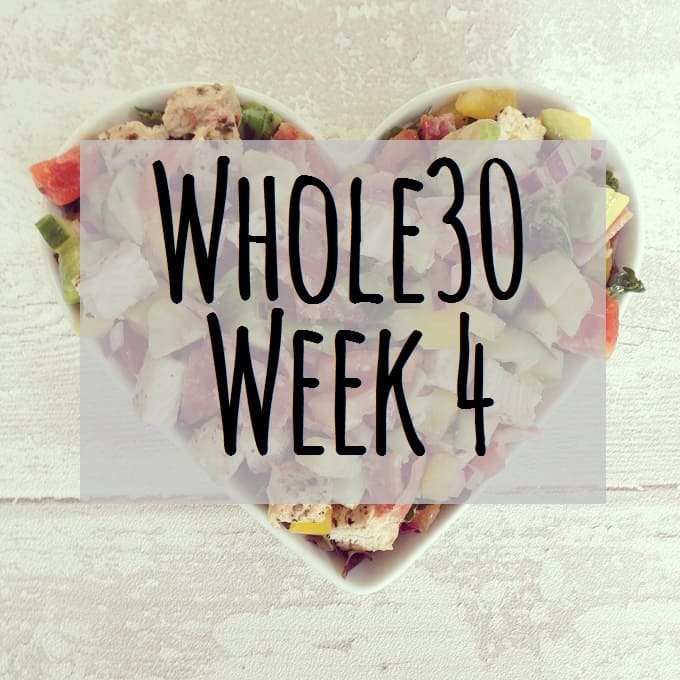 Day 28…I'm 4 weeks into my Whole30 programme and I still can't believe I'm still here writing about it. Ok, so I had a bit of a slip up last week but I got back on track straight away and thankfully this week has been easier.
When I first started reading about Whole30 and was tossing up whether or not to give it a go, 30 days seemed like such a long time but honestly the weeks have flown by and no one is more shocked than me that I'm now on the home stretch. 
What I've Been Eating on Whole30 This Week
Food wise I've tried some new recipes this week but I've also been relying on smoothies a bit too much for breakfast.
I don't see anything wrong with a smoothie brekkie a couple of times a week but it was beginning to turn into a daily habit so I've gone back to my trusty egg breakfasts again.
I've also ditched the Nakd bars this week. Although they are a fantastic snack (made with only cold pressed fruit, nuts and oats in some flavours) I was relying on them too much to get me through chocolate cravings or sometimes even using them as a substitute for meals when I was in a hurry.
I've been working hard to break my snacking habit and to try to control my cravings and I felt that I was using these bars as a bit of a crutch. So they had to go. For now at least!
My Whole30 Journey
One thing I was apprehensive about when starting Whole30 was that others would think I was being silly! Embarking on another fad diet or jumping on some kind of anti-grain and dairy bandwagon.
But family and friends have been nothing but supportive. Some have been asking for tips and recipes and most surprising of all; two friends have already started their own Whole30 as a result!
I knew my biscuits-for-breakfast husband would never join me in a month long elimination of so many of his favourite foods. But he has really impressed me this week but giving up all chocolate, crisps, desserts and any other junk.
So overall it's been a good week. I've avoided the wine and chocolate oats disaster of last week and am back in my stride. Bring on Day 30!
Don't forget to follow me on Instagram for daily meal pics and you can read through my other weekly posts here: