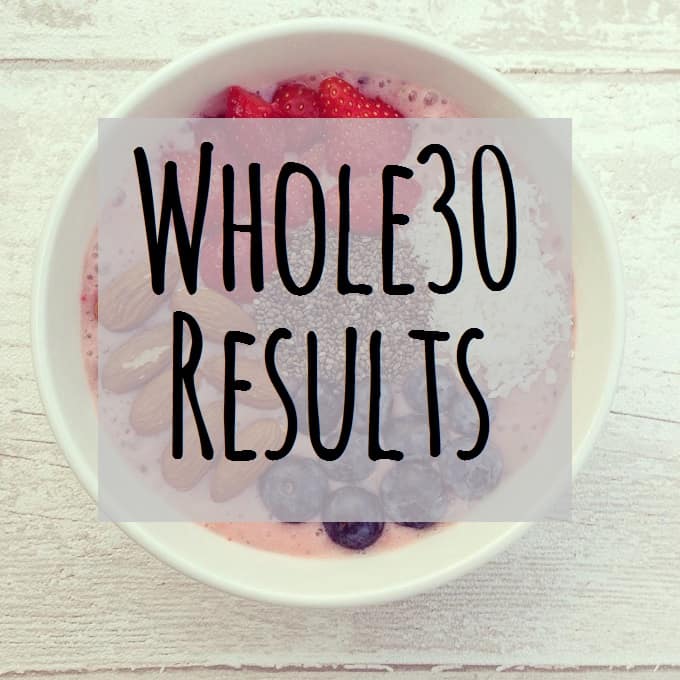 Yipee I hear you cheer…she's finished this Whole30 thingy and will finally stop banging on about it. This is the last post I promise! I thought it was only right that I come back and let you know my results at the end of the 30 days. So here it goes…
Weight
I lost 10lbs in 30 days. The older I get the harder it seems to be for me to shift weight. In my twenties I only had to look at a few veggies and I lost 5lbs (ok I'm exaggerating a bit but you know what I mean!).
So I'm really happy with 10lbs in a month. I weighed myself this morning again and I've lost another pound so I'm down 11lbs altogether.
If you followed my weekly posts you may remember me being a bit disappointed two weeks in when I had only lost 4lbs. I ended up losing more weight in the second half of the month so if you are at the beginning of Whole30 and are feeling a bit disheartened, don't give up!
Fat Loss 
Unfortunately I didn't take any body measurements before I started this which is a shame. But I definitely have noticed that I've lost some of the baby belly fat from around my middle.
I'm chuffed with this as it shows that it wasn't just 'water weight' that I lost but actual fat loss. I am fitting into clothes that I haven't worn since the early days of my pregnancy over a year ago. It's like I've been shopping without spending any money!
Skin
I used to have terrible skin but my last pregnancy must have balanced out my hormones as it suddenly got a lot better. However this summer I started to get spots again. In the first couple of weeks of Whole30 those spots disappeared. I got another few breakouts between Week 2 and 3 but that was a bit of a stressful week for me. Thankfully my skin has started to clear up again so fingers crossed it stays good!
Energy / Sleeping
I am sleeping a million times better now. No more random wide awake periods in the middle of the night. Overall I have a lot more energy too. Before Whole30 I would have one night a week where I would feel completely wiped out and would go to bed after the kids at 7.30pm. I haven't done that at all this last month. Mornings that the baby has woken very early (hello 5am!) I have been ok and managed to get through the day without any major energy slumps.
Emotional Eating
One thing Whole30 has thought me is that I am most definitely an emotional eater. If I was having a bad day or the kids were being particularly difficult I would reach for the chocolate or wine once they were in bed. I never realised how much of a crutch these were. Removing this crutch was one of the most difficult parts of the 30 days for me but hopefully going forward I can enjoy chocolate and wine as a well deserved treat rather than wolfing and gulping them down in upset or anger.
Food Satisfaction
Something else I've taken away from Whole30 is my enjoyment of food. Up until now I would classify all my meals as being either "Good" or "Bad". Good being a healthy but boring / unsatisfying meal and bad being unhealthy but thoroughly enjoyable. I now only make food that I know I'm going to enjoy. Whats the point otherwise! I feel really satisfied when I'm finished each meal and very rarely now do I head straight for the fridge or cupboard to see what else I can have. This has definitely helped me break the cycle of having a "good" day / having a "bad" day with eating.
30 Days of Whole30
So those are my results and observations at the end of my 30 days. I really am so so glad I did this. I think it has been one of the best things I have ever done for myself and my body.
I don't think we women acknowledge what we put our bodies through with pregnancy, child birth, breast feeding and then all those post-partum hormones floating around.
Whole30 has given me the chance to re-balance myself and find out exactly what my body needs to function at its best.
What's next? Where do I go from here? It's a bit nerve-racking finishing Whole30 as you really do get used to eating such a restricted diet and the fear is always that as soon as you get a sniff of chocolate / bread / pasta you will go back to your old eating habits.
I'm still trying to figure out what type of eating is going to suit myself and my family going forward. My fussy eater has benefited from eating a lot less sugar and my husband has really impressed me by giving up all junk on week days and just allowing himself the occasional weekend treat.
I think a total Paleo diet might be a bit too restrictive for us but I'm going to give "clean eating" a try. The definition of clean eating is fairly loose. For example some people eat grains such as oats, some don't. It going to take a bit of time to figure out our own definition that suits us and our lifestyle but we'll get there!
Thank you everyone who has been so supportive in the last month, who sent me lovely messages and left comments. If anyone is considering Whole30 for themselves and has any questions, please do shout, or tag me over on Instagram. I'll be happy to help.
xxx
ORDER my new book THE FUSS-FREE FAMILY COOKBOOK out now. 100 healthy easy and quick recipes that the whole family will enjoy!