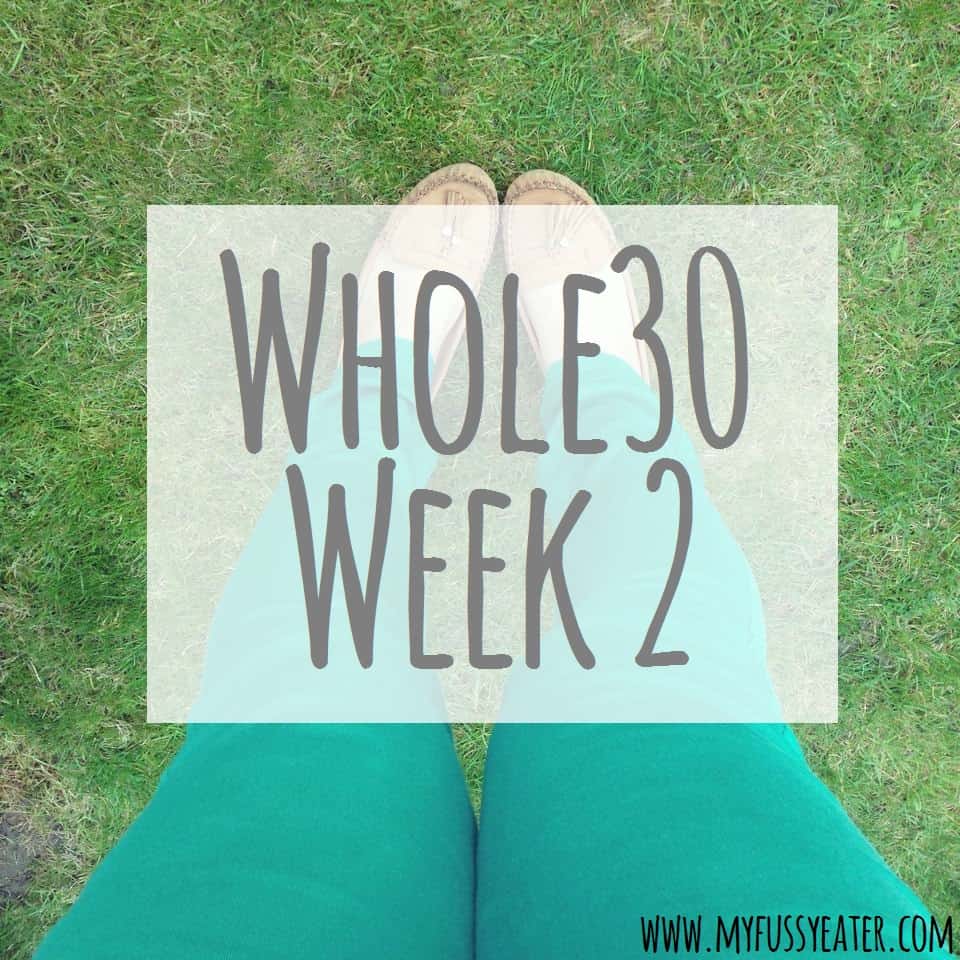 So here I am…at the end of my second week on Whole30 and I can't quite believe I'm still sticking to it to be honest! Two weeks ago thirty days seemed a long long time but the days are flying by and this way of eating is becoming more and more normal to me. I have to admit I still do think about chocolate every now and then but I haven't had any real cravings for it, or any other eliminated foods. Touch wood this continues!
How Am I feeling after 2 weeks of the Whole30?
Overall I've felt pretty good this week. I'm sleeping better, my skin is improving and I am finding I have a bit more energy during the day, especially around ⅘pm which is my usual slump time.
I am loving that I am finally eating a proper breakfast but with Aoife back to nursery I am struggling to fit it in before 9am and have been eating much later instead.
This week I am hoping to get to grips with some super quick breakfast recipes that I make cook and eat before I need to be out the door with her.
Whole30 Rules!
One of the rules of Whole30 is that you don't weigh yourself during the thirty days. I think this is really sensible as it's all too easy to get bogged down by numbers on a scale and forget all the other benefits that you are gaining from it. I have to admit I slipped up on this front.
I climbed on the scales yesterday hoping for a little motivation and was sorely disappointed when I saw that I have only lost 4lbs. Probably my punishment for breaking the rules!
However, I felt myself that I have lost some of the baby belly fat from around my middle so I tried on a pair of jeans that haven't fitted me since last summer. To my delight they fitted me quite well, so there you go…you cannot rely on scales as an indicator of success! I have learned my lesson and will be hiding them away until the end of the 30 days!
My Whole30 Meals
Food wise, here's what I have been eating this week. My husband and three year old have been having the same evening meals as me and so far no complaints from them, although I do add some rice or pasta to their dishes on days that I make myself cauliflower rice or courgetti.
Breakfast
Bacon & Egg Muffins // Sausage & Veggie Omelette // Fruit Salad with Coconut Milk and Nuts // Bacon, Egg & Spinach on a Portobello Mushroom
Lunch
Courgetti with Spinach, Basil & Cashew Pesto and a Turkey Breast // Cauliflower Fried Rice with Veggies & Chicken // Garlic Butter Prawns // Courgetti with Avocado Pesto
Dinner
Mexican Spiced Steak with Potato Wedges, Tomato Salsa & Chunky Guacamole // Courgetti Bolognese // Roasted Salmon & Veggies with Chorizo Fried Potatoes // Sun-Dried Tomato Chicken with Cauliflower Rice
My goal for the next week is to cut down on snacking. Technically you are not supposed to snack on Whole30 as the idea is to get you out of the habit of constant grazing and eating just because food is there. I have definitely snacked on too many nuts this week, grabbing a few now and then when I'm at home and not even feeling that hungry. So this week I'm going to try to knock that habit on the head.
If you have any questions about Whole30 please do comment below and I'll try my best to answer them. And don't forget to follow me on Instagram to see daily updates and meal pictures.
Follow my journey here: