Eeeek…it's the end of July already. How on earth did that happen? This year is absolutely flying by already and I can't believe it's been just over 3 months since I started this little blog.
My web traffic has increased massively this month and it's all down to you lovely readers who come back several times a week to read my recipes and leave lovely lovely comments, here and on Facebook.
I am really enjoying sharing my recipes with you all but if there is anything in particular you would like to see more of, or foods that you are struggling to get your own fussy eaters to consume, then let me know and I'll see if I can rustle up some menus to help.
In the meantime these were the Top 4 most viewed recipes this month. They include two ice cream recipes…definitely a sign of the fantastic weather we've been having!
Chickpea & Nutella Cookies – gluten free cookies made from chickpeas, nutella and peanut butter. Oh so good and healthy and I promise you can't taste the chickpeas!
Two Ingredient Ice Cream – a super healthy vegan "ice cream" made with just bananas and strawberries.
Peanut Butter & Banana Popsicles – another dairy free "ice cream" this time made with just bananas and peanut butter.
Roasted Vegetable Wrap Pizza – a quick and easy pizza made with a wrap base and topped with roasted vegetables.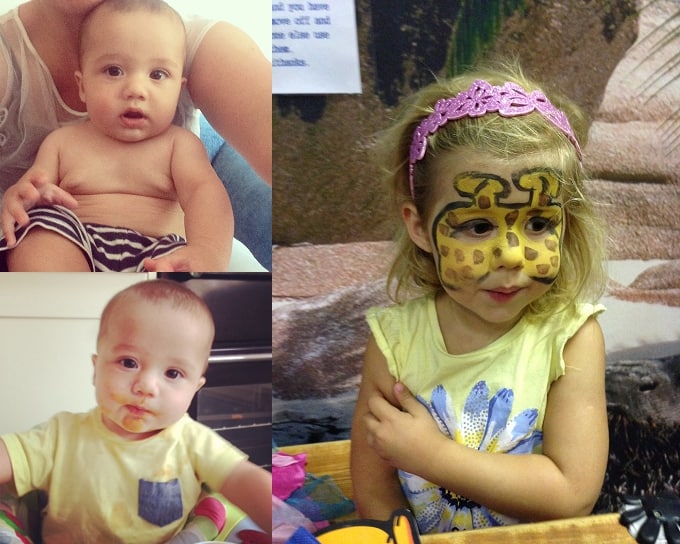 On a personal note it's been a busy month. My squidgy little newborn is no more. Finn turned 6 months old at the weekend and has suddenly morphed into a proper little boy. We've started weaning which has been pretty disastrous so far but I'm persevering!
My other little monkey (or giraffe!) is now on holidays from pre-school so I've been trying to keep her entertained as much as possible with days out and playdates. We are still trying to take the perfect selfie but I'm sure we'll have mastered that by the end of the summer!
I am loving these pink and gold espadrilles from H&M, recommend by Triona of A Little Londoner on her blog. They're now reduced to £9 – bargain!
Holly from Recipes From A Normal Mum released her very own cookbook this month. It's chock full of quick and easy family friendly recipes made with bog standard ingredients that you will find in your local supermarket. I've ear marked so many recipes which I'm itching to try, beginning this weekend. I can't wait!
So that's been my July. How was yours?