Gluten free cookies made from chickpeas (yes…chickpeas!), peanut butter and nutella. A great source of protein for picky eaters!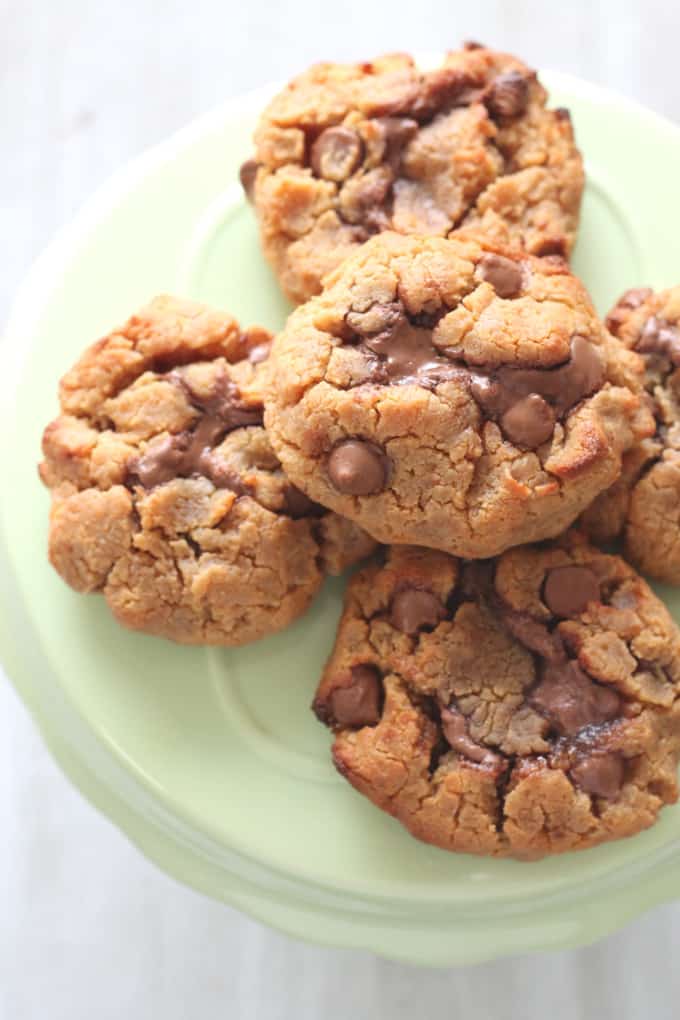 I know what you're thinking…"Cookies made from chickpeas? There's no way on earth my fussy eaters will be fooled by that. They'll smell the nutritional value from a mile away". I thought the same just a few days ago but now I'm a wholly converted, fully paid up member to the chickpea appreciation society!
I had seen these Peanut Butter Chickpea Cookies doing the rounds on Pinterest for some time and I have to admit I was a tad sceptical myself. Could you really make a decent tasting cookie from chickpeas? The only way to find out was to try myself and so I adapted The Texanerin's recipe to UK measurements and also decided to fill the cookies with a dollop of nutella. I was worried the cookies may be a bit dry so I thought some melted nutella might counteract this. I shouldn't have worried however, the peanut butter has enough fat to keep the cookies very moist. But the melting nutella centre was a winner nonetheless and I'll be keeping that addition to the recipe every time I make these in the future.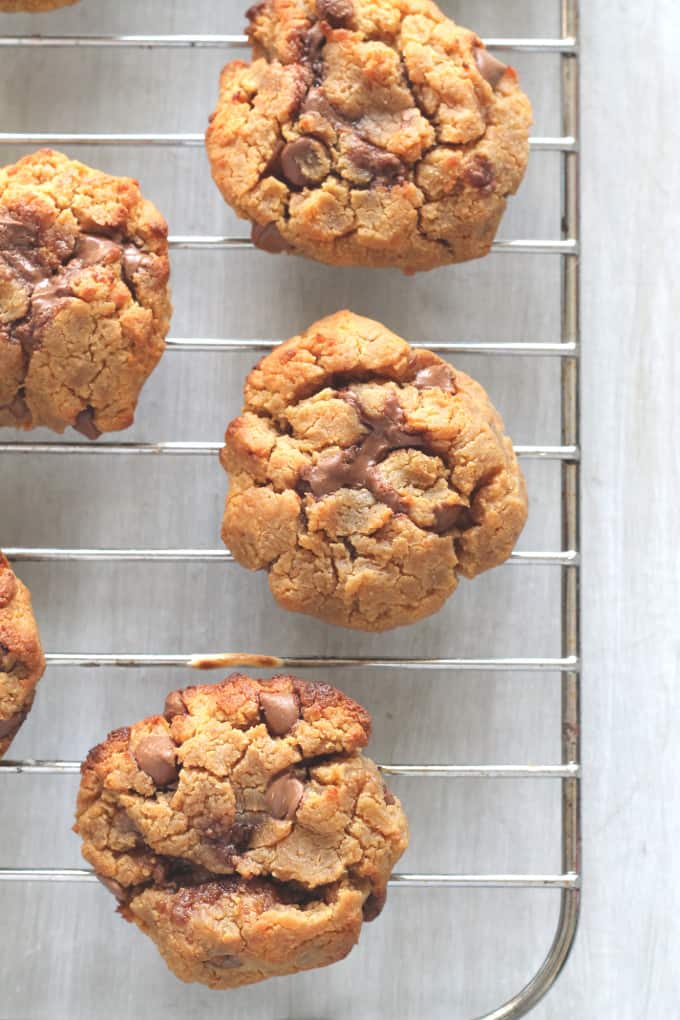 Chickpeas are a great source of protein so combined with the monounsaturated fats found in peanut butter, these cookies make the perfect snack for active and growing children. With no flour being used in this recipe the cookies are gluten free (but obviously be sure to double check that the baking powder you use is gluten free). You could also make them suitable for vegans but omitting the nutella and using dairy free chocolate chips.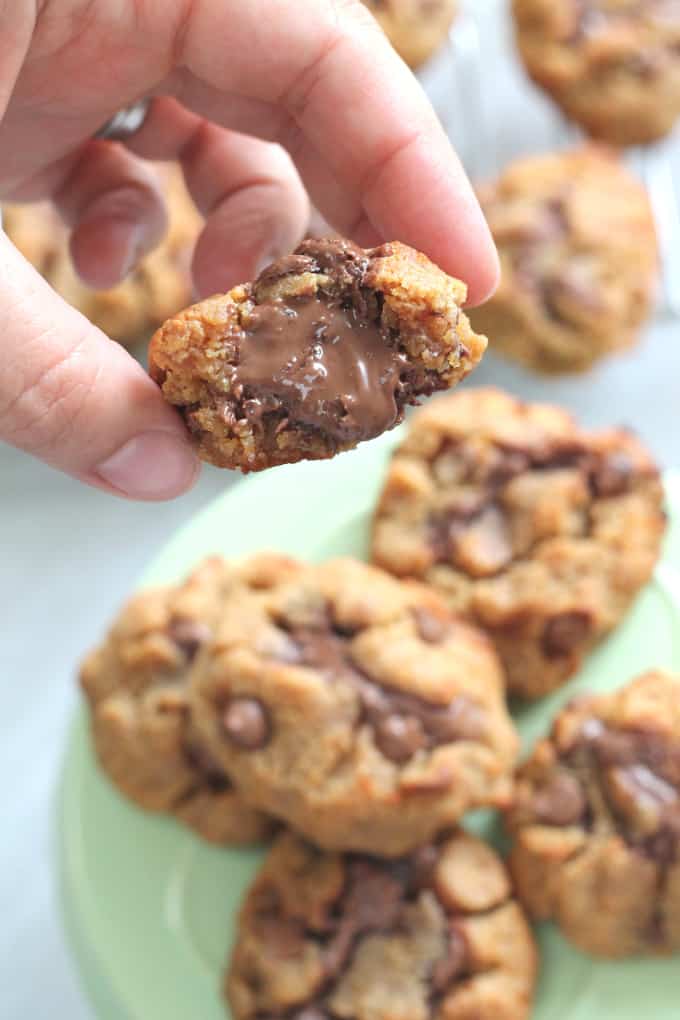 So what did I, and most importantly my fussy eater, think of these Chickpea Cookies? I honestly could not taste the chickpeas at all. You can tell that there is something slightly unusual about these cookies but without knowing the ingredients I think it would be impossible to put your finger on it. Despite this I was still not entirely convinced that I could pull the wool over my fussy eater's eyes. But incredibly she chomped away on two cookies and was delighted with the gooey runny nutella surprise in the middle!
So…have I convinced you yet? If you are still a little sceptical why not give them a whirl. Love them or hate them, come back and let me know how you got on. I'd love to hear your thoughts.
Print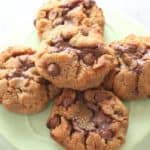 Chickpea & Nutella Cookies
---
Prep Time:

12 mins

Cook Time:

13 mins

Total Time:

25 minutes

Yield:

12

1

x
Category:

Snacks

Cuisine:

European
Description
Gluten free cookies made from chickpeas (yes…chickpeas!), peanut butter and nutella. They are so good and I promise you can't taste the chickpeas!
---
Ingredients
240

g / 8 oz (

one

drained can) of chickpeas, rinsed and patted dry

175

g / 3/4 cup smooth peanut butter

75

g / 1/4 cup honey

2 tsp

vanilla extract

1 tsp

baking powder

50

g / 1/3 cup chocolate chips

1

& 1/2 tbsp nutella
---
Instructions
Preheat the oven to 180c / 350f and line a baking tray with parchment paper.
Combine the chickpeas, peanut butter, honey, vanilla extract and baking powder in a food processor and blitz until the mixture becomes smooth. Add the chocolate chips and stir with a spoon until combined.
With your hands divide the mixture into 12 equal dough balls and shape into a rough cookie shape. Create a small well in the centre of each cookie and fill with a small spoon of nutella. Shape the cookie dough around the nutella so that it covers the majority of it. It's ok to have a little nutella showing through as that will help to create a nice melted layer on top of each cookie.
Place the cookies onto the baking tray. They won't rise or expand much so there's no need to keep them far apart from each other. Bake in the oven for approximately 13 minutes. The cookies won't be hard like normal cookies. They will still be very soft, although they will become more crumbly once cooled.
Leave to cool on a wire rack and store in an air tight container for 3-4 days.