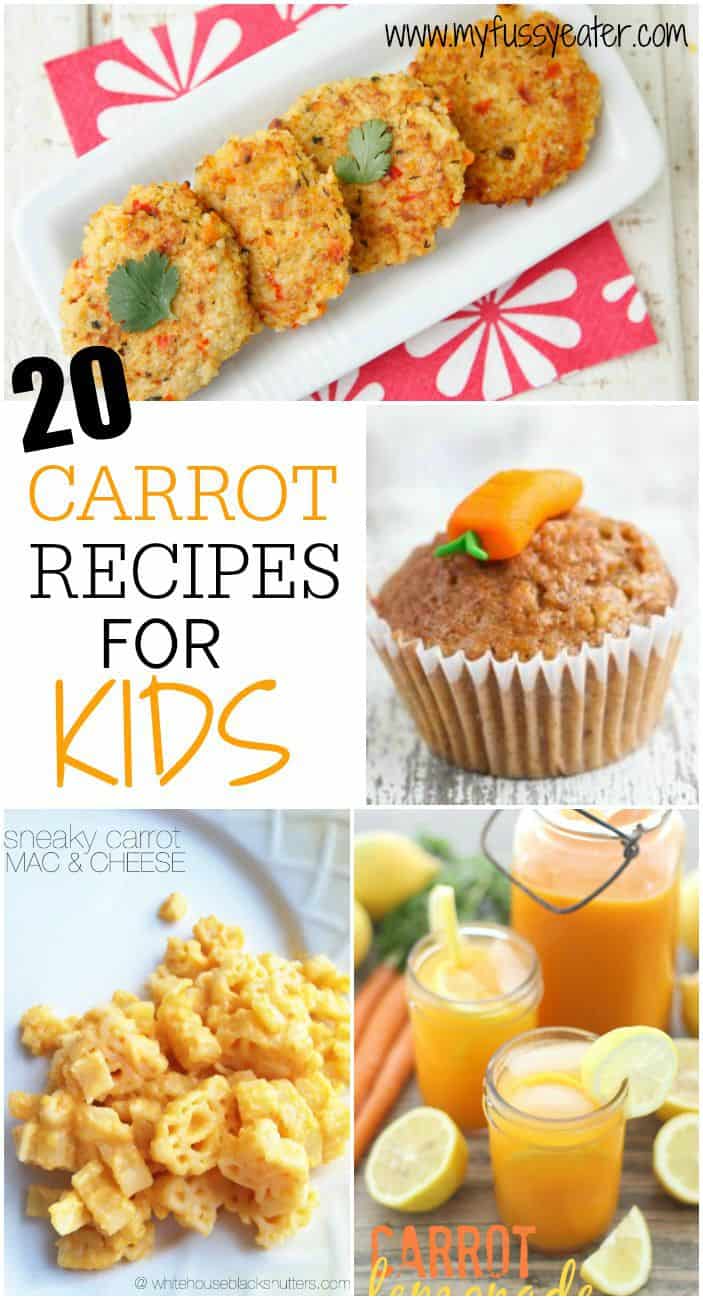 Naturally sweet and packed full of vitamin A and beta carotene, carrots are a fantastic vegetable for children but it's not always easy to convince them to eat them regularly. Boiled or stir fried, they can be a little bland for kids so why not try some of these tasty recipes instead, all of which contain carrots. Shhh, the kids will never know! 
Pictured:
Sneaky Carrot Mac & Cheese – Have picky kids or husband? This recipe is for you.
Veggie Millet Cakes – These millets cakes are easy to prepare and take only minutes to cook. Their nutty flavor comes out even more when you add a yogurt tahini sauce for your little one to eat with it.
Carrot Muffins – A very flexible recipe and a delicious source of fiber! My kids love these muffins!!! You can add just about anything you want and make it your own. Enjoy!!!
Carrot Lemonade – Lemonade is a must for summer and this Carrot version adds a whole new twist.  It's so pretty and packed with Vitamins A and C, plus the carrots help sweeten the mix with no added sugar!
Sweet:
Carrot Popsicles – Get your kids involved in making these veggie-packed popsicles!
Carrot Overnight Oats – Creamy overnight oats with all the flavours of carrot cake. Almost as good as eating cake for breakfast and a great deal healthier – plus you get a portion of veg in at the start of the day.
Carrot & Apple Smoothie – A filling and nutritious breakfast smoothie with the goodness of celery, cinnamon and ginger
Carrot Pancakes – Great for getting veggies in at breakfast time!
Miss Rabbit's Carrot Cake Energy Bites – Miss Rabbit's Delicious No-Bake Energy Bites made with carrots from Peppa's Vegetable Garden
Apple & Carrot Greek Yogurt Muffins – Made with lots of healthy ingredients such as carrots, apple, greek yogurt and oats, these muffins are an excellent after-school snack to feed hungry kids!
Courgette, Carrot & Banana Cake – A delicious moist and dense Courgette, Carrot & Banana Cake with an Orange Icing Glaze.
Carrot, Apple & Oat Breakfast Cookies – Vegetable Cookies?! A delicious breakfast cookie recipe, packed full of healthy oats, carrots, apples and banana. Great for picky eaters!
Carrot Cake Cookies – These Carrot Cake Cookies delicious cookies are easy to make gluten, dairy and egg free, low in sugar and packed with nutritious oats and carrots! A great way to get the kids into the kitchen cooking!
Savoury:
Veggie Meatballs For Kids – Packed full of protein and fibre, these Veggie Meatballs make a super healthy meal for kids. They're great finger food for baby led weaning too!
Carrot & Sweetcorn Fritters – A tasty, quick and simple vegetarian meal
Carrot & Parsnip Fries Liven up plain old winter vegetables with these baked Carrot & Parsnip Fries!
Savoury Carrot Flapjacks Delicious savoury flapjacks packed full of carrots, cheese, nuts and seeds. A really great healthy snack for kids!
Beetroot & Carrot Soup with Feta Cheese – A delicious and vibrant kid-friendly soup made with raw beetroot, carrot and potatoes, garnished with creme fraiche and crumbled feta cheese.
Spiralized Salad For Kids – Carrot, Cucumber & Apple – A quick, easy and super healthy summer salad for kids. I've spiralized carrots, cucumber and apple to make this delicious side salad that the whole family will love!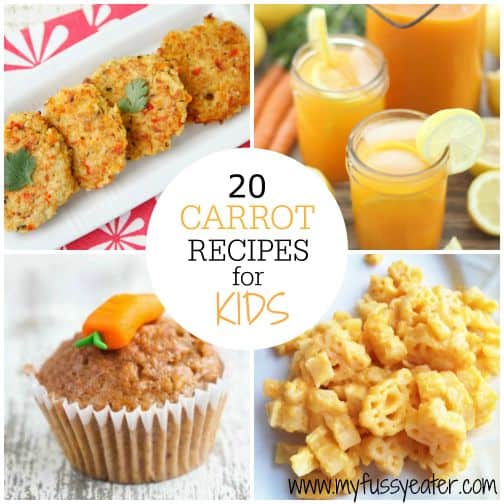 ORDER my new book THE FUSS-FREE FAMILY COOKBOOK out now. 100 healthy easy and quick recipes that the whole family will enjoy!