Fragrant Thai Carrot & Coconut Soup made with the exact ingredients in Heinz Soup Of The Day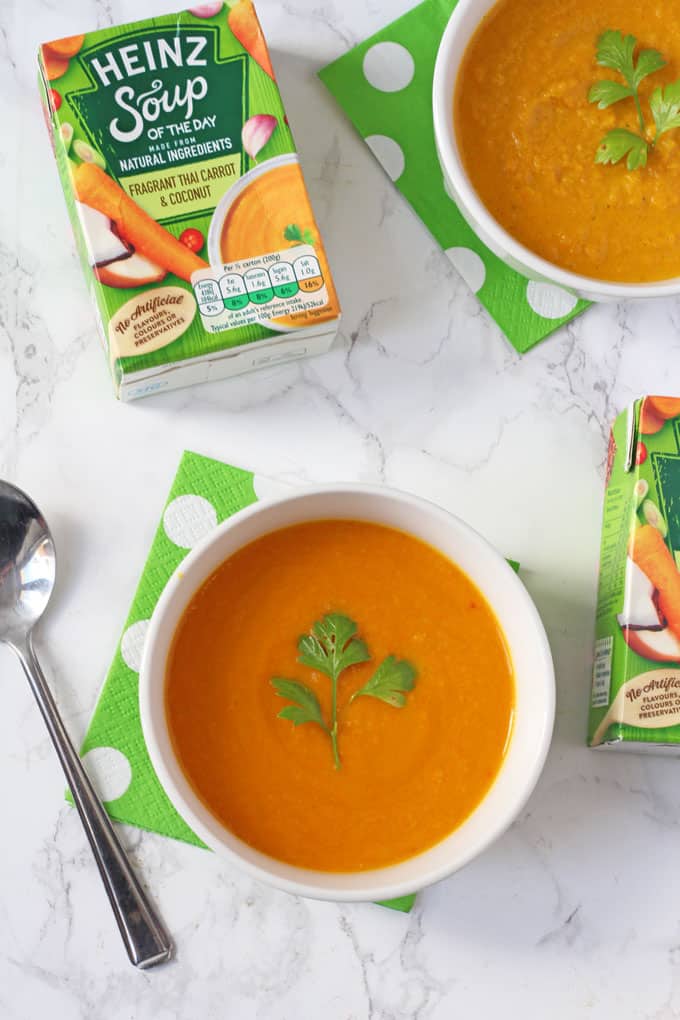 It's definitely got to that time of year when I am starting to crave soup! There's something so comforting about tucking into a big bowl of steaming hot soup on a cold Autumn or Winter's day, so warming and filling but also healthy too.
Heinz got in touch recently to see if I wanted to try out one of the flavours of their Soup Of The Day range. But rather than just taste their Fragrant Thai Carrot & Coconut soup they challenged me to make my own at home using the exact same ingredients.
Heinz Soup Of The Day is made fresh with all natural ingredients and no added sugar. It's sealed in the cartons so there is no need for artificial preservatives, colours of flavours. It also doesn't need to be kept in the fridge, making it ideal to always have a few cartons in the cupboard at home for a quick and easy lunch on busy days. It can also be popped into your bag and taken to work for a convenient lunch.
Heinz Soup Of The Day in available in six different recipes so there's sure to be one to suit everyone!
So how did Heinz Soup of the Day fare against my homemade verion? I rated both soups on three factors – Time, Faff and Taste!
TIME
The Heinz Soup of the Day couldn't be easier to heat up. It takes just a couple of minutes in a saucepan on the hob or in a bowl in the microwave and for that reason I gave it 10/10.
My homemade version took about 35 minutes to make from prepping the ingredients and chopping the vegetables, to actually cooking and blending up the soup. This would be fine for maybe at the weekend when you have a bit more time to devote to cooking but for a quick and easy mid-week lunch this might be too much. For that reason I gave it 6/10.
FAFF
Faff factor is massively important for busy parents and again the Heinz Soup of the Day has minimal faff and so I gave it 10/10.
The homemade soup isn't overly complicated to make nor does it have strange hard to find ingredients. There is quite a bit of prep involved though and so I gave it 8/10.
TASTE
The all-important taste test! The Heinz Soup of the Day tasted really lovely. I actually found it a little spicer then the homemade version which I really liked, especially as it is a Thai flavoured soup. The taste of the carrot wasn't quite a prominent though and so I gave it 8/10.
My soup tasted really delicious and you could definitely tell that it was homemade. It was however a little thicker and not as smooth as the Heinz version so I gave it 9/10.
FINAL VERDICT
The homemade soup got a grand total of 23/10 and the Heinz Soup of the Day got 28/10!
Both soups were delicious and I'll certainly be having both for lunch again. The homemade version is probably something I would only make at the weekend when I had a bit more time. The Heinz Soup of the Day is perfect for during the week when I need to make something quick and easy for lunch in just a couple of minutes. I also think it's great that it doesn't need to be refrigerated and I'm definitely going to stock my cupboard with a few different flavours this Winter!
Print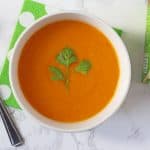 Thai Carrot & Coconut Soup with Heinz
---
Author:

Prep Time:

5

Cook Time:

25

Total Time:

30 minutes

Category:

Main Meal

Cuisine:

Thai
Description
Fragrant Thai Carrot & Coconut Soup
---
Ingredients
1 tbsp

olive oil

1

small white onion, peeled and diced

1

clove of garlic, peeled and finely chopped

1 tsp

Thai yellow curry paste

4

medium or

3

large carrots, peeled and diced

1

topped and tailed stick of celery, chopped

1

low-salt vegetable stock cube, plus 350ml hot water

1 tbsp

coconut cream

1 tbsp

single cream

1.5 tsp

cornflour
---
Instructions
Add the oil to a pan and heat on a medium heat.
Add the onion, garlic and Thai paste and fry gently until the onions are soft and brown in colour.
Add the carrots and celery and continue to fry for another 2-3 minutes.
Dissolve the stock cube in the hot water and then add it to the pan.
Cover and simmer gently for 20 minutes.
Take the soup of the heat and blitz with a hand blender until smooth.
Add the coconut cream, single cream and cornflour and stir through.
Return the pan to the heat for another 2 minutes before serving.
Disclosure: I have been compensated for my time spent working on this campaign with Heinz but all thoughts and opinions are honest and are my own.