A stylish yet super practical glass chopping board from Creo. Available in lots of different bright colours with optional glitter shimmer finish too!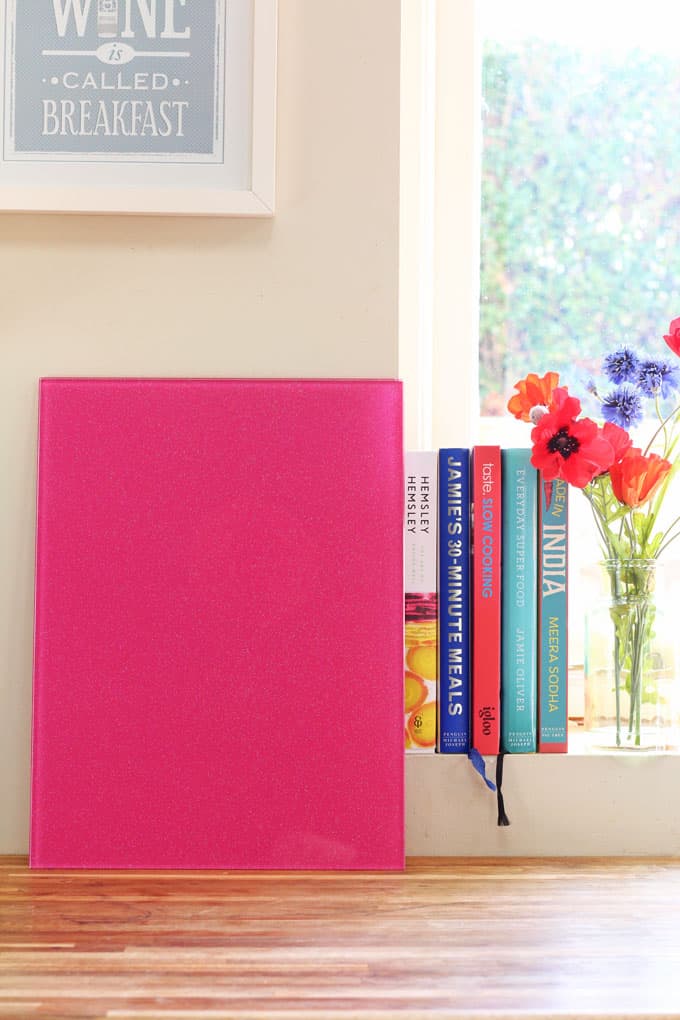 Is it just me or does anyone else go through chopping boards more than any other item in their kitchen? I've always bought wooden chopping boards but lately they have all been splitting and cracking no matter who much money I spend on them. 
So when Creo got in touch recently to ask if I'd like to receive one of their glass chopping boards I jumped at the chance to try out something a little bit different.
Creo have a really large range of colours, from bright and vibrant to more muted pastel tones, meaning you can match your chopping board to any colour scheme in your kitchen. They also have an optional shimmery glittery finish and being the magpie that I am I couldn't resist it!
From a practical point of view, I'm really loving this chopping board. It's surprisingly light considering that its made from glass and super easy to clean, much easier than my wooden boards. There are four rubber mouldings on the bottom of the board so it will sit steady on top of any surface like wood or marble and won't move.
The Creo chopping board is also heat resistant up to 400c so I have been using it as a surface for hot pots and pans with no problem at all. Its super thin too, just 6mm so takes up a lot less space than my other boards.
All in all I'm really pleased with the Creo chopping board and I only wish I had considered using glass chopping boards sooner. If you are looking for a stylish addition to your kitchen then I would absolutely recommend one of these. I think it would also make a lovely gift for anyone like me who's obsessed with kitchen equipment and accessories!
Disclosure: This post has been sponsored by Creo but all thoughts, opinions and recommendations are honest and are my own.