Beautiful bespoke chairs and barstools from Cheeky Chairs. Perfect for adding a splash of colour to your kitchen!
A couple of month ago I had the pleasure of meeting Felicity, a lovely woman local to me here in Kent who has recently set up her own business, Cheeky Chairs, making beautiful bespoke chairs and barstools. Starting out with a love of colour, Felicity has set out to put fashion into furniture and to offer an alternative to dull dining!
Felicity has a range of collections that can be ordered online, from different styles of dining chairs to bar stools and more luxurious dressing table chairs. The chairs we used for these photos were the Daisy Chair Pick 'N Mix Collection. Available in nine different colours, they brought a beautiful and vibrant pop of colour to the kitchen and the Jon Burgerman's Frooty Tooty fabric made what is otherwise a simple piece of furniture a lot more fun for the kids!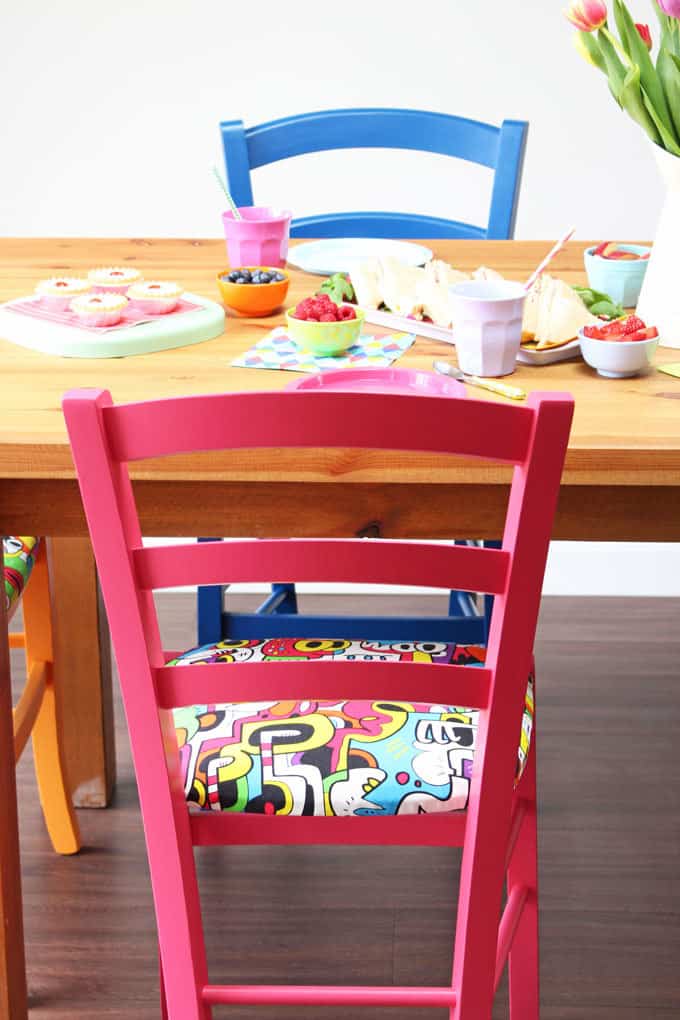 All the chairs and stools are handcrafted and traditionally upholstered, giving you a truly unique piece of furniture that will bring your home to life. Felicity also offers a bespoke service, allowing you to choose your own combination of chair, colour and fabric, perfect if you need your furniture to match an existing colour scheme or style.
EXCLUSIVE OFFER!
Felicity is offering an Exclusive Offer to my readers between now and 14th July – Order one Daisy Chair (painted in a colour of your choice and upholstered in Jon Burgerman Frooty Tooty fabric as illustrated) and get a second chair half price! Offer limited to a max of four full price chairs at £250 each and four half price chairs at £125 each. Email Felicity at [email protected] to avail of this offer mentioning My Fussy Eater.
Cheeky Chairs are based here in Kent but ship worldwide. I know you guys love to support small and local businesses as much as I do, so please do check out her website. And for local readers you can these fantastic chairs for yourself in Peppercorn Pine in Headcorn!