If you are struggling with a picky eating child here are my top 5 tips for dealing with fussy eaters… no blame or shame, just practical solutions to get your kids eating better!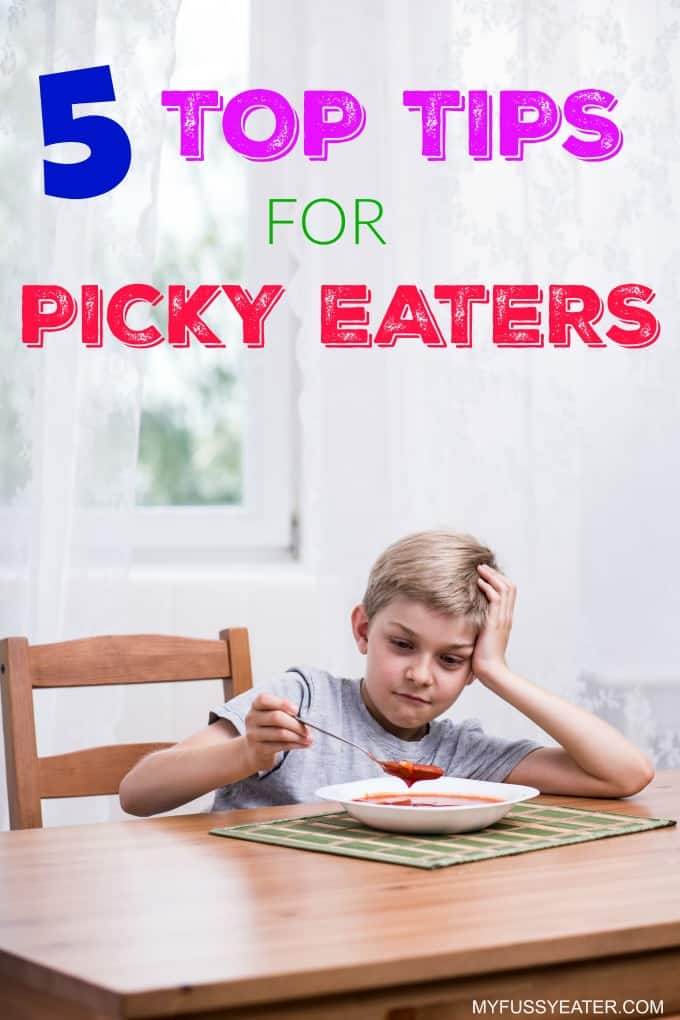 The whole issue of picky eating children has been talked about in the press a lot recently. You may have heard chef Gino d'Acampo's disparaging remarks about parents of fussy eaters being "stupid". Obviously I completely disagree with what he said for so many reasons, but rather than debate who is right and who is wrong about this, I thought I would instead share my top 5 practical tips for actually dealing with fussy eating on a day-to-day basis!
As a disclaimer I would like to point out that these tips are aimed at parents of moderate fussy eaters. If you have an extremely picky eating child and are worried about their weight or nutritional then please do seek advice from your doctor, paediatrician or health care worker.
1. RELAX!
My first tip to parents is always to relax and try not to get too stressed about. Most parents admit that they deal with fussy eating at some stage in their child's life so you are not alone. Picky eating can strike at any stage – during weaning, with a toddler or even an older children all the way up to late teens. So please try not to get too stressed about it and don't blame yourself.
2. SLOW INTRODUCTIONS!
Recent research has shown that a child may have to be offered a new food up to 20 times before they will accept it and eat it. That might seem a bit daunting but start by introducing foods in really easy ways. So if for example you really want your child to start eating broccoli firstly have it on the dinner table regularly. Let them see it and let them see you eating it. Next encourage them to try just a very small amount, making it clear that if they don't like it then they don't have to have any more. Slowly over time you may be able to get them to eat a little bit more so keep persevering!
3. GET THEM INVOLVED!
Get the kids into the kitchen making food with you, and I don't just mean baking cakes and cookies. I mean the day-to-day food preparation and cooking that happens at home. For toddlers it can be as simple as allowing them to choose which vegetables you cook for dinner or helping to make a sandwich. The older your child is the more responsibility you can give them in the kitchen but any kind of involvement is sure to make them more interested in the food when it actually reaches the table.
4. MAKE IT FUN!
Meal times can be a little dull for children so try injecting a bit of fun into it. I love using bright and colourful plates and cutlery. My kids in particular love these Munchkin Apple Plates and also these Tyrrell Katz Compartment Trays. They are a lot more fun than boring white plates and they're fantastic for fussy eaters who don't like the different food elements of their meals to be touching!
Snack Plates are also fantastic as they can encourage children to eat a variety of fruit and veg along with a small sweet treat. I post a lot of images of my snack plates on Instagram and I always get so many questions asking me where I get them from. This particular one is from Poundland a few years ago so it shows you don't have to spend a lot of money! Keep an eye out in your local pound or dollar store.
5. HIDDEN VEGGIES!
I know that not all parents agree with hiding vegetable from children and instead believe it's better to encourage children to eat them in their whole form. I completely understand this but I also know what it's like to deal with picky eaters who will refuse point blank to eat most nutritious veggies. So if you have to resort to hiding them then don't feel bad!
Here are some of my most popular hidden veg recipes:
I hope you found these tips useful. If you have any tips for tricks of your own please do share them below!