Make your own clean eating Honey Wholemeal Pizza Dough at home with this recipe. Its so easy to make and can be frozen too!
Life has got a little hectic (in a good way!) recently but some days I have been slipping back into old habits of relying on convenience foods on days where I find myself with two screaming hungry kids at 5pm and no food for dinner. There's nothing wrong with grabbing a ready made pizza every now and then but I thought it would be much better, not to mention cheaper, to have pizza dough on hand for those crazy busy days. The kids are happy as they are getting a treat dinner and I'm happy as I know exactly what has gone into the food they are eating. Everyone is a winner!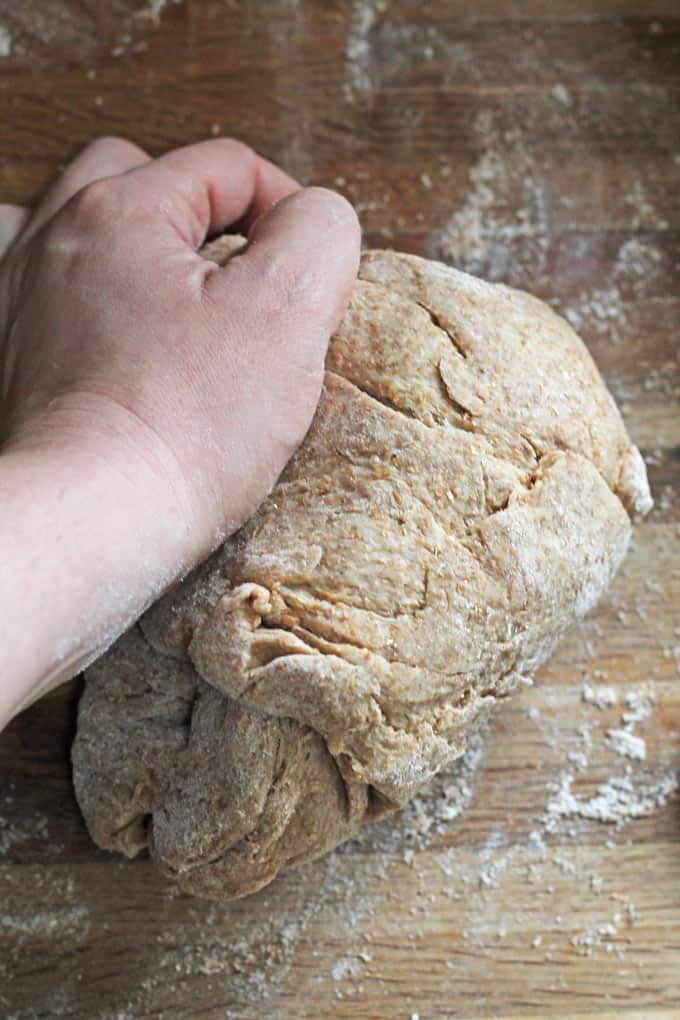 Pizza dough isn't a quick process as you need to leave the dough to prove for at least an hour. However the beauty of this recipe is that it can be made ahead and then frozen. I'm now getting into a nice habit of whipping up a double batch of dough every couple of weeks and freezing it in portions. On days I know that I will be busy or late home with the kids I take the dough out of the freezer in the morning and it will have defrosted by the evening. All I need to do is roll it out and add the toppings.
Making pizza dough is also a great way to get kids involved in cooking. Kneading can be hard work so set them to work on this! They'll also love watching the dough rise and double in size. It's a great lesson in home economics.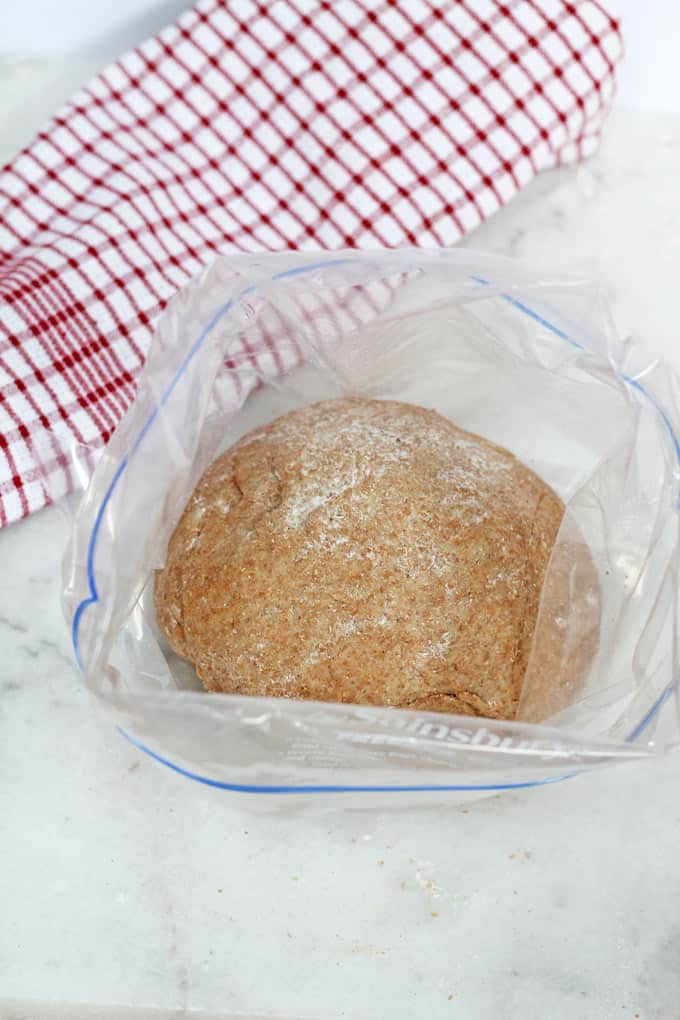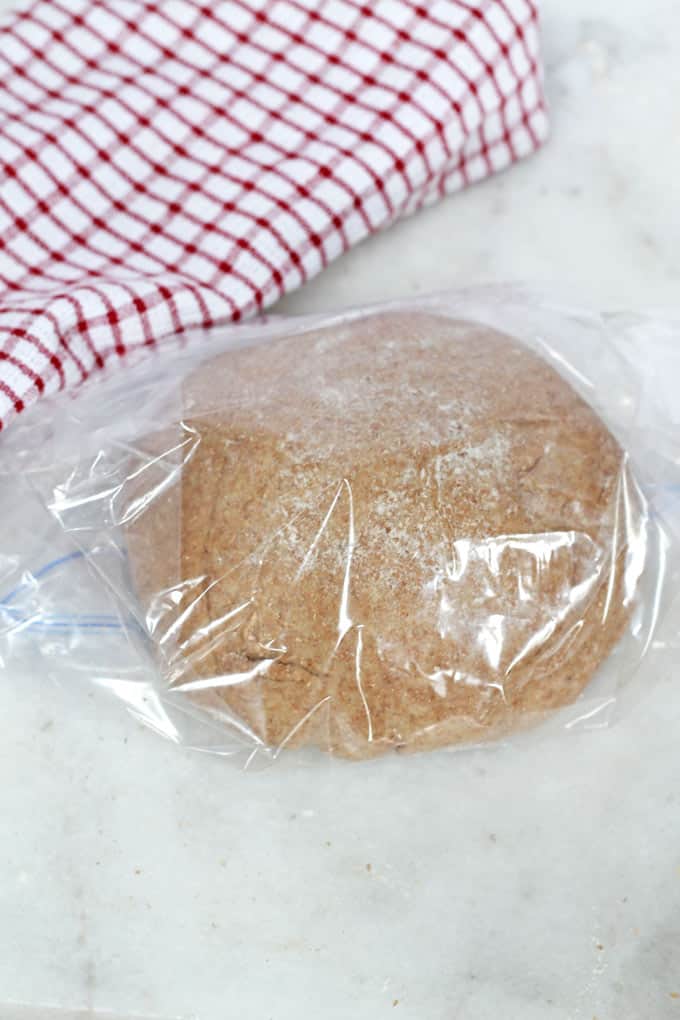 Does your family love family? Do you think you can tempt them with this healthy pizza dough?
Print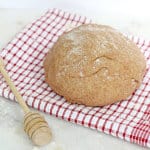 Easy & Freezable Honey Wholemeal Pizza Dough
---
Author:

Prep Time:

90 mins

Total Time:

1 hour 30 minutes

Yield:

4

1

x
Category:

Breads & Cakes

Cuisine:

Italian
Description
Make your own clean eating Honey Wholemeal Pizza Dough at home with this recipe. Its so easy to make and can be frozen too!
---
Ingredients
300

ml / 10oz warm water

2 tsp

dried active yeast

4 tbsp

olive oil

1 tbsp

honey (vegans can use maple syrup, agave syrup, etc)

500g

/ 4 cups wholemeal bread flour

1 tsp

salt
---
Instructions
In a jug add the yeast to the warm water. Make sure it is warm tepid water. If it is too hot it will kill the yeast. Leave it for 5 minutes, stirring occasionally until it has all dissolved. In a large bowl mix the flour and salt together.
Once the yeast has fully dissolved into the water add the olive oil and honey and give it a good stir. Add this to the flour and salt and mix well until everything has combined together. If the dough feels too dry then add some water, a little at a time.
Turn the dough out onto a floured surface and knead until it becomes smooth and spongy. If you can manage 10 minutes, great. If not 5 minutes is ok too!
Place the dough back into the mixing bowl and cover with cling film or plastic wrap. Put the bowl somewhere warm like an airing cupboard or underneath a radiator. Personally my favourite place is the oven. I heat it up really hot, then turn the oven off and open the door. I put the bowl on a stool by the open oven door for about 10 minutes. When the oven has cooled down quite a bit I then put the bowl in the oven and close the door.
Leave the dough to rise for 60 – 90 minutes. It should double in size and be springy to touch.
At this point the dough can either be and frozen or made into pizzas straight away.
To freeze the dough, let it cool to room temperature, then place it in a ziplock bag with all the air pushed out. It will keep in the freezer for about 2 months and can be defrosted at room temperature.
To make pizzas straight away, roll the dough out to your desired size and thickness, cover with your favourite toppings and bake at 200c / 390f. Cooking time will depend on the size of your pizza but will be anywhere from 12 – 25 minutes.
Notes
This recipe makes enough dough for 4 large pizzas with a medium sized crust