Try this this funky finger food lunch idea to encourage kid's to eat more salad with their sandwiches!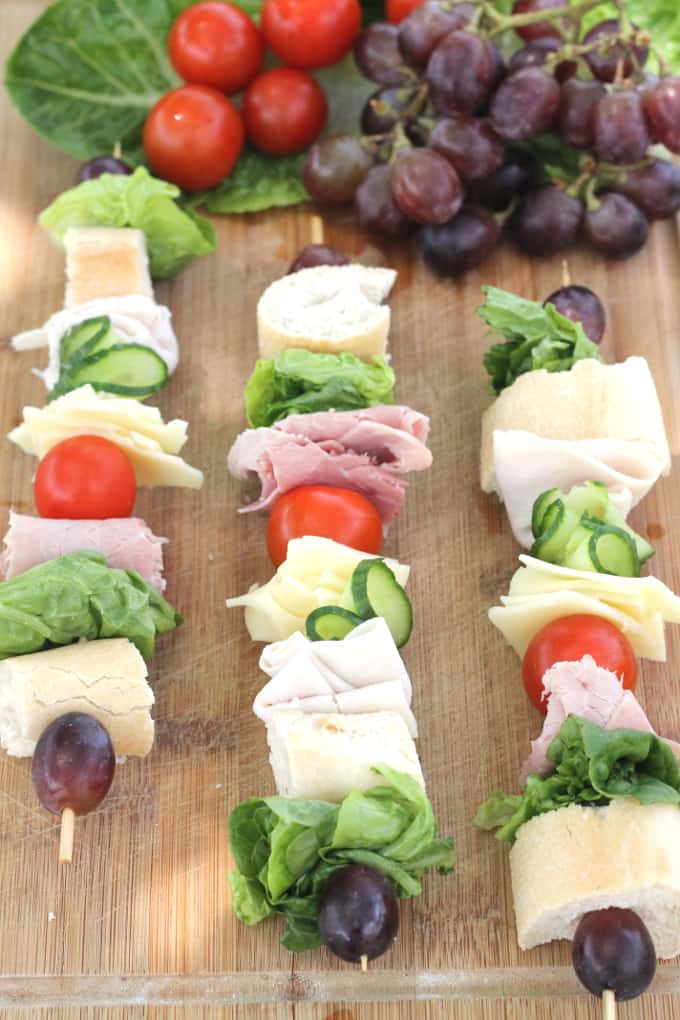 Good morning. Hope everyone is enjoying this fantastic sunshine. I've been away on holidays with my Mum, the fussy eater and the baby. We had a lovely time but the baby managed to knock my phone off the table in the airport on the way there. Cue one smashed phone and one very unhappy social media addict! I have to admit it was quite nice for the first few days to be able to switch off and not feel the need to check my phone every few minutes but it also meant I couldn't easily contact my husband or take any photos of the kids, which was very annoying. Thankfully my phone is away being repaired right now so fingers crossed it should be back in perfect health by tomorrow!
In the meantime I need to catch up on my blog posts. First up is this funky finger food lunch idea which went down a treat with my fussy eater. She is quite picky went it comes to sandwich choices. She used to prefer just plain cheese, and now lately its plain ham. In typical fussy eating fashion she downright refuses to let a smidgen of veg near her sandwich and so I had the idea of creating a sandwich skewer which might entice her to try some foods out of her comfort zone.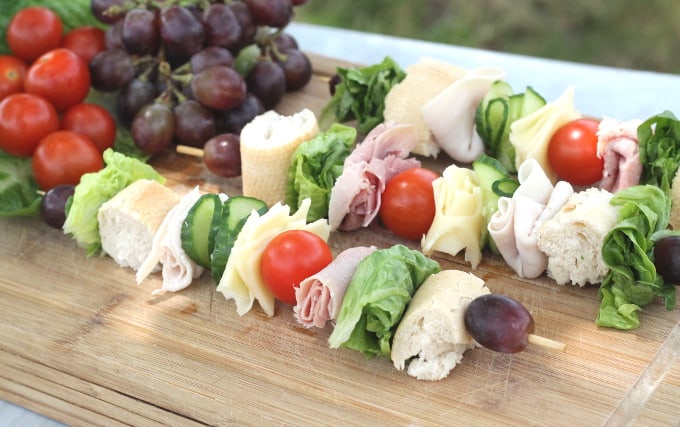 Initial impressions were very good: "Wow Mummy look at my lunch!". She of course dived straight in for the ham and bread and nibbled on a bit of cheese and the grapes. But with a bit of persuasion she eventually ate the cucumber and a small bit of lettuce. This is a massive success for my fussy eater so I will definitely be making these sandwich skewers more often.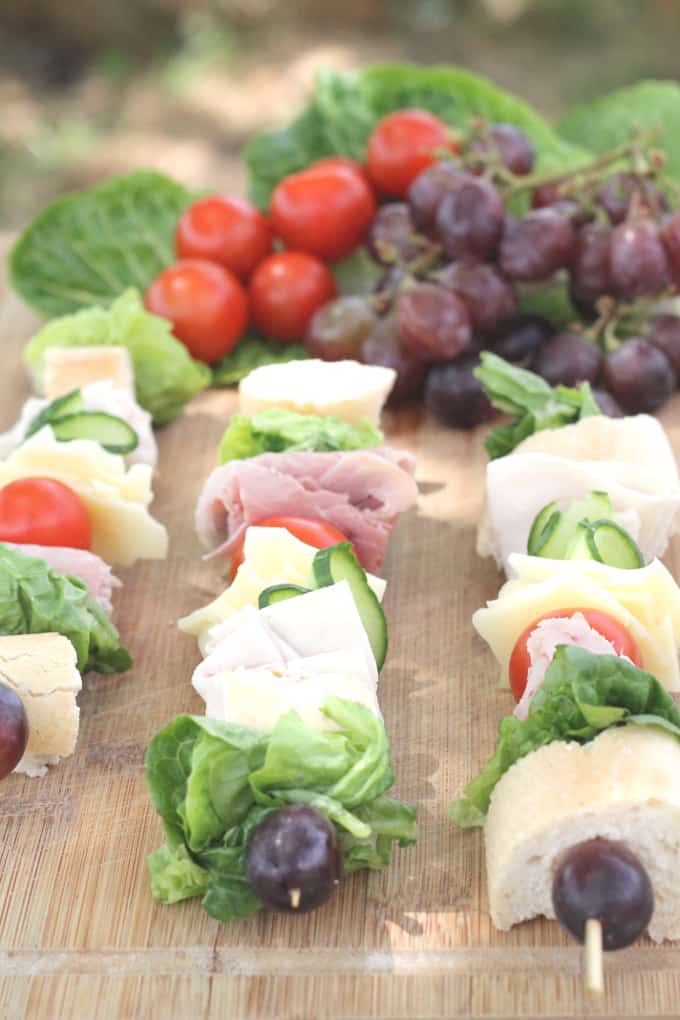 I used ham, chicken, cheese, french bread, lettuce, tomato, cucumber and grapes in my skewers but you could use pretty much any combination of finger foods in yours. If you have any tips for encouraging kids to eat more veg or salad with their sandwiches then please do let me know!
Print
Sandwich Skewers
---
Prep Time:

10 mins

Total Time:

10 mins

Yield:

2

1

x
Category:

Lunch

Cuisine:

European
Description
Try this this funky finger food lunch idea to encourage kid's to eat more salad with their sandwiches!
---
Ingredients
6

pieces french baguette

1/2

little gem lettuce

3

slices ham

3

slices chicken

3

slices cheese

3

cherry tomatoes

6

slices cucumber

6

red grapes
---
Instructions
This is so easy it doesn't need instructions. Simply thread the ingredients onto 3 wooden skewers in whatever order you like. Be careful as the skewers can be very sharp for little hands.