These oatcakes are high-fibre low-GI bites of goodness and with twelve different toppings they are sure to spark your foody imagination!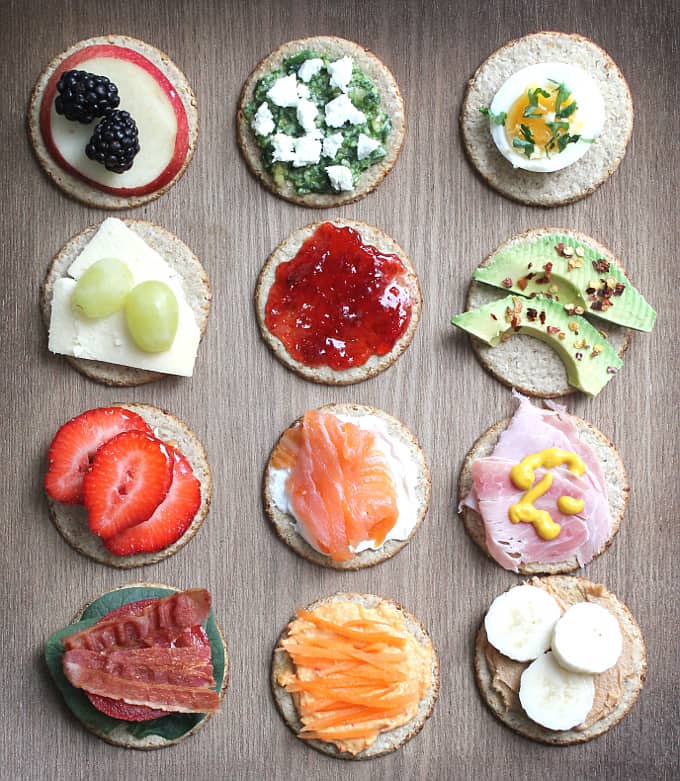 Oatcakes – what to do you think? Love 'em or hate 'em?
Up until recently I hadn't been a massive fan but I started eating them after I had my second baby earlier this year to stop myself snacking on chocolate biscuits when I didn't have time to make a proper meal.
I am now a massive fan of this high-fibre low-GI bite of goodness. Unfortunately the rest of my fussy eating family didn't share my enthusiasm so I have tried to spark their foody imagination by creating a whole board of oatcakes with twelve different toppings for them to choose from. Both my big and little fussy eaters tucked in. Success!
My oatcakes toppings!
Apple & Blackberry
Pesto & Goats Cheese
Boiled Egg
Cheese & Grape
Raspberry Jam
Avocado & Chilli Flakes
Strawberry & Honey
Smoked Salmon & Cream Cheese
Ham & Mustard
Bacon, Lettuce & Tomato
Hummus & Carrot
Peanut Butter & Banana
Got any favourite oatcake toppings of your own? Let me know or share a picture with me on
PRE-ORDER my new book THE FUSS-FREE FAMILY COOKBOOK out 26th January. 100 healthy easy and quick recipes that the whole family will enjoy!