What is front-loading and how it can help to improve your child's eating throughout the day.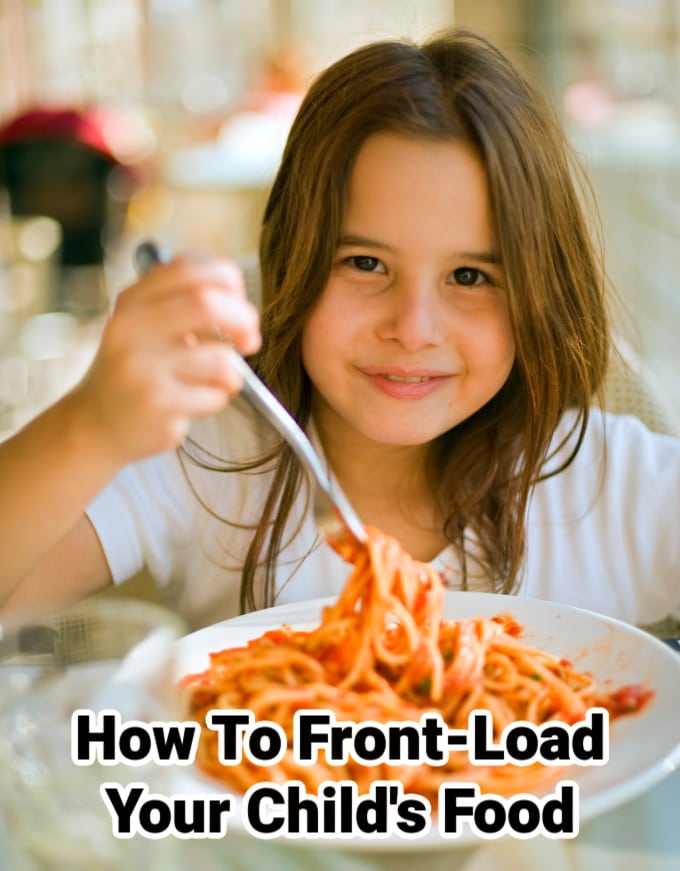 Over the past couple of years I've mentioned front-loading children's food quite a bit. I've written about it in some articles where on my website but I thought it was time to give it it's own dedicated blog post to talk about exactly what front-loading is and why it can be so beneficial to a child's eating.
What Is Front-Loading?
Front-loading is simply the term I use to describe feeding children more food earlier in the day. As adults we tend to view our evening meal as the big meal of the day and that's totally understandable. It's nice to have that one family meal to look forward to when school, work and all the daily jobs are done.
But this way of eating is not always beneficial for children. By the evening they are physically and mentally tired and don't always have the capacity to eat a lot of food or to try new things.
But by shifting the balance of food intake to earlier in the day, we can take some of that evening time stress away from us parents and know that they've got a great balance of foods and nutrients in them before we even get to the evening.
Breakfast
It's really important that children have a filling and nutritious breakfast to start the day. When a child eats breakfast they probably have not eaten anything for at least 12 or 13 hours, so it's vital to start the day with good food that will refuel their bodies and set them up for a morning at school or nursery.
Many of us adults eat little or even skip breakfast completely but for children I treat this as their first big meal of the day. Try to get not only carbs, but also some protein and healthy fats into them to help keep their bellies full until lunchtime.
Loads of kids love cereal first thing and that's fine. But try adding a side of yogurt and berries aswell. Or maybe a portion of cheese or eggs. Beans on toast actually makes a brilliant breakfast that you may not have thought of before!
If your child likes toast, then try a more nutritious topping like peanut butter and again add some side foods to it.
If you like to batch cook and have foods prepared ahead then homemade muffins and pancakes are always a great shout and can be defrosted in the microwave in minutes.
Porridge or overnight oats are brilliant too. Or even rice pudding. It doesn't have to be just a desert. It works so well for breakfast too!
Along with the main components of their breakfast, I always aim to give my kids two portions of fruit aswell. Usually banana, apples, pears, grapes and satsumas.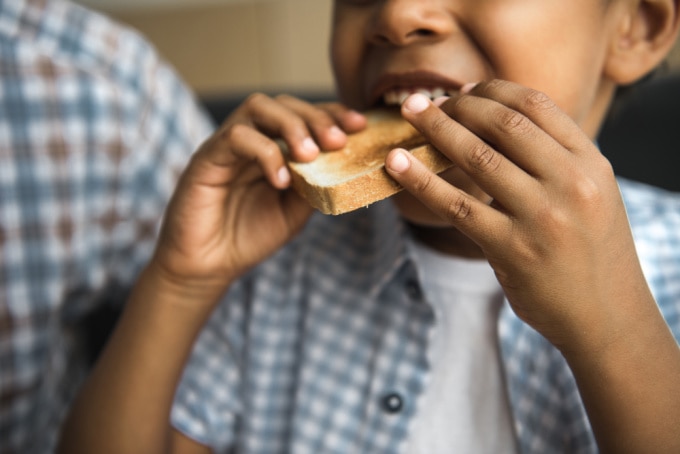 Lunch
Lunchtime is a great opportunity to refuel again and also to get in a few portions of fruit and veg. If you are packing lunches for school or nursery or serving lunch at home then raw veg like carrots, cucumber, peppers, celery and sugar snap peas are quick and easy to chop up and serve.
You can then add another portion of fruit. I love frozen mango and pineapple as you can take individual pieces straight from the freezer and let them defrost in their lunch box.
If you are trying to get your child to eat new foods then lunch time is the best time to do this. They won't be as tired as they are in the evening and hopefully more open to trying new tastes and flavours.
Afternoon Snack
If your child is at school or nursery then it's very likely that they will be quite hungry in the afternoon. I always give my kids a "treat" at this time of day. They love a piece of cake, crisps or cookies. But I also use it as another opportunity to get some goodness into them with some more chopped fruit and veg.
The afternoon snack can be a tricky one for parents. If our kids are hungry then of course we want to feed them. But we also worry about filling them up too much and then they don't eat dinner. If your child is very hungry in the afternoon then you can also try a small cup of soup with a crusty roll or a sandwich. Maybe even leftovers from the last night's meal. When it comes to dinner you can then just offer them a small portion.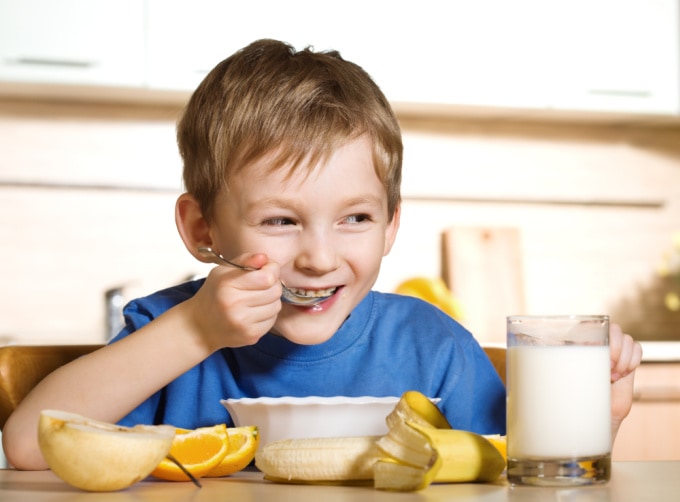 Dinner
The idea with front-loading your child's food is that when it gets to dinnertime the pressure is off. You know your child has had two good meals and at least one substantial snack already with a good mix of carbs, proteins and fats and several portions of fruit and veg too.
Dinner then becomes less of a battle ground. You can serve up a small portion of the family evening meal but not have to fret if they don't eat much.
You can also treat dinner time as a more "snacky" style meal, giving them a selection of different foods rather than one big meal. I serve this type of dinner a couple of times a week to my kids and they love it.
Front loading doesn't mean the end to mid-week family meals either. You can still all sit down together and eat, it just makes that evening meal less stressful and less fraught for both parents and children.
If you enjoyed this article, then you might also like the following artices:
Food Combining For Fussy Eaters – How using this food combining trick can help your fussy eater to try new foods that would otherwise go untouched.