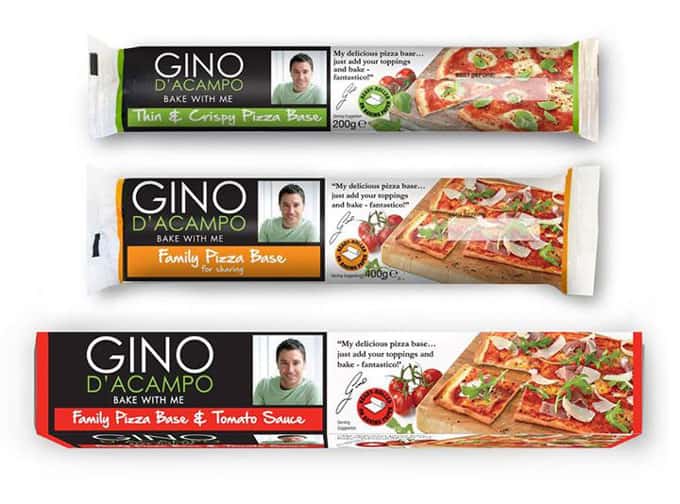 Last week I had the pleasure of joining a group of other food and parenting bloggers at celebrity chef Gino d'Acampo's house to hear all about a very exciting new range of products that he has just launched. 
Being Italian it's no surprise that Gino is a massive fan of pizza but with a busy career and three children to entertain at home he knows that it's just not always practical to make pizza from scratch. Gino's brand new range of ready-to-bake pizza bases are the perfect compromise between fresh home-cooked pizza and a ready made pizza that you might buy from the supermarket.
The pizza bases are fresh and can be kept chilled in the fridge for up to 2 week and they can also be frozen too. When you are ready to make your pizza, simply unroll them from the packet. They come ready rolled in parchment paper which you then bake the pizza on. So handy, no mess and you have a fresh pizza base ready for toppings in just seconds!
The larger family sized pizza base also comes with a fresh tomato sauce. The only hard part of the whole process is trying to decide what toppings to have! Pizza is usually perceived as being very unhealthy but the beauty of this pizza base range is that you have total control over the toppings and you can make it as healthy as you like.
Once you've settled on your toppings the pizzas take a mere 12 minutes in the oven for the thin and cripsy variety and 15 minutes for the family base variety. Fantastico as the man himself would say!
So what did I think of it? Honestly I think this product is genius! My kids love pizza but I have to say I do feel a bit bad buying the supermarket ready made pizzas. Gino's bases are the perfect compromise for me as it means I can get dinner on the table in under 20 minutes, the kids get a delicious treat meal and I get to still have control over the toppings (and maybe sneak in some veg!).
Gino's Bake With Me range is currently being sold exclusively at Asda and should be rolled out to other supermarkets next year. Prices start at £1.50.