Since I've started Whole30 I've received a few messages and emails asking me exactly what food I am eating and where I am buying it.
A lot of the information out there is US based and while it's great to read through some of the fantastic recipes and resources from America, it can be frustrating when we can't buy the same ingredients here.
So here's my guide to Whole30 shopping in the UK. It's by no means definitive. I'm currently coming to the end of my first Whole30 so I hope to continue to add to this guide as the months go on. If you have your own tips for shopping or great ingredient finds then please do mention them in the comments below.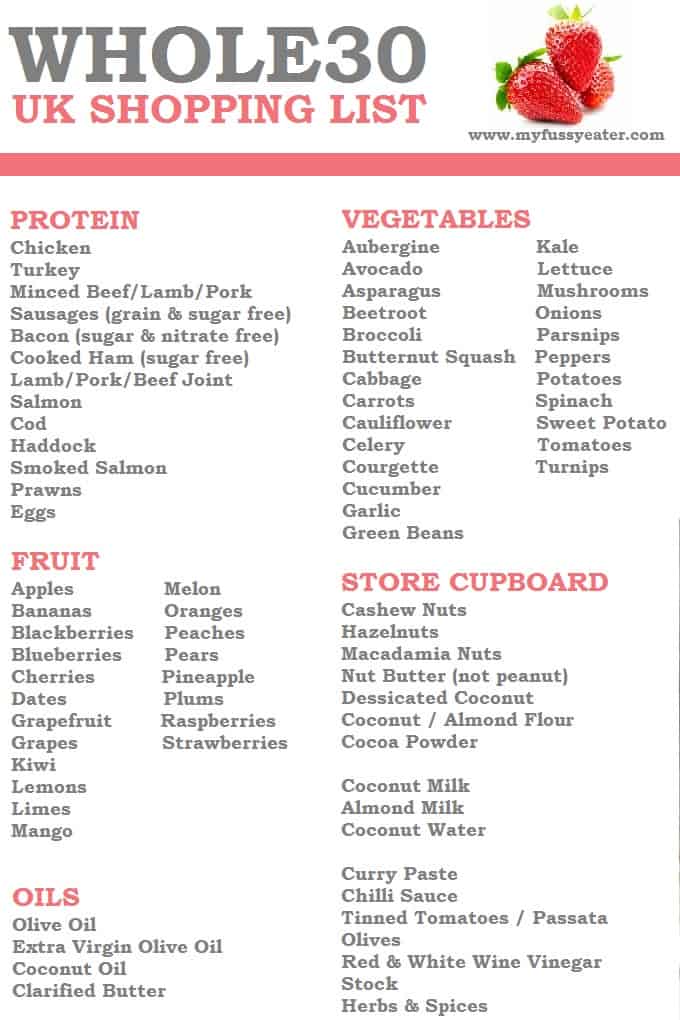 For a printable list simply click on the link here ———-> Whole30 Shopping List – Printable Version
WHERE I SHOP:
I recently started shopping in Lidl once a week and have noticed a definite reduction in our food bill. I buy some meat and veg/fruit from our local village butchers and green grocers and I also do any top-up shops in my local Sainsburys.
PROTEIN:
Luckily most of the meat you get in the UK is from grass-fed animals but I would still recommend buying the best that you can.
I can't afford to buy all our meat at the local butchers so I buy free range chicken and organic mince and beef from Lidl. Most sausages I have found contain some kind of grains but these Debbie & Andrew's Sausages are wheat, gluten and dairy free and probably the most Whole30 compliant sausages out there. I buy bacon from the local butchers.
Fish is quite cheap at Lidl so I always get a few salmon fillets there and any other fish they happen to have that day. Their frozen prawns are also very good value. I like big tiger prawns, which I think are about £2.50 per pack.
Amazingly Lidl is the only place where I could find Smoked Salmon that didn't have sugar added to it!
I usually buy a dozen free range eggs in either Lidl or Sainsburys and pick up some extra at the butchers too.
FRUIT & VEG:
I buy most of my fruit and veg at Lidl, organic where possible. If you can't afford to buy all organic fruit and veg (like me!) then you should just concentrate on the "dirty dozen"; that's the twelve fruit and veggies that generally have the most pesticides:
Apples
Strawberries
Grapes
Celery
Peaches
Spinach
Sweet bell peppers
Nectarines (imported)
Cucumbers
Cherry tomatoes
Snap peas
Potatoes
If you can't buy any organic veg then don't worry, just make sure you wash all your produce before eating or cooking (which we should be doing anyway)
I've been doing some reading lately into fruit and how fructose levels can affect weight loss. So for example I've been trying to limit my banana intake to a maximum of one a day but snacking more freely on berries.
OILS:
Lidl is fantastic for large bottles of Olive Oil and Extra Virgin Olive Oil, much cheaper than other supermarkets. Some supermarkets such as Waitrose sell Coconut Oil. I bought mine from Holland & Barrett and it's also available easily online. Lurpak now sell Clarified Butter as part of their new "Cooks Range" and that should be available in all supermarkets.
STORE CUPBOARD:
Lidl are great for packets of nuts. I also buy some from Holland & Barrett. Meridian make Almond Butter & Cashew Nut Butter, available again in Holland & Barrett and some supermarkets.
Desiccated Coconut and Cocoa Powder are wildly available. Again, buy organic if it's available. I've yet to buy some Cacao Powder (which is in a more natural state than cocoa and so healthier) but I will let you know where I get it very soon.
I bought a large bag of Coconut Flour from Amazon but it should be available in some health food shops too.
I buy Coconut Milk, Coconut Water and Almond Milk from any of the usual UK supermarkets. My favourite Coconut Water is from Vita Coco. It's more expensive than normal fruit juice but I use less than one carton a week so it doesn't work out too costly for me. Any Coconut Milk is fine, so long as it's the full fat variety. I buy Alpro Almond Milk (unsweetened) but hope to start experimenting with making my own soon.
Sauces have been tricky for me – everything seems to contain sugar! I love Thai food so was delighted to find Mae Ploy Red Curry Paste in Tesco. I also love a good chilli sauce. My favourite Sriracha was out due to the sugar content but this Frank's Hot Pepper Sauce has been a good replacement.
Olives, Tinned Tomatoes and Passata are obviously available everywhere, but just be sure to check the ingredients list to make sure they are sugar free. The same with Red and White Wine Vinegar.
Stock can be tricky as most of the usual dry stock cubes contain wheat and sometimes sugar too. I bought some fresh Chicken Stock from Waitrose that just contained chicken and vegetables but it was relatively expensive so I wouldn't buy it every week. The best alternative is obviously to make your own.
A well stocked Herb & Spice cupboard has been invaluable to me. I've been able to create everything from steak rubs, to fish marinades and curry powders; all for mere pennies!
SNACKS:
I haven't put snacks into their own category in my shopping list as technically you are not supposed to snack on Whole30. But the reality is, sometimes you will feel a bit peckish between meals, especially in the first week of while you are still getting used to your new eating habits. I have found a handful of nuts to be really good at satisfying any cravings. If you are hoping to lose weight on Whole30 just be careful of portion sizes. Don't obviously sit down with a whole bag of nuts every evening!
Nakd Bars are also great to have to hand. Most are made up of cold pressed dates, raisins, nuts and fruit flavouring. Just be careful which type you chose as some also contain oats or soya crispy bits.
Somedays if I feel like an after-dinner treat I will make up a bowl of berries drizzled with coconut milk. It's so sweet and really tastes like you've had dessert. Cocoa or cocao powder is great too. Just sprinkle a little onto fruit or in smoothies for a chocolatey treat.
So that's my basic UK Whole30 Shopping List. If you have any foods or brands that you've found really helpful during your Whole30, or know of anything that you think I should try, please do let me know in the comments below.