A list of the most essential food and non-food items that you can donate to your local food bank this Christmas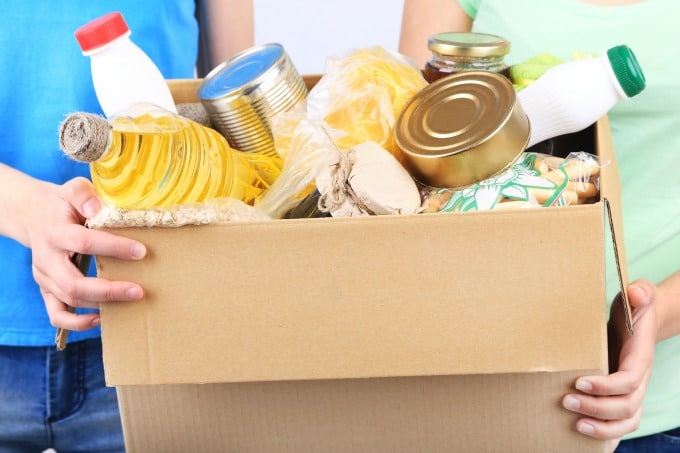 As we rush around buying presents and filling our fridges with food and alcohol, it can be difficult to imagine what is must be like for families who can't afford to bring Christmas to their homes this year.
The Trussell Trust estimates that there is a shocking 14 million people living in Poverty in the UK. Foodbank Manager Lucy Duffy says: "Christmas can be such a tough time for people. Not only do many of our clients have to choose between either heating their homes or putting food on the table, but there can be added pressure on social isolation around this time of year. It's therefore always heart-warming to see how the local community comes together to support each other by volunteering and donating."
With an unprecedented number of people visiting food banks this year, they need your help more than ever to provide their usual three day emergency food supplies and also some additional treats for Christmas.
To learn more about the different ways you can help The Trussell Trust check out their Get Involved Page. You can also donate directly to the charity and of course donate food and other essential supplies directly to a foodbank or to a collection point at a supermarket.
You should check with your local food bank to see what items they are most in need of but typically they will include:
Non-perishable tinned and dried foods
Cereal
Soup
Pasta
Rice
Pasta sauce
Beans
Tinned meat
Tinned vegetables
Tea/coffee
Tinned fruit
Tinned puddings
Biscuits
Jams, spreads, preserves
Cooking oil
UHT milk
Long life fruit juice
Given the time of year I think it would also be a nice to include some additional Christmas treats such as packets of festive biscuits, sweets and chocolate, Christmas cakes and puddings and maybe some bags of chocolate coins for kids. Just make sure it's got a shelf life of at least a few weeks.
I read this very informative article by Jack Monroe recently which highlighted the need for more specialist "free from" food items to be donated also. An estimated 10,000 people using food banks this winter will have coeliac disease meaning they require a completely gluten free food box so maybe bear this in mind when picking up supplies from the supermarket.
Non-food items:
Non-food items are also usually very welcomed but again check with your local food bank to see what they are in need of most.
Toiletries – deodorant, toilet paper, shower gel, shaving gel, shampoo, soap, toothbrushes, tooth paste, hand wipes
Household items – laundry liquid detergent, laundry powder, washing up liquid
Feminine products – sanitary towels and tampons
Baby supplies – nappies, baby wipes and baby food (but not formula milk)