If you have a child starting school this September then you might find these tips useful when it comes to feeding your little one and getting them prepared for eating at school.
Breakfast
We know a healthy filling breakfast is so important for all children before they head out the door for school. But getting them to actually eat it is easier said than done!
Start implementing an earlier breakfast now. If your children have been home all summer they might be used to a later more relaxed breakfast. Use these last couple of weeks to start getting them up and fed a little earlier so the new routine won't be such a shock to the system.
Mid Morning Snack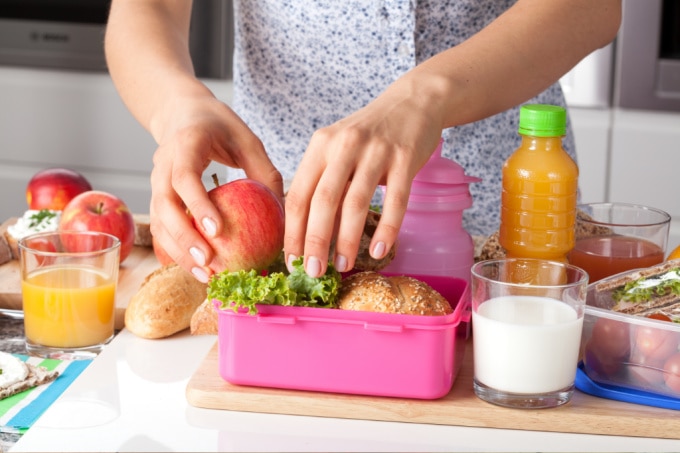 Each school will have its own policy on snack time but most should allow you to send your child in with a healthy mid morning snack.
Check with your school what this entails but generally fruit and veg, cheese portions and healthy granola or oat bars are allowed.
Lunch
You can also getting your little ones prepared for lunch at school now. If your child is having school lunches then they practice eating and cutting up their food with a fork and knife at home.
Each school will have different process in the lunch hall but generally your child will be expected to carry their own tray from as early on as possible. You can practice this at home and get them used to clearing the table when they finish.
If they are having packed lunches make sure that the lunch boxes or bags are easy to open. Take away as many barriers to eating the food as possible. For example peel satsumas and just put the segments into the lunch box. This will make it far more likely that they'll actually eat the food you send them to school with.
After School Snack
Its very likely that your child will be super hungry after school. A balanced snack with some carbs, protein and fats will help to curb their hunger but not fill them up too much before dinner.
Something like a peanut butter flapjack is fantastic along with a few bits of chopped fruit and veg on the side.
Dinner
Tiredness will probably be an issue when your child first starts school so my advice would be to feed them dinner as early as you can. Once a child gets over tired they will lose their appetite and you'll lose the window to get some food into them.
So serve up dinner as early as you can. You can always give them a pre-bedtime snack if they need something to top them up before the end of the day.