12 Delicious kid-friendly pancake recipes that the whole family can enjoy!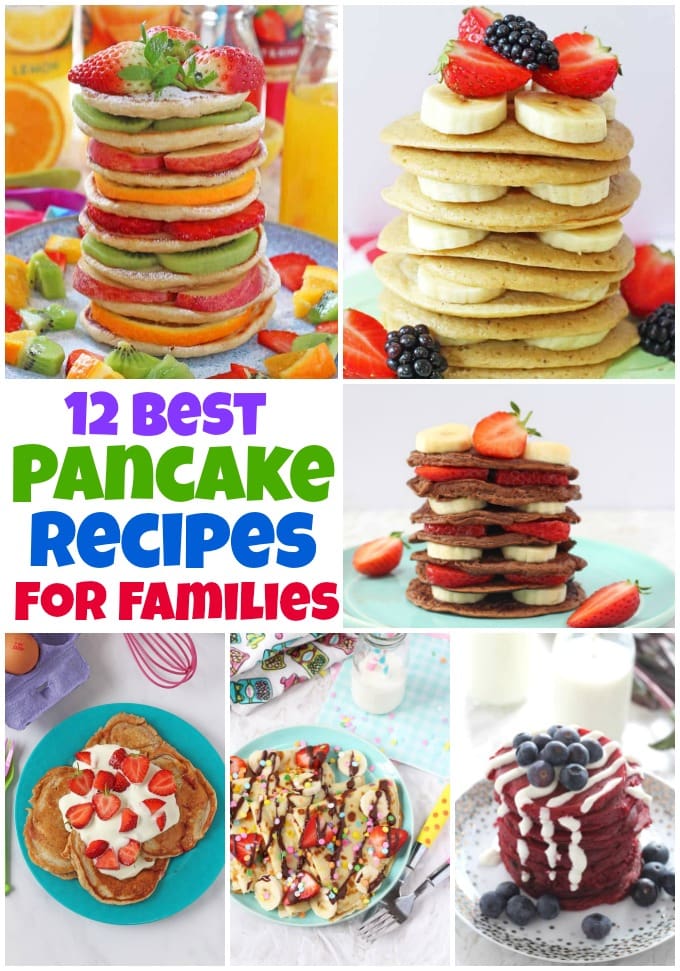 I don't ever need an excuse to eat pancakes, but with Shrove Tuesday or Pancake Day coming up, I'll gladly get on board and get flipping!
Why do I love pancakes so much?
They're easy to make and perfect for getting kids involved in the mixing.
They don't require loads of complicated or expensive ingredients.
Fabulously versatile, they can be eaten for breakfast, as a snack or for dessert.
Even when made with healthier ingredients, they still feel like a real treat!
Here are 12 of our favourite pancake recipes for little kids, big kids and even weaning babies!
Easiest Pancake Tuesday Recipe
The easiest recipe for Pancake Tuesday. Delicious crepe style pancakes made with just three simple ingredients.
Delicious dairy and gluten free Chocolate Pancakes made with just 3 simple ingredients – bananas, eggs and cocoa powder – perfect for baby led weaning and toddlers too!
Delicious fluffy pancakes made with yogurt for an added protein boost and sweetened only with honey. Perfect for a snack or breakfast for the whole family.
Mini Coconut & Banana Buckwheat Pancakes
Delicious gluten and grain free pancakes made with buckwheat flour, coconut milk and banana.  A no egg vegan friendly pancake recipe!
Healthy Red Velvet Beetroot Pancakes
A delicious, healthy and gluten free recipe for Red Velvet Pancakes. Made with no artificial colourings, just beetroot!
Pancakes made super fun for kids with confetti sprinkles and topped with bananas, strawberries and chocolate!
Two Ingredient Pancakes For Baby Led Weaning
Pancakes made with just two ingredients. Gluten, dairy and sugar free. Perfect for baby led weaning and older children too!
Celebrate Pancake Day this year by getting the kids involved in making these delicious Apple Pancakes with Pink Lady® Apples!
Delicious and nutritious Cottage Cheese Pancakes packed full of protein, slow releasing carbs and with no refined sugar. The perfect healthy breakfast or snack the whole family will love! 
Baby Weaning Pancakes – 3 Ingredients
Easy pancakes made with just three ingredients – oats, eggs and banana. Ideal for baby led weaning and finger food for toddlers.
Delicious fruit pancakes perfect to make with the kids this Pancake Tuesday!
Oat Pancakes With Banana & Blueberries
A superfood rich breakfast of oat pancakes, layered with banana and topped with blueberries.