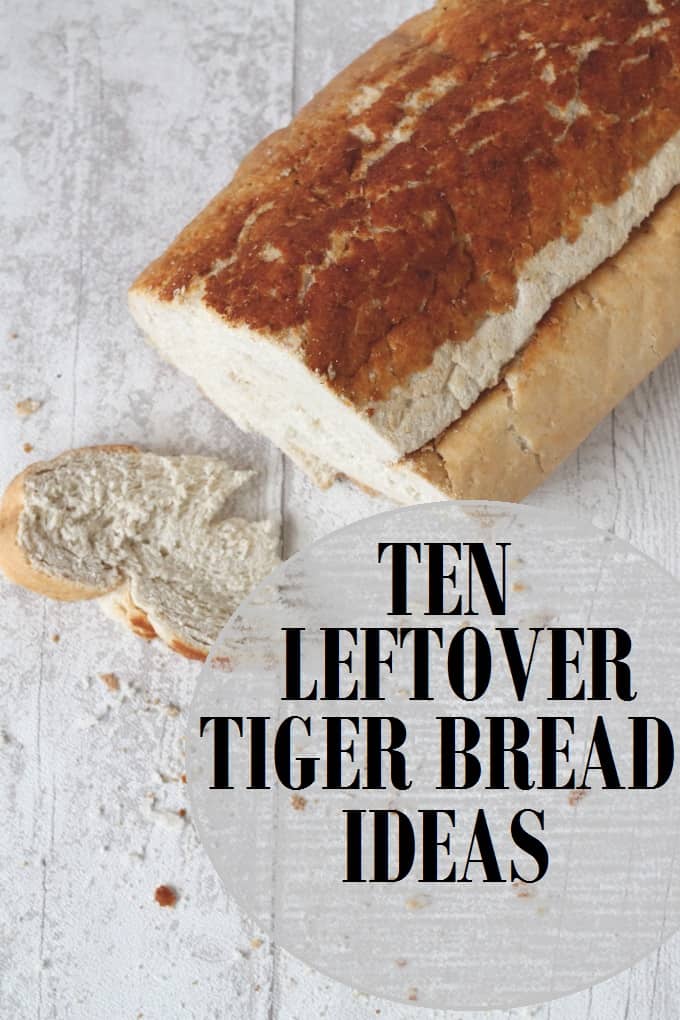 Tiger bread is one of the main reasons I often have to avoid the bakery aisle in a supermarket.
One glimpse and It's just too tempting to resist! I know it's going to be crispy and just ever slightly chewy on the outside, but soft and comforting on the inside.
Topped with cheese and grilled, dipped into soup or simply spread with quality butter and eaten on its own….mmmmmm….tiger bread!
However my one bug bear is the size that all the supermarkets sell it in. Even the small loaf works out way too big for us three to use before it starts to go stale.
I really hate chucking away bread and I wasn't at all surprised to read that bread is one of the top three most thrown away foods here in the UK.
So I've set out my top ten uses for leftover tiger bread below. It's surprisingly versatile and I'm hoping we'll all think twice before dumping that remaining loaf in the bin again.
1. Breadcrumbs
The most basic ideas are sometimes the best. The simplest and quickest way to use up leftover tiger bread is to make your own breadcrumbs. Whole Foods Market have some great tips on how to make both fresh and dried breadcrumbs. The crumbs can be kept in an airtight container (or even frozen) and used for a whole range of things; as a coating for fried or baked chicken, to add a crunchy topping to macaroni cheese, or even to bind meatballs.
2. Croutons
Croutons are another easy way to use up leftover crusty bread. Use them to liven up a salad or add some texture to soup.
3. Sweet Bread & Butter Pudding
Craving something sweet but you've got no pudding in the house? Make a delicious dessert in just 5 minutes. Try my Microwave Chocolate Bread & Butter Pudding.
4. Savoury Bread & Butter Pudding
Bread and Butter Pudding doesn't just have to be sweet. Rustle up a delicious and warming savoury pudding with a bunch of leftovers. I love this Parmesan, Broccoli & Ham version but you can add whatever bits you have in the fridge.
5. Pull Apart Cheesy Garlic Bread
This is quite simply the ultimate in comfort food. Soft and cheesy garlicy bread in the middle, crispy on the outside. Mmmmm! I made this recently and also included some crispy bacon. Cause everything tastes better with added bacon, right?!
6. Stuffing
Stuffing isn't just for Christmas. While it kills me to say it, Autumn is definitely on the way and that means more Sunday roasts. Forget the nasty package stuff and make your own in just a few minutes. Try this basic Sage & Onion Stuffing or these individual Clonakilty Black Pudding Stuffing cups for something a bit different.
7. Pancakes
Apparently you can make pancakes with leftover bread. I've not tried this before but it sounds really interesting and I'll definitely be giving it a go soon.
8. Panzella Salad
The Italians invented a salad centered around leftover stale bread. How clever! Try this classic version with mixed heritage tomatoes or this honey and strawberry recipe for a sweet version.
9. Mini French Toast Bites
Nothing says decadent weekend brunch quite like french toast. Try these Mini French Toast Bites to use up the last of the leftover tiger bread from during the week.
10. Bread Quiche
Use leftover slices of tiger bread as a base for your usual quiche toppings. Try this recipe for mini Ham & Cheese Bread Quiches.