Introduce your kids to sweet potatoes with these delicious crispy Sweet Potato Curly Fries.
If you follow me on Instagram you may have noticed that I have embarked on a new eating regime since returning from holidays.
I'll explain more about it in another post but basically after a few months of trying different "diets" in an attempt to lose this baby blubber I was left feeling pretty rubbish, bloated, spotty and I wasn't sleeping properly.
I have decided to give myself and my body a chance to recover by eliminating certain food groups for 30 days. If you want to read more about it, have a look at the Whole30 website.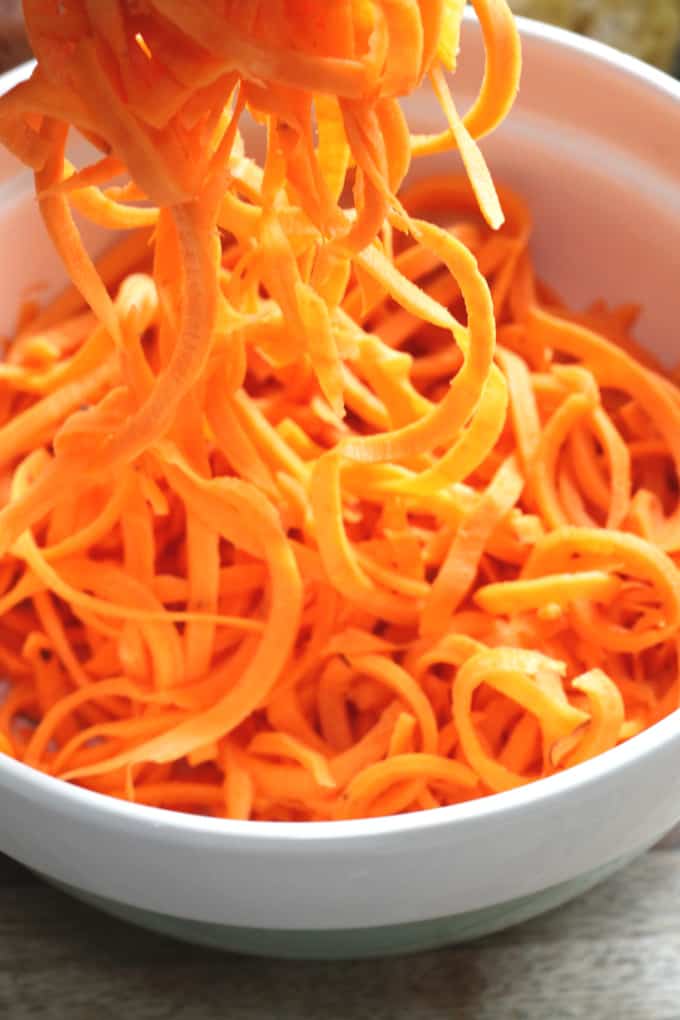 Obviously I am not subjecting my entire family to the same kind of food group elimination that I am doing myself. But I am adopting some of the principles when it comes to my fussy eater's diet.
I am trying to cut down the amount of sugar that she eats.
After nearly 2 weeks in Ireland and constant treats of chocolate and ice cream, I don't think it will do her any harm to cut back on the white stuff for a little while.
I'm also secretly hoping it helps with her tantrums! I am also hoping that this program will open us all up to eating more and different types of fruit and veg…starting with sweet potatoes and my trusty spiralizer!*
Now we all know sweet potatoes are super healthy. But why?
They are a "slow release" carb
I was surprised to read that they actually contain twice as much fibre as normal potatoes. This is what makes them a 'slow release' carb.
They are rich in beta-carotene
They are also rich in beta-carotene which may not be so surprising given their bright orange colour. Just one sweet potato will provide you with your daily recommended allowance of Vitamin A; great news for kids who hate carrots!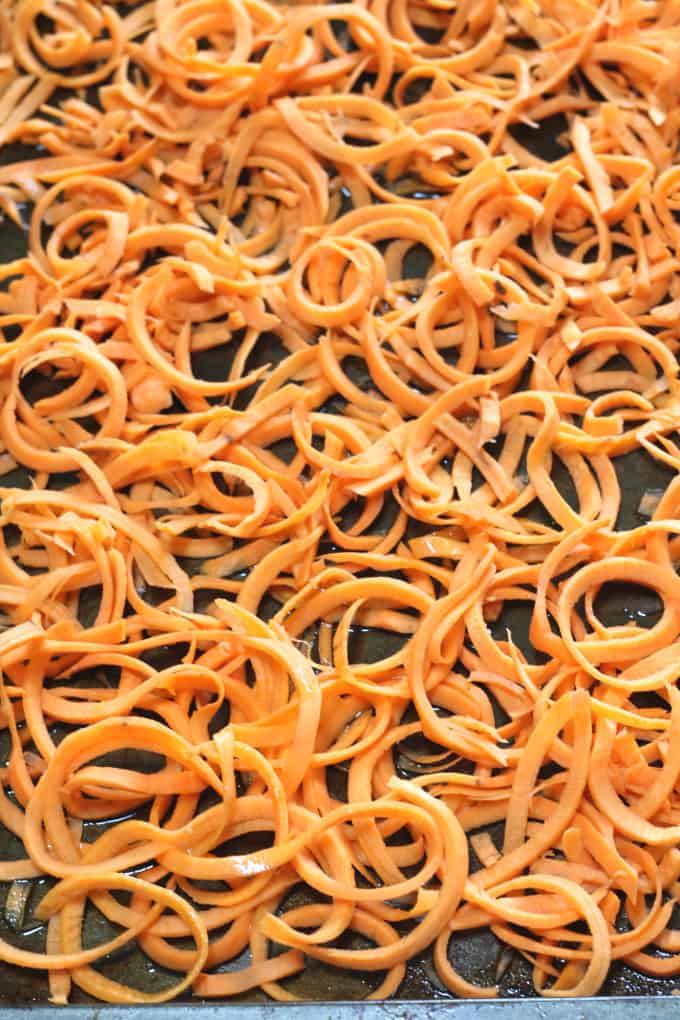 My fussy eater is most definitely a chip addict. She will ask for chips in a restaurant before we've even sat down at the table but I will only make them on rare occasions at home.
I love sweet potato chips but wasn't sure how my fussy eater would react to them. So instead I made some sweet potato curly fries in the hope that the novelty factor would distract her from the fact that they were not the usual fries that she is used to. And it worked!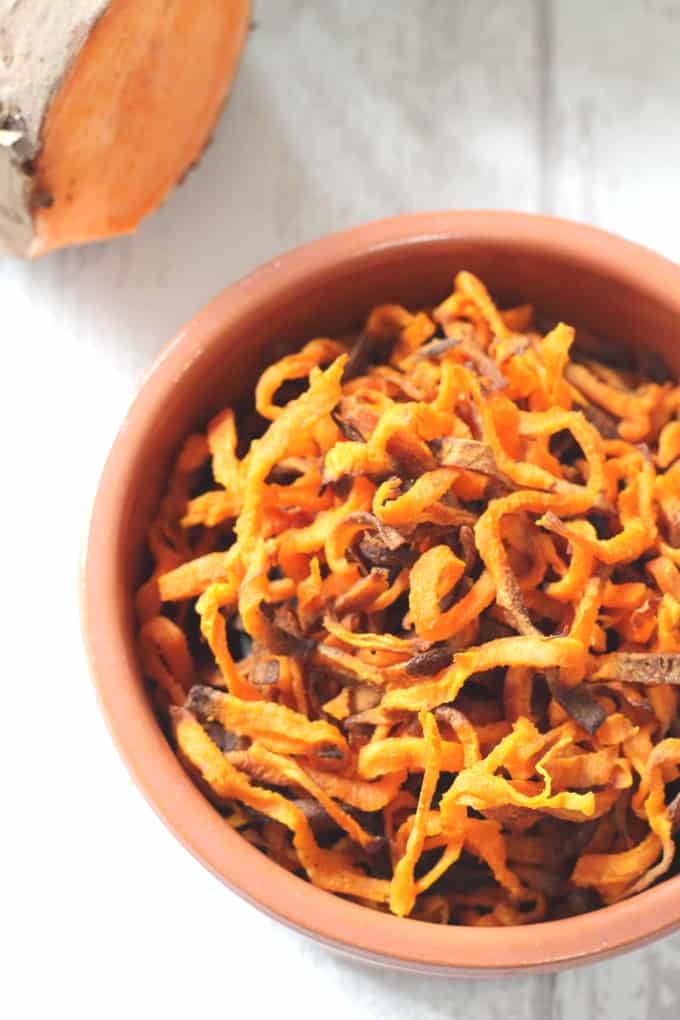 She was really intrigued by these fries and played around with them for a bit before trying some.
But within no time she had gobbled down the lot and declared "hmmm, yummy chippies"! Hooray! I will definitely be putting more sweet potatoes on the menu for her.
Print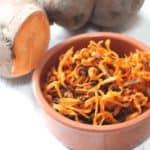 Sweet Potato Curly Fries
---
Author:

Prep Time:

5 mins

Cook Time:

15 mins

Total Time:

20 minutes

Yield:

2

1

x
Category:

Side Dish or Snack

Cuisine:

European
Description
Introduce your kids to sweet potatoes with these delicious crispy Sweet Potato Curly Fries
---
Ingredients
1 tbsp

coconut oil (or any other oil)

2

large sweet potatoes
---
Instructions
Preheat the oven to 200c.
Peel the sweet potatoes and use a spiralizer to create the curly fries.
Heat the coconut oil on a baking tray on the hob. When hot add the curly fries and toss in the oil.
Bake in the oven for 12-15 minutes, tossing regularly.