If your kids eat those split style yogurt pots then don't throw away the containers. Wash them out and fill them with tasty snacks another day!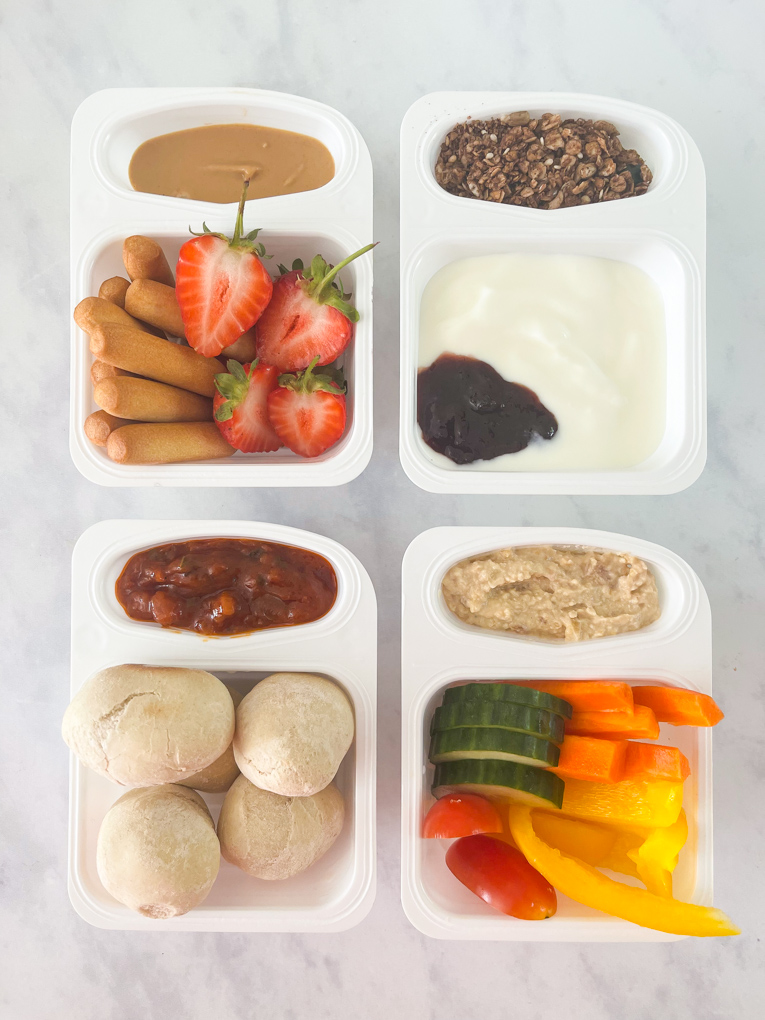 My kids like to eat those split style yogurt pots occasionally. Muller Corner are the main brand and I know a lot of supermarkets do their own brand ones too.
The pots are quite sturdy so I often keep them, wash them out and then reuse them to make fun and healthy snacks another day.
The snacks are all quite basic but there's something about putting them in these containers that the kids love. It's a little more interesting for them than just serving the same snacks on a plate or in a bowl.
Strawberries, Breadsticks & Peanut Butter
This is one of my favourite combos. Add some strawberries and mini breadsticks to the main compartment and peanut butter to the smaller section.
I find it easier to melt the peanut butter first in the microwave then pour it into the container.
Other nut butters will work well, or chocolate spread too.
Yogurt, Granola & Jam
My son loves this combo. Plain Greek yogurt, homemade granola and a dollop of jam for sweetness.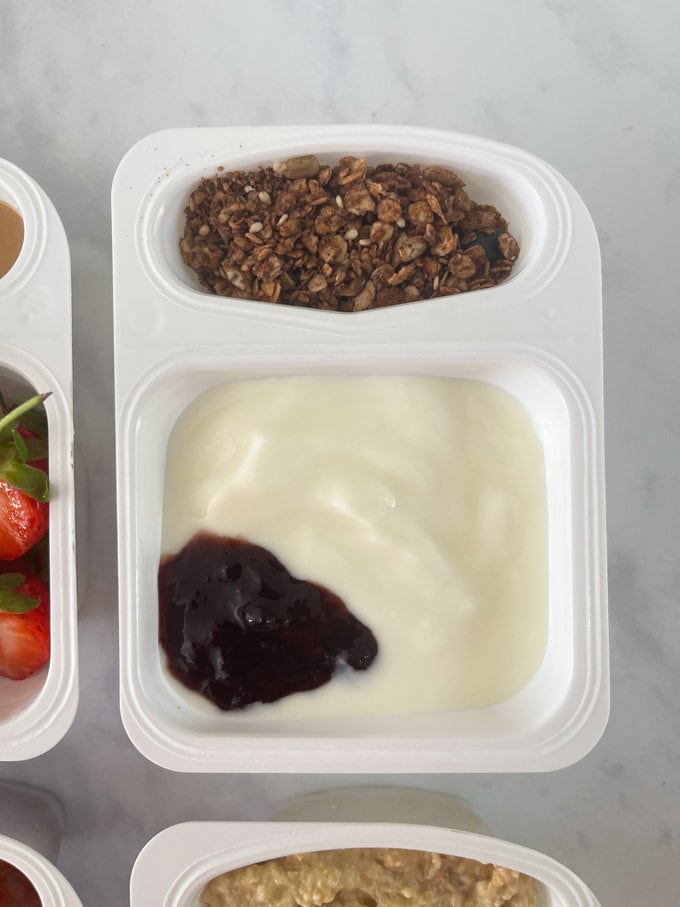 Dough Balls with Pizza Sauce
For a savoury option try some dough balls with a small serving of pizza sauce.
You can buy dough balls in most supermarkets now and they cook in the oven in about 5 minutes. The pizza sauce can be homemade or shop bought.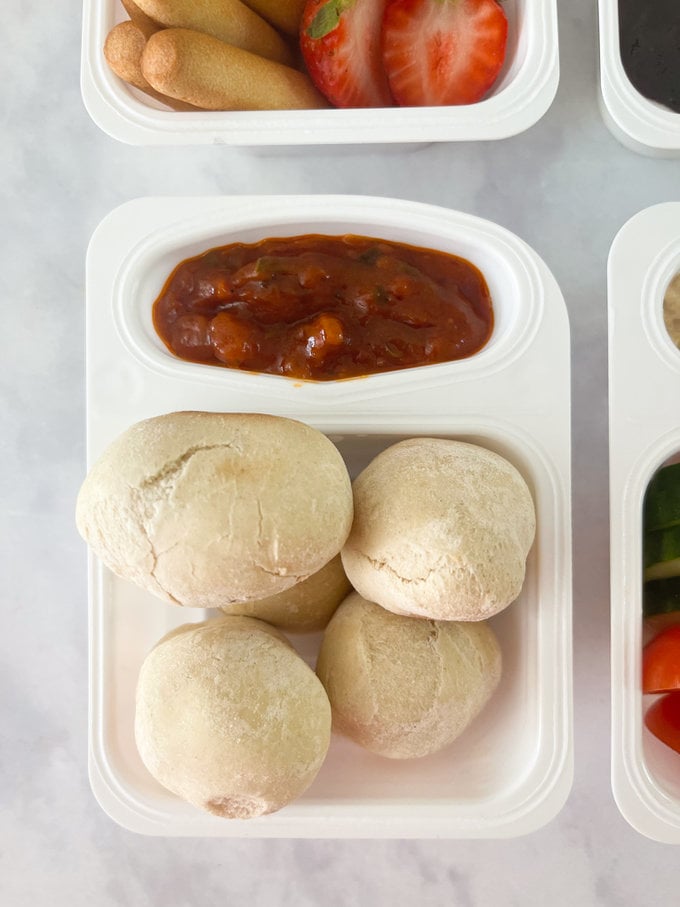 Vegetables & Hummus
Another great savoury option is chopped crudités like carrots, cucumber, pepper and cherry tomatoes along with a serving of hummus.
You could also use another dip if your kids would prefer.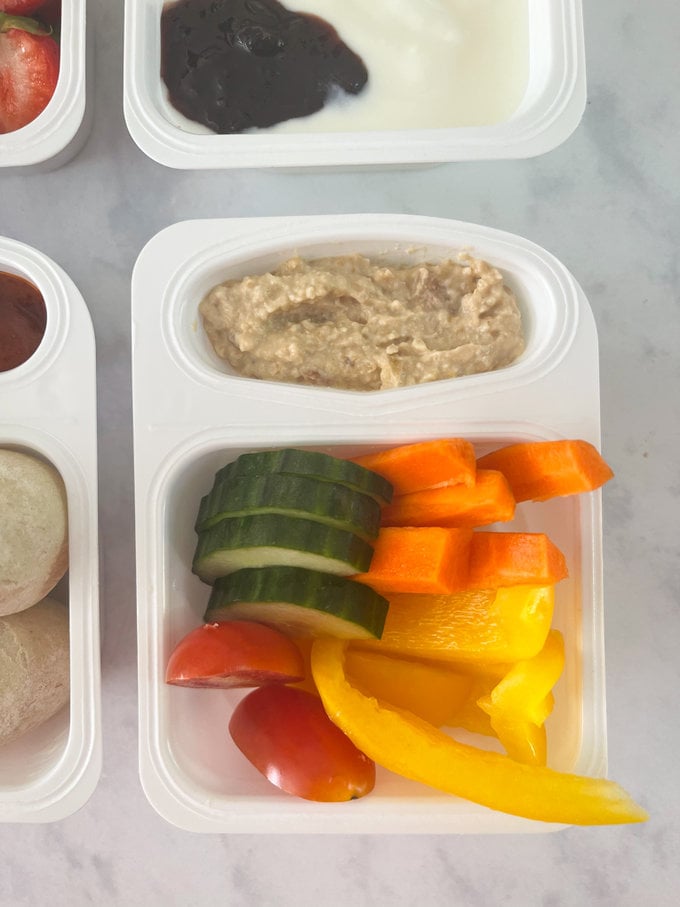 If you try this idea, then please do leave me a comment and a star rating below. You can also share your pictures with me on Instagram. I always love to see your creations! And let me know what other foods you would put in your snack pots.
You may also enjoy these quick and easy School Snack Ideas.