Delicious squares of biscuit, gooey caramel and chocolate. An easy recipe that kids will love to get involved in. Recipe adapted from Rachel Allen's Everyday Kitchen.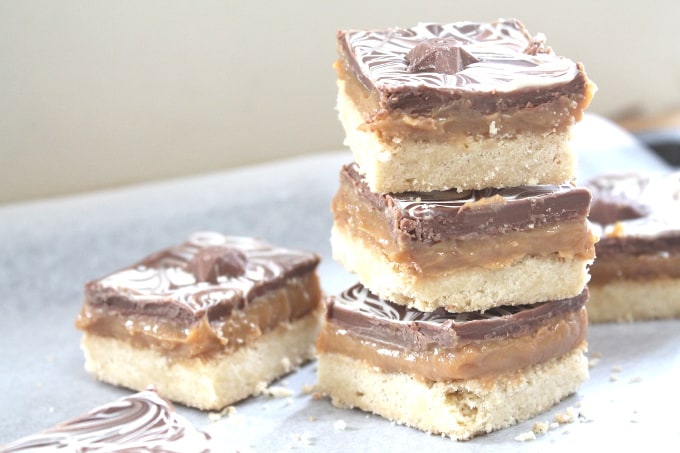 Mmmmm, Millionaire Shortbread…delicious crumbly biscuit, gooey caramel and sweet chocolate. What's not to love? I have been obsessed these little squares of delight for as long as I can remember. As a kid my Mum would often take me to a coffee shop on a Saturday afternoon as a treat and I'd always choose one of these (although strangely they are usually called Caramel Squares in Ireland). I would cut my piece into several smaller squares and savour each bite for several minutes. 
Fast forward 20 odd years and I'm still as enamored with Millionaire Shortbread as ever. I came across this recipe in Rachel Allen's Everyday Kitchen last year and they've gone down a storm every time I've made them.
These Millionaire Shortbreads also make fantastic food gifts for friends and family. Wrap them individually in baking parchment, or arrange neatly in a box with tissue paper. They are hidiously calorific but thankfully this batch was destined for a cake sale so only a small one passed my lips (you can't trust a cook who doesn't try their own food, right?!)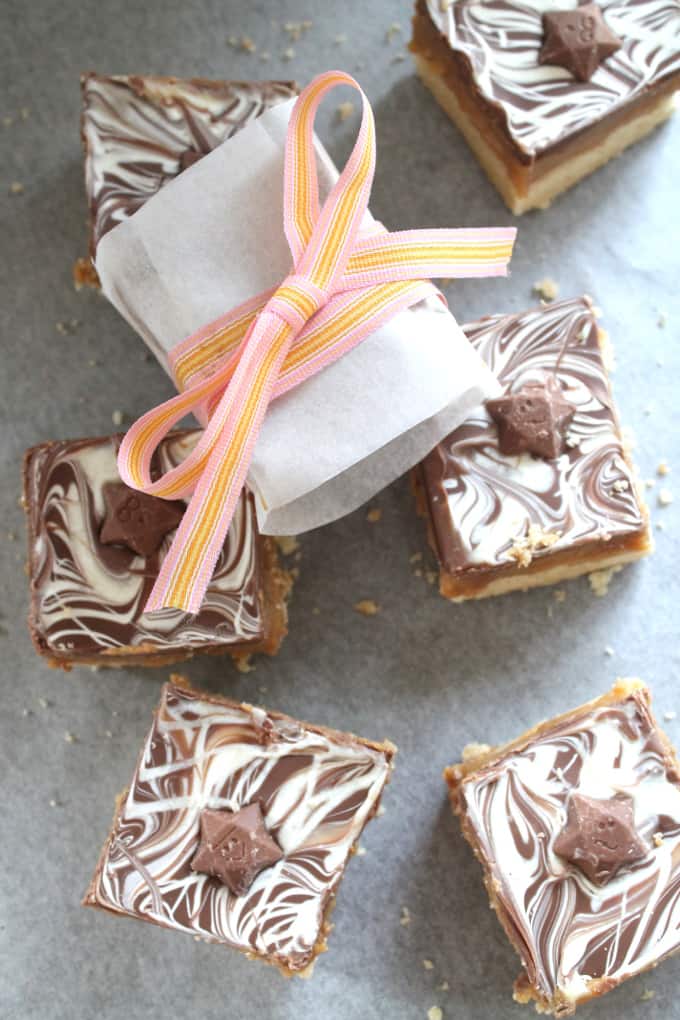 This is a great recipe to get kids involved in cooking. My little fussy eater and her friend loved crumbling the butter into the flour and sugar and spreading on the caramel and chocolate. Their favourite part was definitely adding the white chocolate to create the marbling effect and then topping each square with a chocolate star.
Do you have as sweet a tooth as me? What are your favourite sweet treats to make?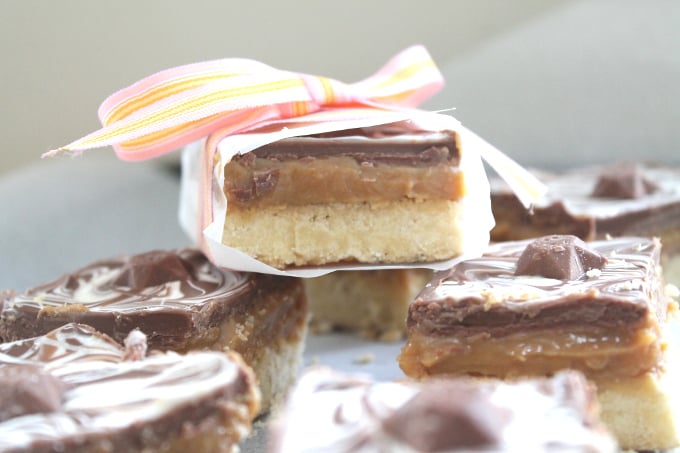 Print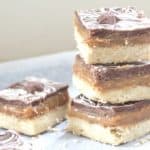 Millionaire Shortbread
---
Prep Time:

30 mins

Cook Time:

2 hours 20 mins

Total Time:

2 hours 50 minutes

Yield:

24

1

x
Category:

Snacks

Cuisine:

European
Description
Delicious squares of biscuit, gooey caramel and chocolate. An easy recipe that kids will love to get involved in. Recipe adapted from Rachel Allen's Everyday Kitchen.
---
Ingredients
2

x 397g tins of sweetened condensed milk

200

g butter

300

g plain flour

100

g caster sugar

300

g milk chocolate

75

g white chocolate

1

packet chocolate stars to decorate
---
Instructions
First make the caramel by boiling the tins of sweetened condensed milk in water. Place the unopened tins in a pan and cover with cold water. Bring to the boil and keep simmering. Top up with more water every so often to ensure that the tins remain completely immersed in water. After 2.5 hours remove the pan from the heat and allow the tins to cool in the water.
Preheat the oven to 180c and grease a tin. I used a 32cmx22cm tin.
Mix the flour and sugar together in a bowl and rub in the butter until it reaches the consistency of breadcrumbs.Tip the mixture into the tin and press down with the back of a spoon until it is all even and level. Bake for 20 minutes in the oven and leave to cool in the tin on a wire rack.
Once the caramel and biscuit base have cooled, pour the caramel onto the biscuit and smooth with a spatula. Chill in the fridge for 20 minutes.
Melt the milk and white chocolate separately in bowls over a pan of boiling water. Pour the milk chocolate over the caramel and then swirl in the white chocolate to create a marble effect.
Decorate with chocolate stars (you may want to mark on the chocolate the outline of where you will cut the shortbreads to do this neatly. Simply run a knife through the melted chocolate).
Leave to cool before cutting into squares to serve. If you are short on time and want to cool the chocolate in the fridge, I would recommend removing it before the chocolate is completely set, otherwise it will be very difficult to cut.
Notes
You can also buy tins of ready made caramel which can be poured straight onto the biscuit base, rather than boiling tins of condensed milk.