Delicious cupcakes filled with marshmallow fluff and topped with vanilla frosting and mini marshmallows. Recipe adapted from the Hummingbird Bakery.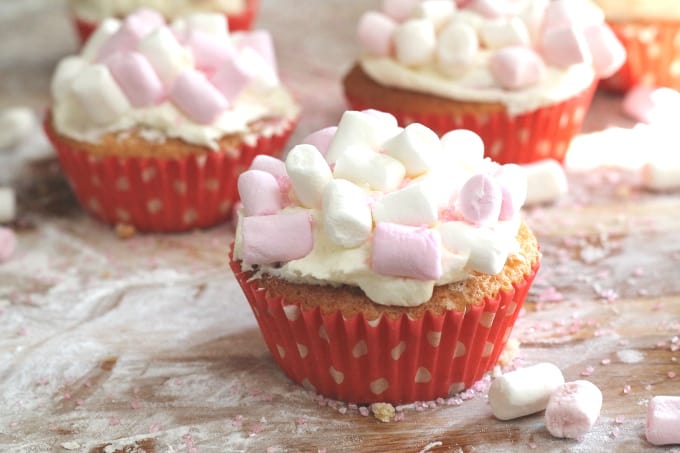 I have two confessions/apologies to make before I start this post. First off, I'm not much of a baker so please forgive the rather amateurish look of these Marshmallow Cupcakes. I'm trying to improve and add a little more finesse to my baking but in the meantime everything will probably look like it was made by my 3 year old!
Secondly, the photos are rubbish. I tried to photograph them indoors in my dark kitchen as I was in a hurry and the results are, well…you can judge for yourself! I haven't exactly sold this blog post to you so far have I? Messy cupcakes and bad photography. Oh well, if you're still reading out of sympathy (or maybe just curiosity) then thank you!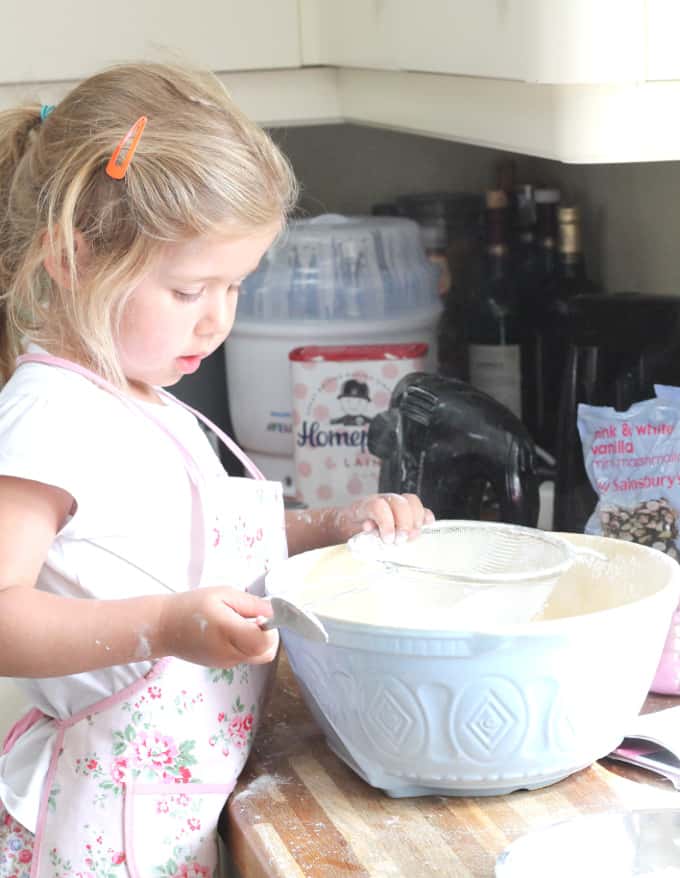 Lets get on to these Marshmallow Cupcakes finally. I made them for the local school fair last week and my fussy eater took a massive interest in the whole process and insisted on "helping" me with every step. Cue a kitchen covered in flour but it was worth it to see the look of delight on her face when the cakes came out of the oven.
The recipe is from the Hummingbird Bakery Cupcakes & Muffins book. These cupcakes have an amazing marshmallow surprise in the middle. The original recipe called for marshmallows to be melted and then spooned into the a hole in the cupcakes, but whilst shopping for the ingredients I came across a tub of Marshmallow Fluff which I thought would do the job just as well.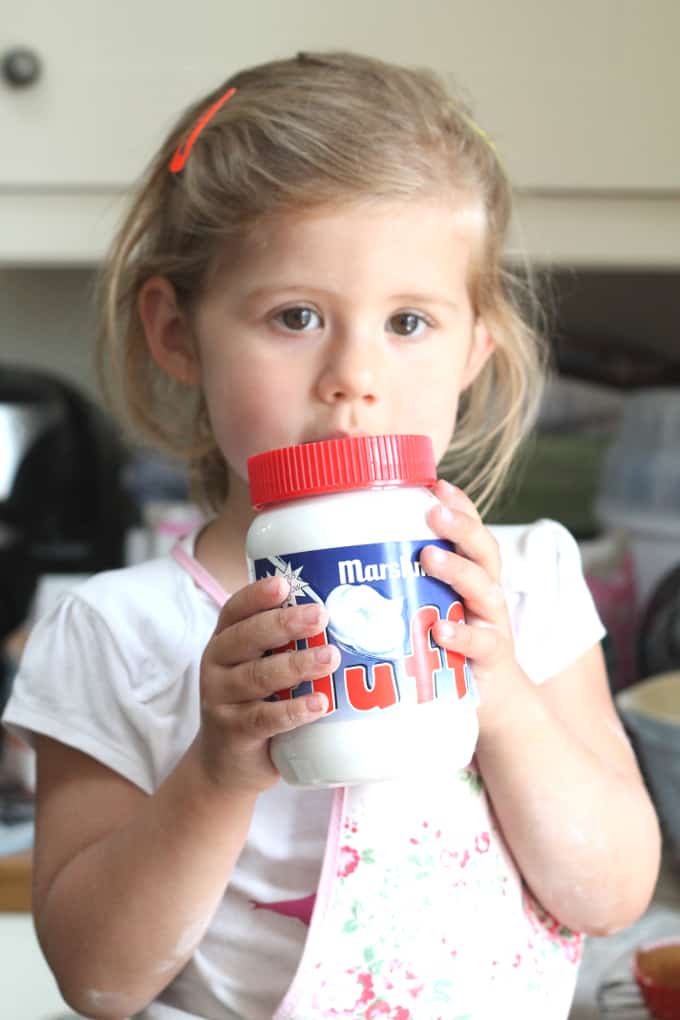 If you haven't tried Marshmallow Fluff before then get yourself down to Waitrose immediately (or apparently TK Maxx sell it sometimes too). Marshmallows are nice, but I don't go crazy for them. This fluff on the other hand is addictive. I found myself eating spoon after spoonful straight from the jar. So bad but oh so good!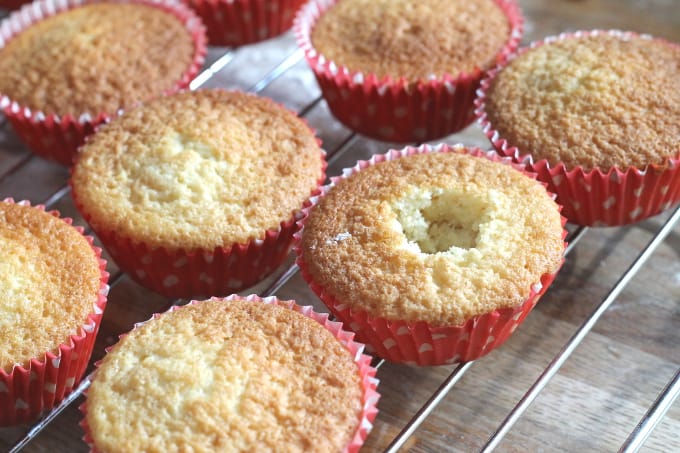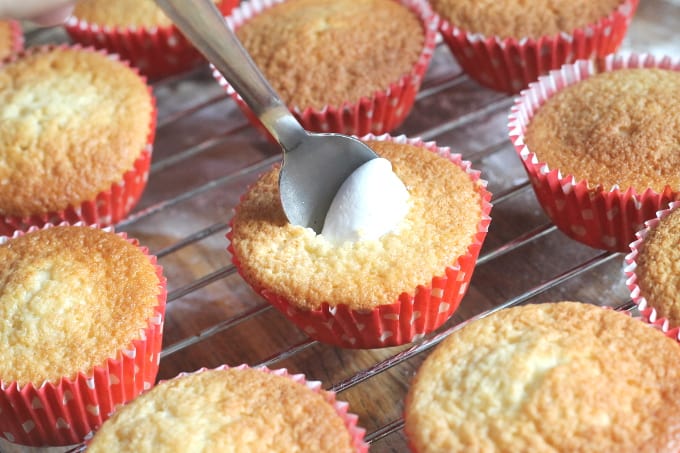 After the fluff was added to the cupcakes my fussy eater lost interest and I was left to ice the buns myself. It was probably no harm considering how messy they turned out with just me in charge! I started off my piping the frosting onto the cakes but quickly decided it didn't really matter how the icing looked as I was covering it with marshmallows anyway! So I switched to just spooning it on to speed up the process.
So here's the finished product. What do you think? Not the prettiest cupcake you've ever seen! But they did taste pretty good and I haven't gotten any complaints of food poisoning from the school fair yet (fingers crossed!)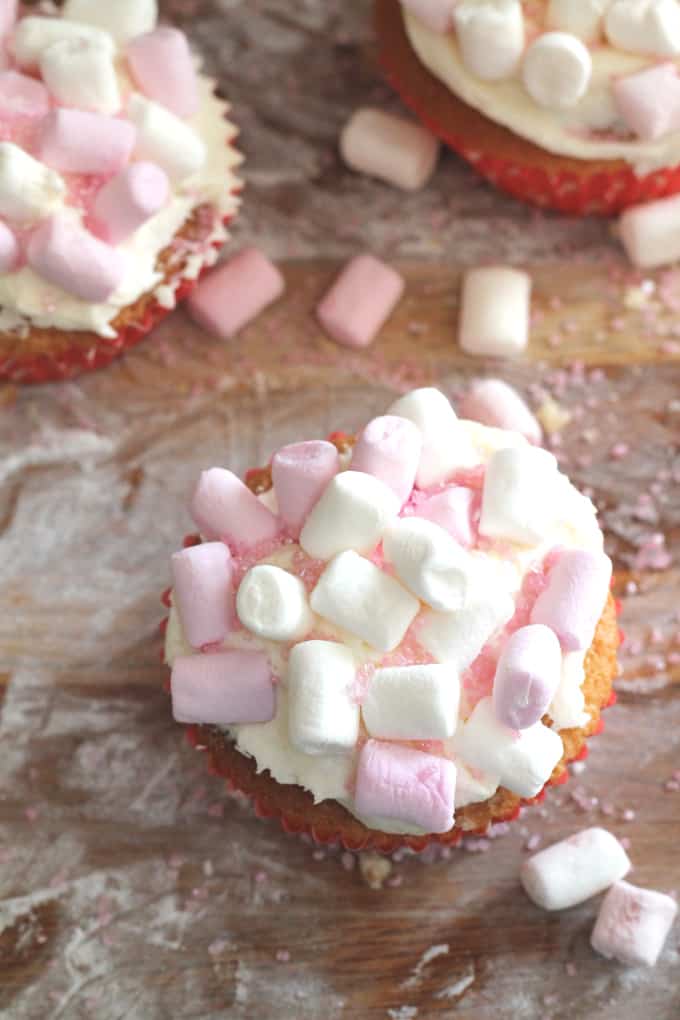 Print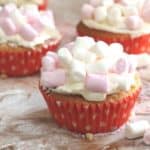 Marshmallow Cupcakes
---
Prep Time:

45 mins

Cook Time:

25 mins

Total Time:

1 hour 10 minutes

Yield:

12

1

x
Category:

Snacks
Description
Delicious cupcakes filled with marshmallow fluff and topped with vanilla frosting and mini marshmallows. Recipe adapted from the Hummingbird Bakery.
---
Ingredients
120

g plain flour

140

g caster sugar

1 1/2 tsp

baking powder
pinch of salt

120

ml whole milk

1

egg

1/4 tsp

vanilla extract

1/2

jar marshmallow fluff

250

g icing sugar

80

g unsalted butter, room temperature

2 tbsp

whole mlk

2

drops vanilla extract

150

g mini marshmallows
edible glitter or sprinkles to decorate
---
Instructions
Preheat the oven to 170c.
Put the flour, sugar, baking powder, salt and butter into a bowl and mix with an electric whisk. Beat on a slow speed until you get a sandy consistency. Gradually pour in half the milk and beat until it is just incorporated.
Whisk the egg, vanilla extract and remaining milk together in a separate bowl for just a few seconds. Pour it into the flour mixture and continue beating until combined and smooth. Be careful not to overmix it though.
Spoon the mixture into paper cases two-thirds full and bake in the oven for 20-25 minutes. Leave the cupcakes to cool slightly and then turn out onto a wire rack to finish cooling.
Once cooked, make a small hole in the centre of each cupcake and fill with a dollop of marshmallow fluff.
Make the frosting by beating the icing sugar and butter on a medium speed until the mixture is well combined. Turn the mixer down to a slow speed. Add the milk and vanilla extract a little at a time until they are well incorporated into the butter mixture. Then turn the mixer up to a high speed and beat until the frosting is light and fluffy, at least 5 minutes.
Pipe or spoon the frosting onto the cupcakes and top with the mini marshmallows. Decorate with edible glitter or sprinkles.