Leftover Lamb – How To Store It and What To Make With It
Sponsored Post
Over the past few months I've been teaming up with Lamb, Try It Love It: an EU funded campaign to promote the versatility and benefits of adding some more delicious lamb recipes into our diets.
Lamb is a great option when choosing meats because:
1. It's more sustainable than most other animal agriculture farming.
2. It has numerous health benefits. It's rich in Vitamin B12 and niacin and is also a good source of essential minerals like zine, potassium, phosphorus and pantothenic acid.
3. Lamb can be a really affordable meat, especially when buying cuts like leg or shoulder that are ideal for slow cooking.
4. It's so versatile and can be used in so many ways from roasts to lamb chops, burgers and meatballs.
Today I want to talk about what to do with leftover lamb. We all know food waste is a big issue. So much of our food gets thrown away as we either don't know how to store it properly or we don't know what to do with it once we have stored it.
I'm going to share three easy and delicious recipes, all using leftover lamb. My aim is to completely transform these leftovers into new, tasty and inspiring meals the following day.
For all of these recipes be sure to follow the NHS guidelines on correctly storing leftover meat:
Cool leftovers as quickly as possible, ideally within two hours.
Divide leftovers into individual portions in a sealed container and refrigerate or freeze.
Keep cooked meat separate from raw meat.
Use refrigerated leftovers within two days.
When reheating food, make sure it is heated until it reaches a temperature of 70C.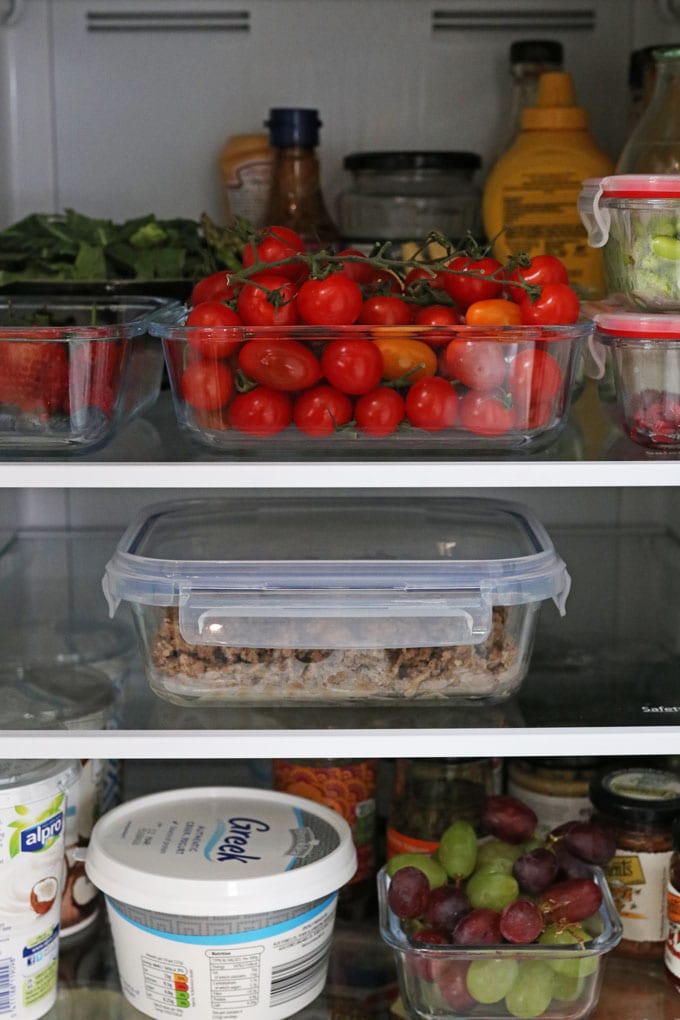 1. Leftover Roast Lamb
Roast lamb on a Sunday can be so delicious but too often than not we will chuck the leftovers in the bin as we're not sure what to do with them. A roast lamb sandwich always goes down a treat but if you fancy whipping up something a little bit different then why not try a Leftover Lamb Noodle Soup!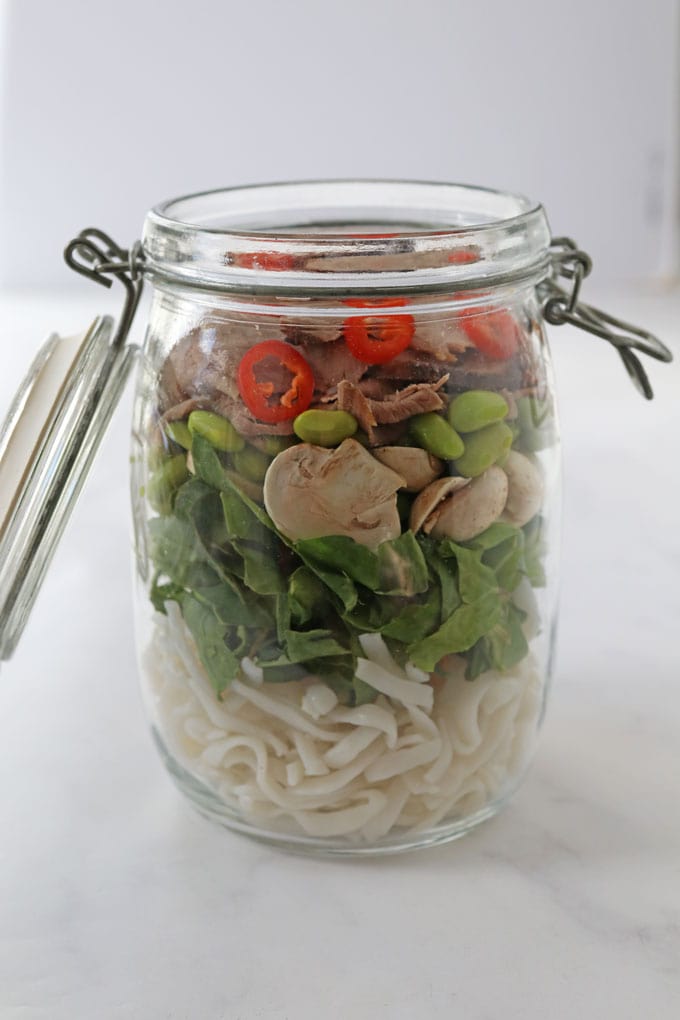 Once the leftover lamb has cooled, slice it very thinly and then add it to a large jar along with some straight-to-wok rice noodles and any veggies of your choice. I've used sliced greens, mushrooms, edamame beans and chilli.
Close the jar and store in the fridge until the following day. When you're ready to eat, mix a small sachet of miso paste with boiling water and then pour that into the jar, covering all the ingredients. Close the lid and leave it for a few minutes to heat the food. Ensure the lamb is piping hot, give it all a stir and then tuck in!
You could even bring this with you to work for a cheap but super delicious lunch at your desk!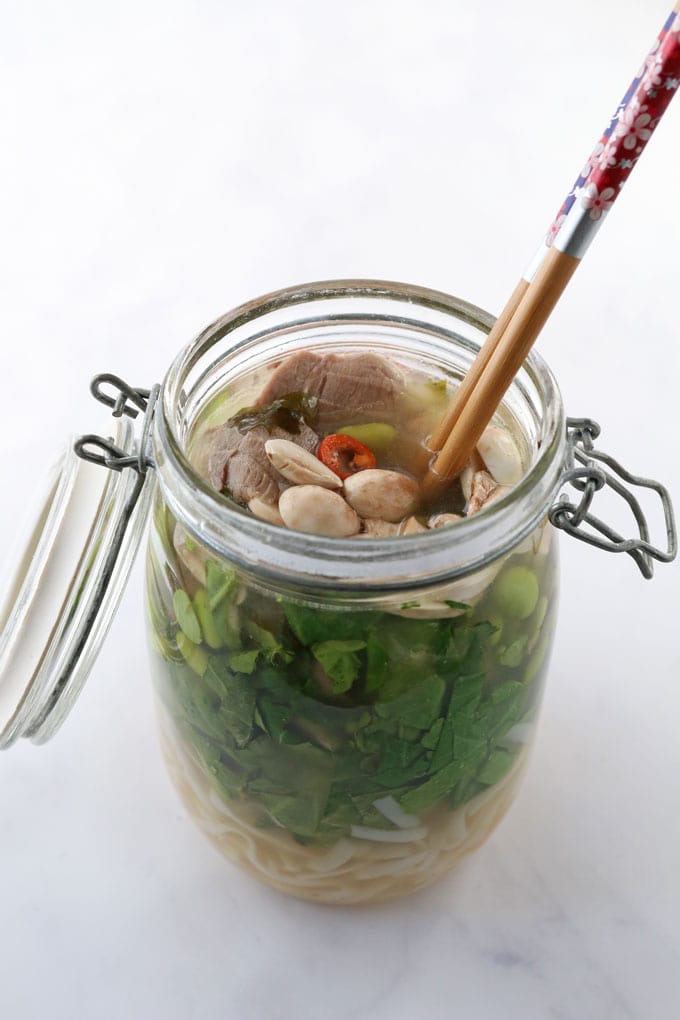 2. Leftover Lamb Mince
First up is leftover lamb mince. If you find yourself with more lamb mince than you need then simply fry it in a pan until it is cooked through and then transfer to a sealed storage dish, cool and refrigerate. I use these Glass Containers with Plastic Lids as they are a great way to store food safely.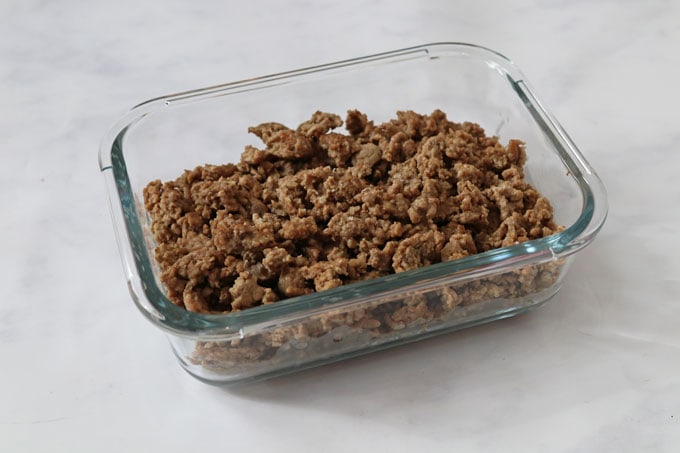 The cooked lamb mince can be stored like this for up to two days. When you're ready to use it simply mix the mince with some spices. I used ground cumin, ground coriander and chilli powder. Spoon it onto a flatbread and then bake in the oven at 200c for 10 minutes until the lamb is piping hot.
When ready, top with cubes of feta cheese, chopped chilli, pomegranate and coriander and you have an absolutely delicious Middle Eastern inspired meal ready to eat in just minutes!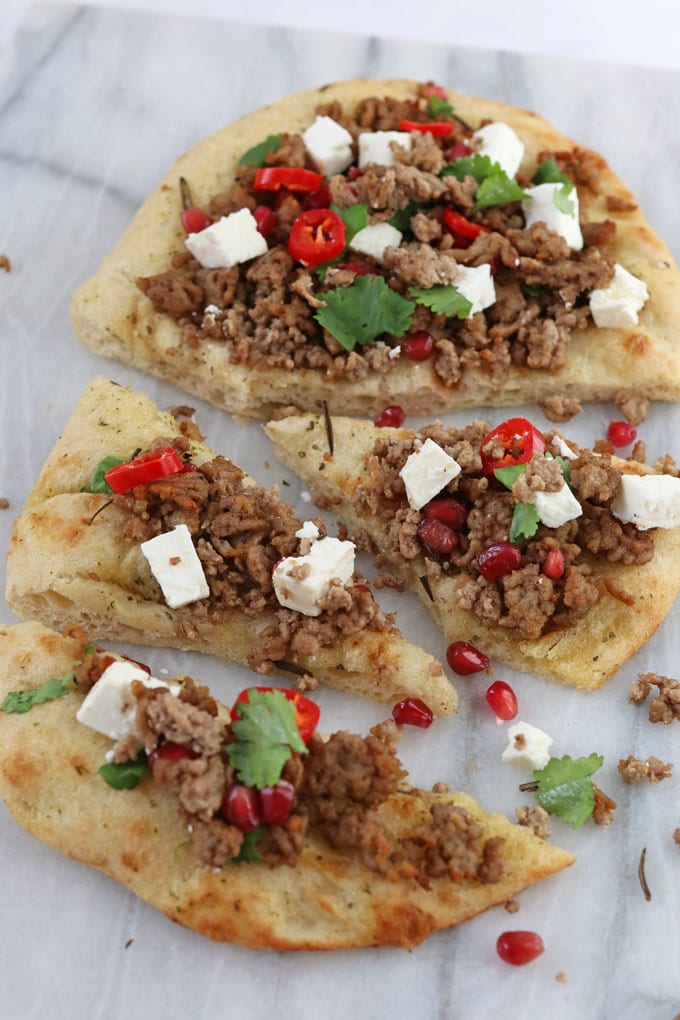 3. Leftover Lamb Meatballs
Lamb meatballs are another great leftover to have in the fridge. Like the mince, cool the cooked meatballs and then stored in a sealed container in the fridge for up to two days.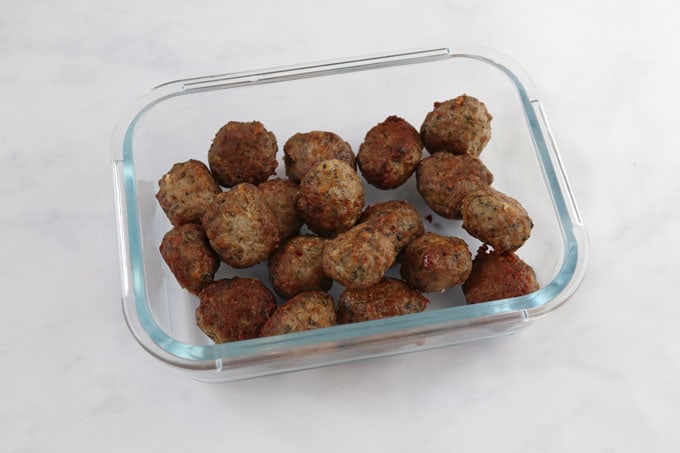 When ready to use, reheat the meatballs in the oven, microwave or by frying on the hob until piping hot. Add them to some skewers and serve alongside pitta bread, veggies and a dip (this is greek yogurt and mint!) for a delicious and fun meal that the kids will love.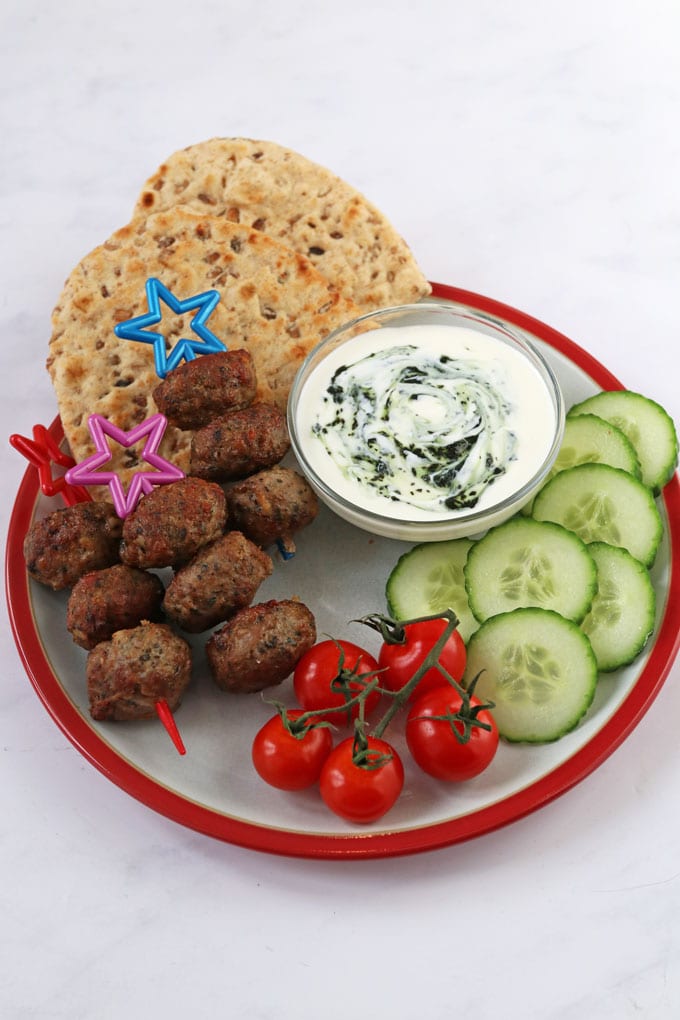 If you try any of these ideas for using leftover over lamb, please do follow the NHS guidelines on cooling and storing cooked meat properly. Please also note that I am not advocating eating meat every day.
Disclosure: I have been compensated for my time spent working on this campaign but all thoughts and opinions are honest and are my own.
If you enjoyed this post, you might also enjoy:
Ten Leftover Tiger Bread Ideas – My top ten uses for leftover tiger bread.
PRE-ORDER my new book THE FUSS-FREE FAMILY COOKBOOK out 26th January. 100 healthy easy and quick recipes that the whole family will enjoy!