A quick before and after look at our kitchen renovation and the tiles that we chose for the floor!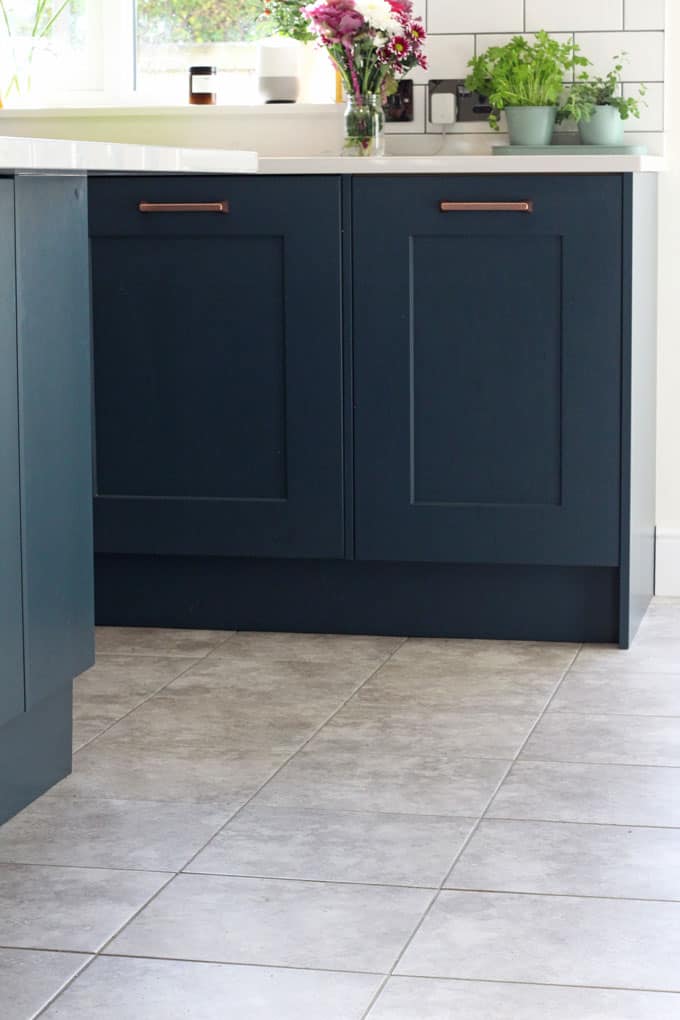 I'm so excited to finally start featuring some of our kitchen renovation on the blog! If you follow me on Instagram you'll have listened to me to talk about it endlessly for months now. The work began on 1st July and although it hasn't officially finished yet (we still need to finish a small few bits in the kitchen and also completely replace the roof!) I thought it would be a good time to start sharing what we have done and showcase some of the amazing businesses we have worked with.
My kitchen is not just my kitchen. It's my place of work, it's my office and so I thought long and hard about how I could create a room that would suit our family and our lifestyle but also offer me the tools and space I need to work. After 18 months of planning I'm so so pleased with the results and today I'm going to share the story behind our flooring and the tiles that we chose.
As a quick comparison this is a before photo of our kitchen. It was a big space but it was L-shaped as there was a separate utility room which basically cut off a big section of the kitchen. This left the rest of the space feeling a bit cramped and after five years of living here we decided to take the plunge and knock the wall between the kitchen and utility to make one big room.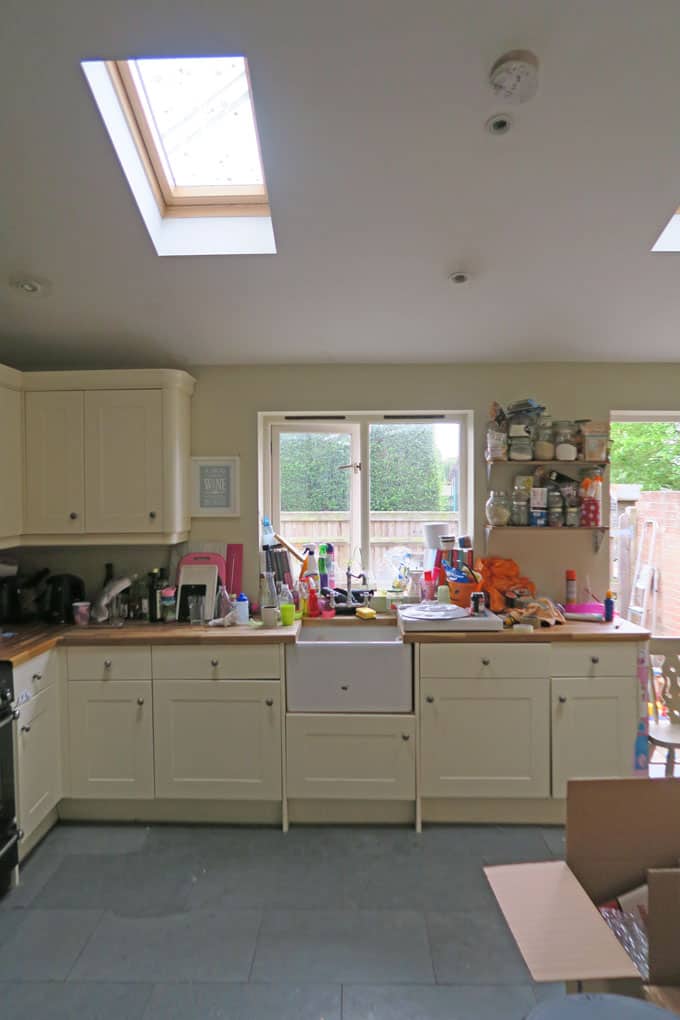 The original tiles on the floor were not bad. We did consider leaving them down but because we were knocking a wall between the kitchen and utility room it meant that lots of the tiles would get damaged and it would have been near impossible to try to re-lay them all symmetrical to the existing tiles on the floor.
At this point I got in touch with British Ceramic Tile and they very generously agreed to work with me to help create the perfect flooring for our new kitchen. British Ceramic Tile has over 100 years of ceramic manufacturing heritage and nowadays produce not only ceramic, but porcelain and glass tiles for floors, walls, bathroom, kitchens and even outdoors too.
With this kind of experience I knew we were in good hands and British Ceramic Tile sent us a few samples tiles to try. I really would recommend getting several samples when trying to choose your tiles (they are really cheap to order online – most are £2.50 each) as the colours can look slightly different in real life and even look different depending on how much light falls on them.
In the end we chose this Rapolano Grey Matt Floor Tile. It has a beautiful stone finish which marbles through the tile. This makes it visually really appealing to look at but practically it is fantastic for our family. I spend most of the day in the kitchen cooking, working and then hanging out with the kids and so the floor naturally gets a lot of use. Because these tiles are marbled and slightly flecked you don't notice the dropped dirt or food as much as you would with a tile that had a solid block of colour.
So if you have a family or spend a lot of time in your kitchen my advice would definitely be to choose this style of tile!
We chose grey grouting for this same reason, to minimise dirt visibility! And also it matches the grey tiles perfectly.
I am so pleased with the results and we've had so many compliments already about these tiles. British Ceramic Tiles are not only designed, but also made in Britain, making them an ideal supplier if you are looking to work with a homegrown company. British Ceramic Tile themselves aim to support local businesses with 85% of their raw materials being sourced from the South West of England (their factory is located in Devon).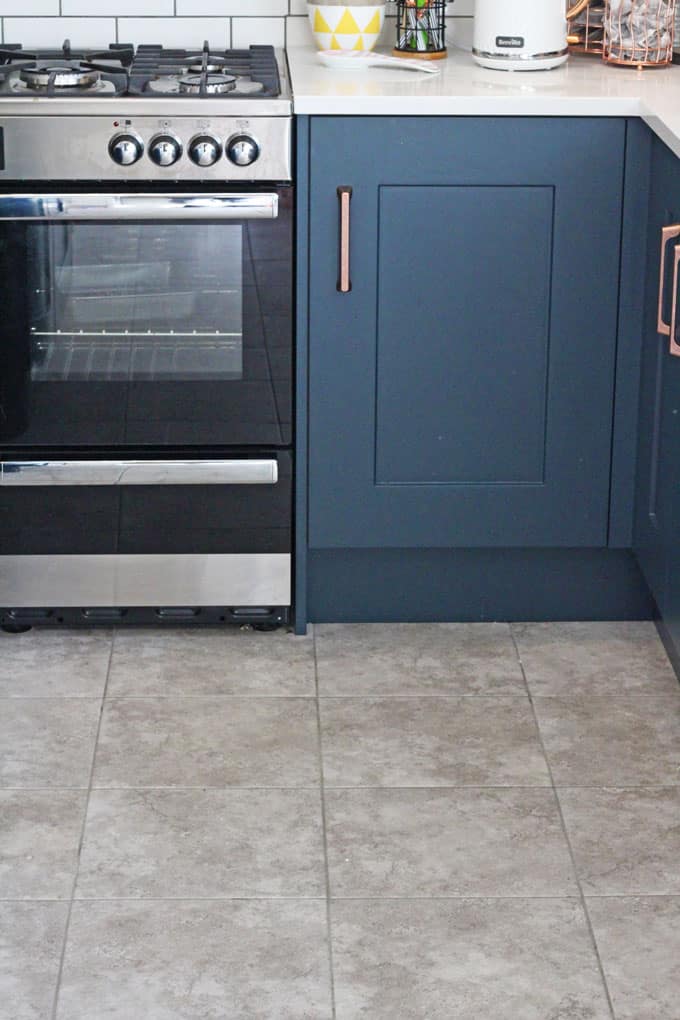 To see their full range of tiles and order samples head on over to their website. You can also search for stockists close to you.
If you are planning your own kitchen renovation or make-over then head on over to my Pinterest Board where you can see all my inspiration!
Disclosure: I was provided these tiles free of charge by British Ceramic Tiles but all thoughts and opinions are honest and are my own.