My recipe for a Hidden Veggie Tomato Sauce and tips for serving it for autistic children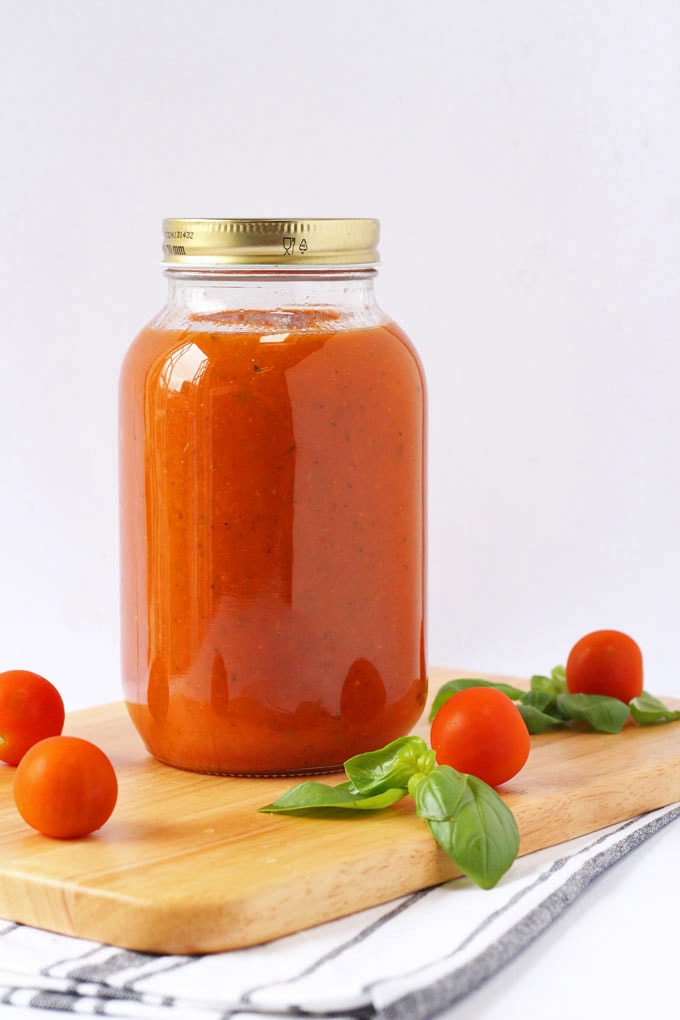 I'm really excited to bring you the second blog post in my series all about Autism, Children and Food. You can read the first instalment here, which was about processed food, why so many autistic children love it and some tips for weaning them off it.
For this series I've teamed up with the gorgeous Tara Leniston. Tara is a former actress who stepped out of the limelight to devote all her time to learning everything she could about autism when her son Dylan was diagnosed seven years ago.
You can follow Tara over on her blog Coming Home To Autism and also on Instagram. She has also co-written a fantastic book, also called Coming Home To Autism, where she shares practical help and tips for parents of newly diagnosed children.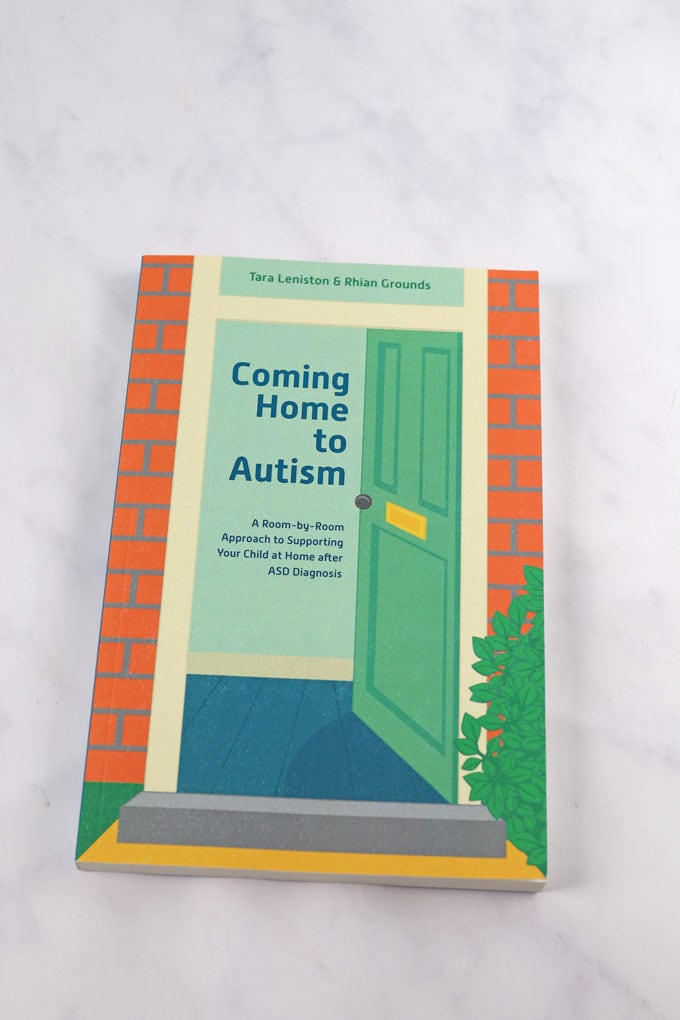 Autism & Fussy Eating
Many children with ASD could be described as fussy eaters but their issues with food are usually more complex than a neuro-typical child and can range from moderate picky eating to severe food sensitivity and aversion.
One question I get asked a lot by parents of autistic children is how can they get their kids to eat a better and more varied diet. Making drastic and sudden changes to the diet of a child on the spectrum is never a good idea but with some simple swaps you can easily introduce a little extra nutrition every day.
Many parents tell me their children love pasta with a plain tomato sauce. Making your own at home is easy, cheap and you can get in some veggies that they may otherwise not eat. I will put the recipe below along with some different ideas on how you can serve the sauce, but I thought it might also be helpful to give some tips on making these kinds of food swaps.
Tips For Serving
1. No Drastic Changes
If you think your child will immediately notice a food swap like swapping their favourite brand of jarred pasta sauce for a homemade variety, then you will need to do this slowly and carefully to avoid any stress or anxiety.
I would start with mixing a small amount of the homemade sauce with their branded variety and slowly increase the amount of the homemade sauce over time.
This sauce recipe can be frozen into ice cube trays, making it really easy to pop one or two cubes out and add them to the jars of sauce when heating them up.
This recipe has basil added for flavour, which is the small green flecks you can see in the sauce. If you think your child will have an issue with that then it's absolutely fine to leave it out.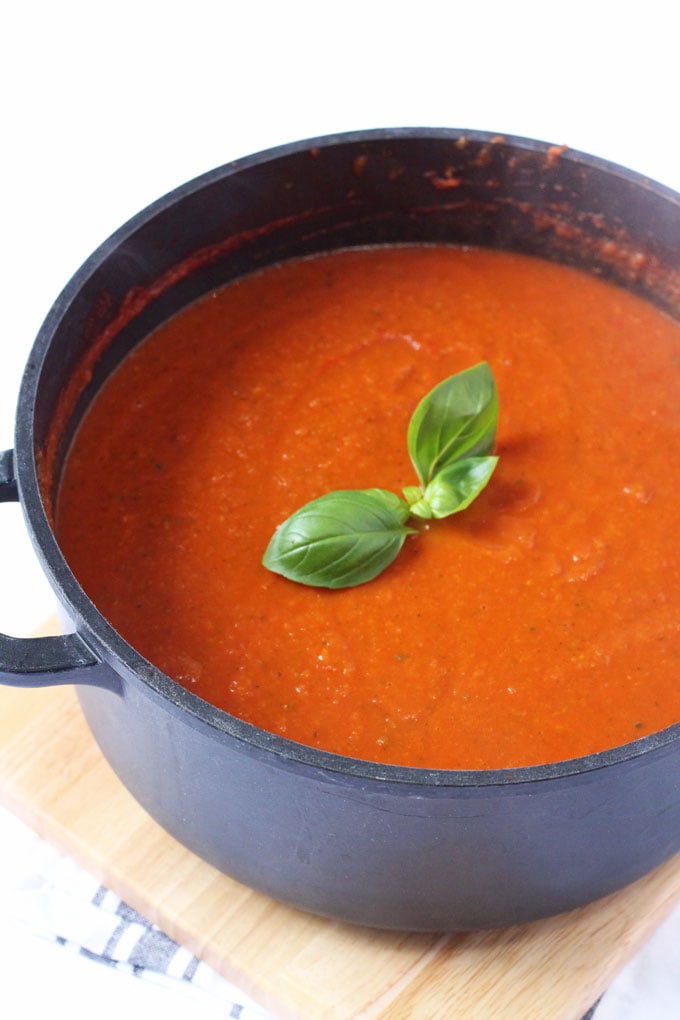 2. Serve On The Side
Many autistic children prefer their food dry. The texture of sauce can be too much for them sensory wise. It may look smooth but can often feel grainy when eaten or contain lots of hidden "bits" and this can pose an issue for children on the spectrum who may feel these textures more acutely than others.
In this case I would recommend serving the sauce on the side. This gives the child control over their meal and reduces the anxiety of all their food being mixed together.
By serving the sauce in a small pot they have the option of removing it altogether from their plate but they may surprise you by trying a small amount.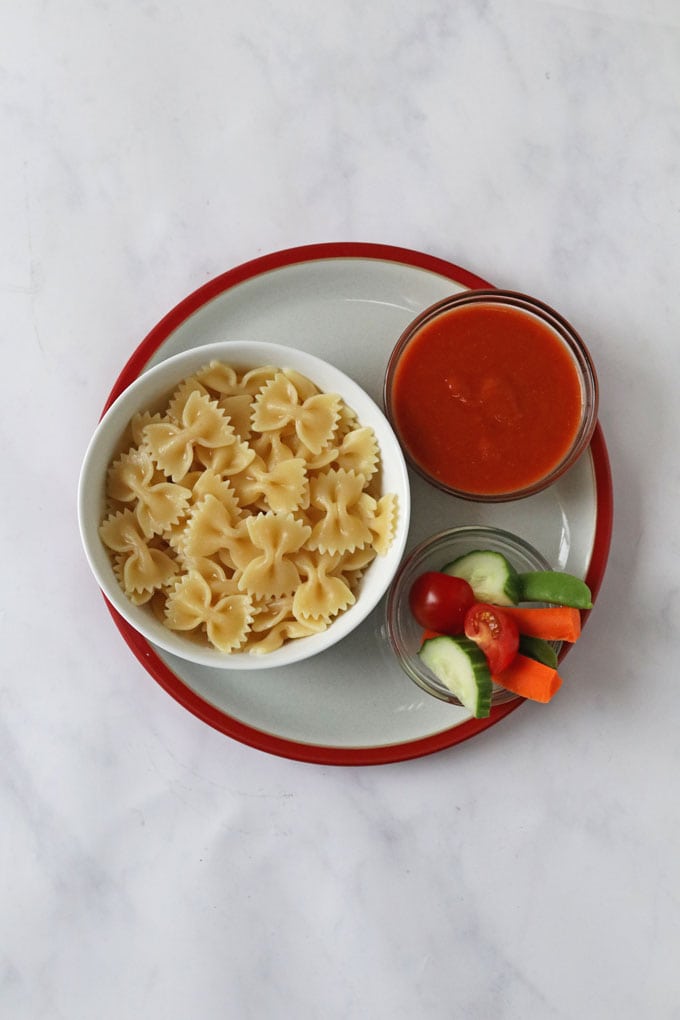 3. Hidden & Visible Veggies
When I serve something like this hidden veggie sauce I always try to serve some visible vegetables on the side. Hiding vegetables can be a great way of getting those vital nutrients into children but a visible reminder of veggies in their whole form is also important.
Again I will serve these on the side, maybe even in their own section on a plate or pot which gives choice and control, two very important points to consider when feeding autistic children.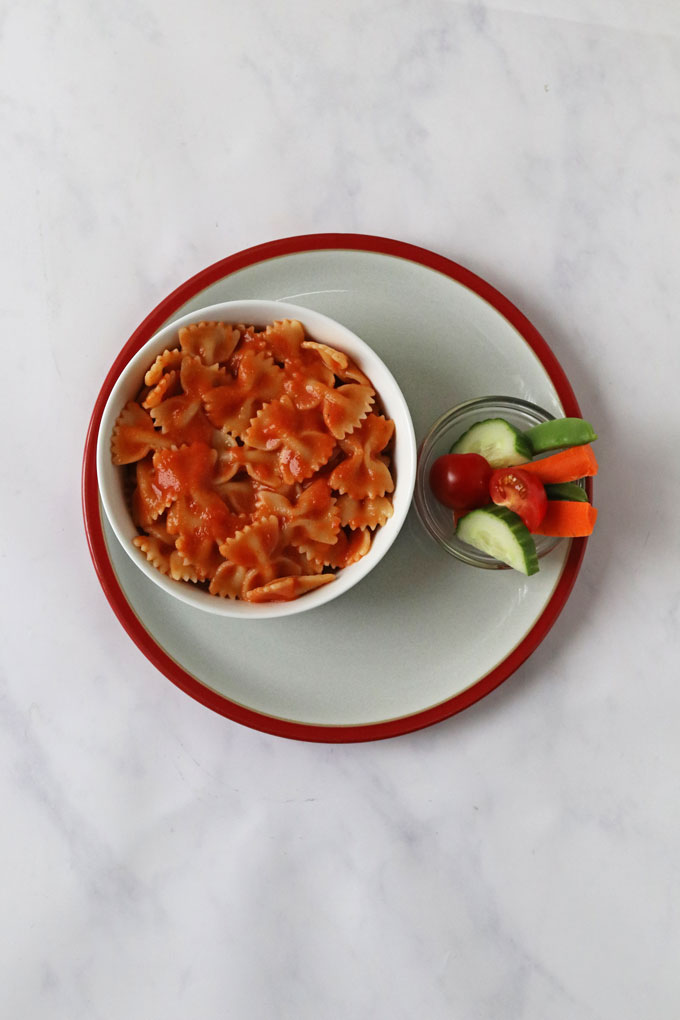 3. Serve In Different Ways
If your child doesn't like pasta, or maybe if you're trying to expand the types of food that they eat, think about using something like this sauce to serve in other ways.
Here I'm using it as a dip with some crackers, mini sausages and veggies.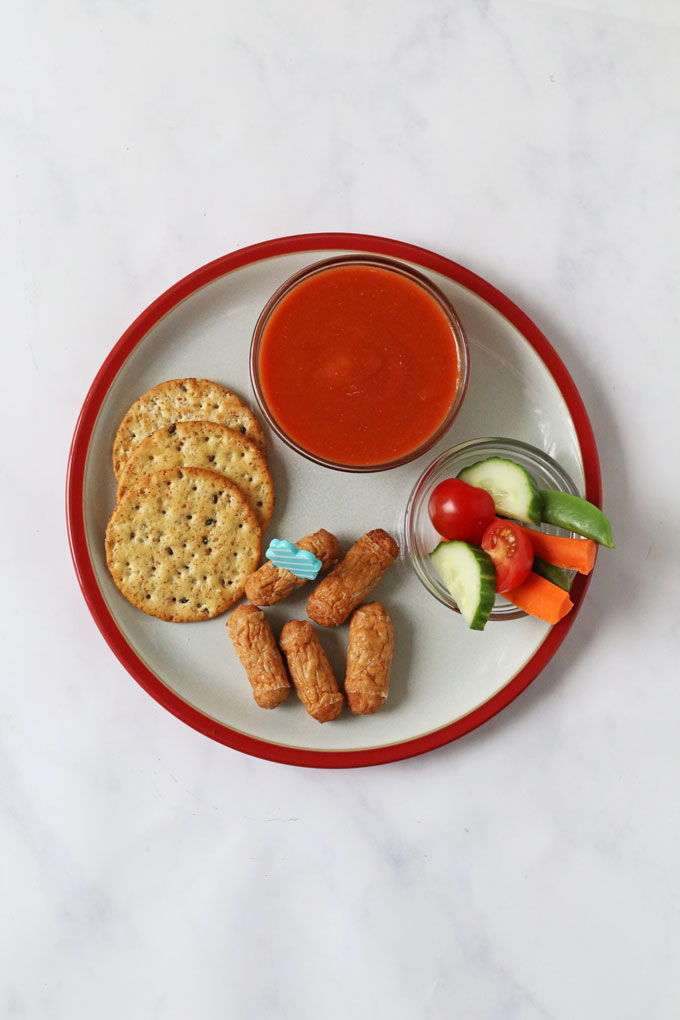 You can also use it as a base for pizza. This pizza is so quick and easy to make. Simple spread some of the sauce onto a tortilla wrap, add grated cheese and any other toppings and bake in the oven for 4-5 minutes.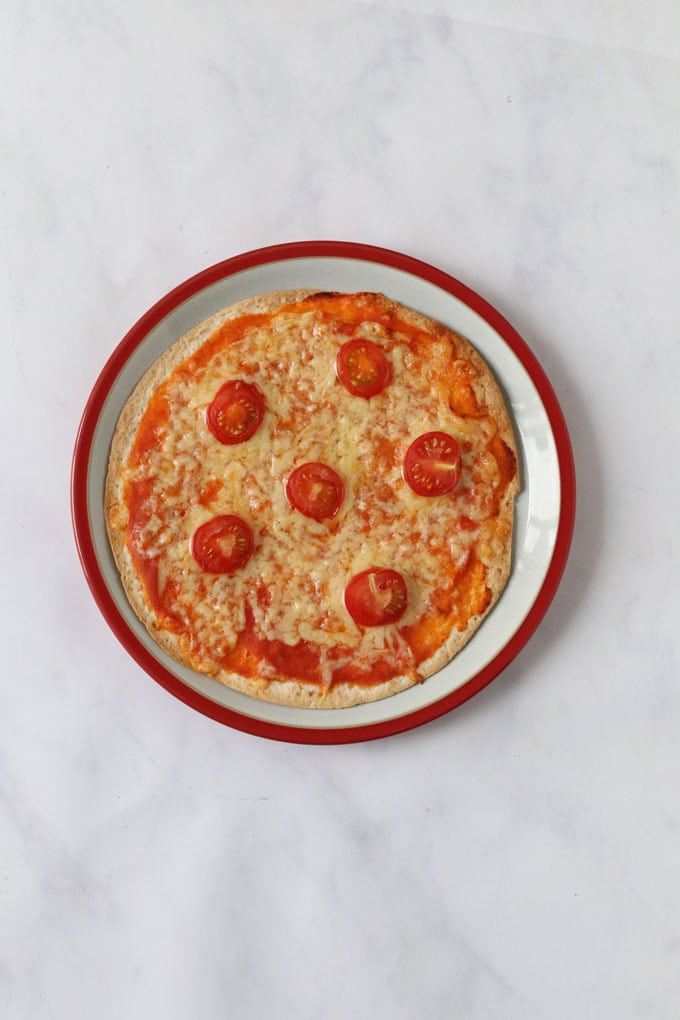 Tara's Top Tips
1 . Find out which colour of food your child likes . Lay out lots of different coloured veg for your children to look at, touch feel, and play with. You will see they will have a preference for one colour over the another.
2. Once you know which colour they prefer for example orange carrots. Try offering your child different versions of this vegetable. Cut in circles, long ways, mashed, par boiled, or raw.
3. Quite often Dylan will prefer raw foods as he prefers the crunch factor, to help with his sensory needs, over cooked. He loves cut up red peppers but didn't like the other colours.
4. When I introduce a new food I only ever offer a very small amount in a separate bowl and I never make a big deal about it. The less fuss I make about something the more Dylan is likely to try it.
5. Don't be afraid to have fun with food. Making your child laugh and being silly with food takes away some of anxiety around it.
I hope our tips have been helpful and that you enjoy this recipe. If you try it yourself please do pop on over to Instagram and share your pictures and comments with myself and Tara. You can also watch this video that we filmed together talking all about autism and food.
Print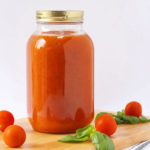 Hidden Veg Sauce – Autism & Food
---
Description
A simple tomato pasta sauce packed with hidden veggies
---
Ingredients
1 tbsp

 oil

1

 medium onion, finely diced

2

 garlic cloves, crushed

3

 carrots, finely diced

2

 celery sticks, finely diced

2

 courgettes, finely diced

1

 red pepper, chopped

1.5

kg / 3.3lbs passata

500

ml / 2 cups veg stock

1 tbsp

 tomato puree

1 tsp

 dried Italian herbs

1 tsp

 paprika
optional: handful of fresh basil leaves
---
Instructions
Heat the oil in a large saucepan. Add the onions and fry for 2-3 minutes. Add the garlic and fry for another minute before adding the carrots, celery, courgette and red pepper.
Pour in the veg stock and passata and stir well. Add the tomato puree, dried herbs and paprika and bring to the boil.
Simmer on a medium heat for about 20 minutes or until the vegetables are soft. If you want to add the fresh basil leaves do so when the vegetables are soft.
Remove from the heat and blitz either with a hand blender or in an upright blender until smooth.
Pour the sauce into jars, containers or freezer bags and allow to cool before refrigerating or freezing.
Notes
If at any point the sauce consistency is too thick, simply add some extra veg stock or water to thin it down. The same applies after it has been defrosted as sometimes it may be a bit thicker. The very fine flecks of green in the sauce are the fresh basil leaves which I added at the end. If your kids really hate the sight of any green then you can easily leave these out!