A healthy twist on Easter eggs, made with sticky rice and spiralized vegetables. Crack open the rice egg to reveal the hidden vegetable "yolk"!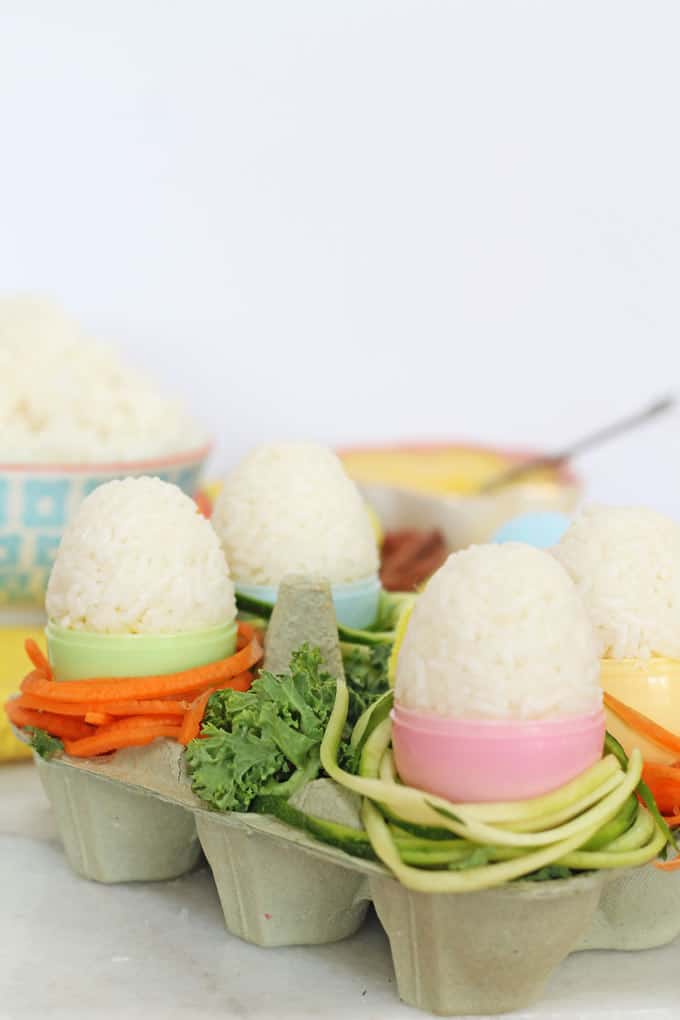 With Easter just a few days away now chocolate is literally everywhere… Creme Eggs, Mini Eggs and chocolate Easter eggs galore! I'm trying to hold back the onslaught of all that sugar for another few days (trust me, my kids are hyper enough, they don't need any help from sugar!) so I thought I would make a healthier version of Easter eggs with rice and veggies. 
Ok so these aren't quite as tasty as a big fat chocolate egg but they are lots of fun to make and a great way to occupy the kids for a couple of hours during the Easter holidays. There's no special equipment needed. I used hollow plastic eggs to mold the rice. These are available everywhere at the moment; supermarkets, 99p stores, etc. You will also need a couple of empty egg boxes.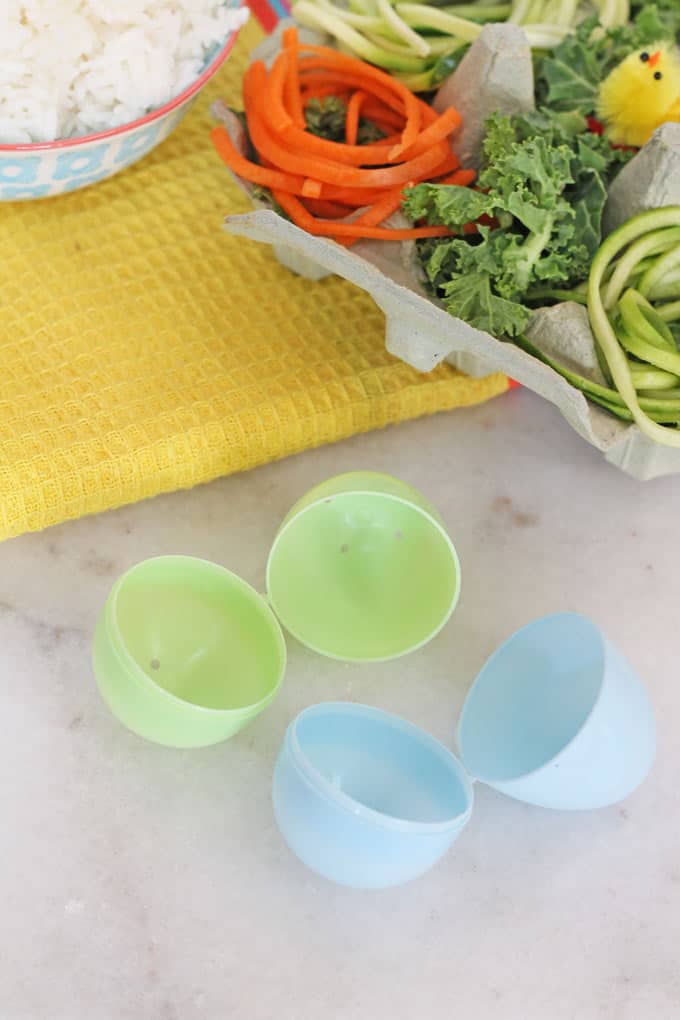 The eggs themselves are made with sticky (or glutinous) rice. This type of rice sticks together a lot easier so it will hold the egg shape well. If you can't find this, then ordinary rice will work too. If you boil it quickly with lots of water it should get quite mushy on the outside, helping it all to stick together.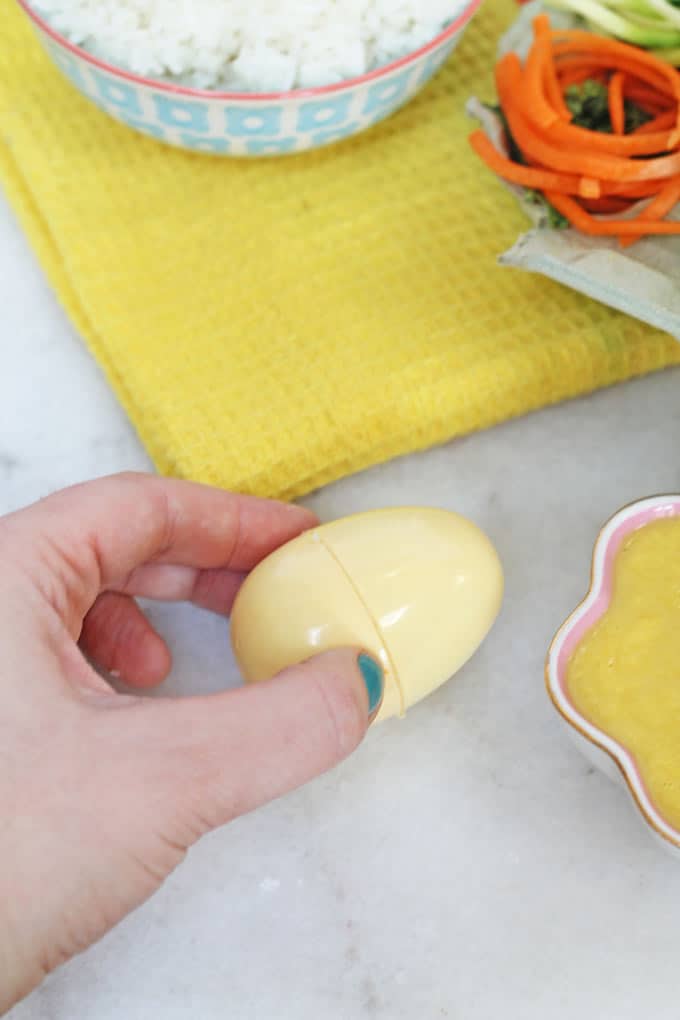 The bright yellow of the "yolk" is made from pureed tinned sweetcorn. Simply blitz it in a blender with a little water until completely smooth. So easy and the kids will get such a kick out of breaking into the rice egg to get to the centre!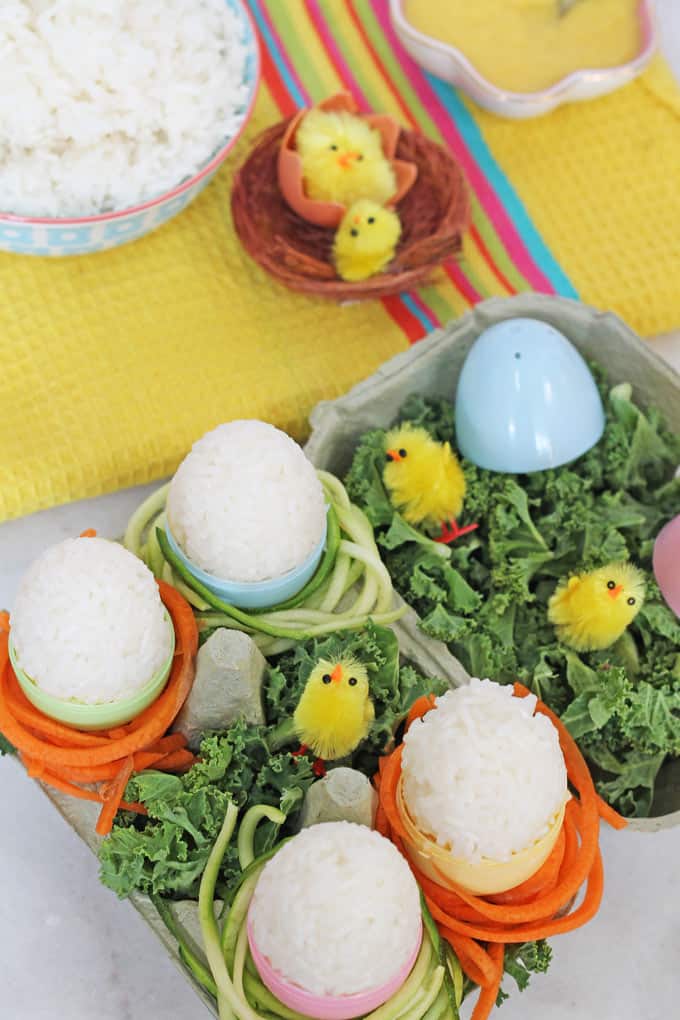 You can use whatever veggies you like for the egg nests. I used some kale to give the effect of grass and then spiralizer courgette and carrot for  the egg nests. If you don't have a spiralizer you could use a julienne peeler or standard veg peeler to get a similar effect.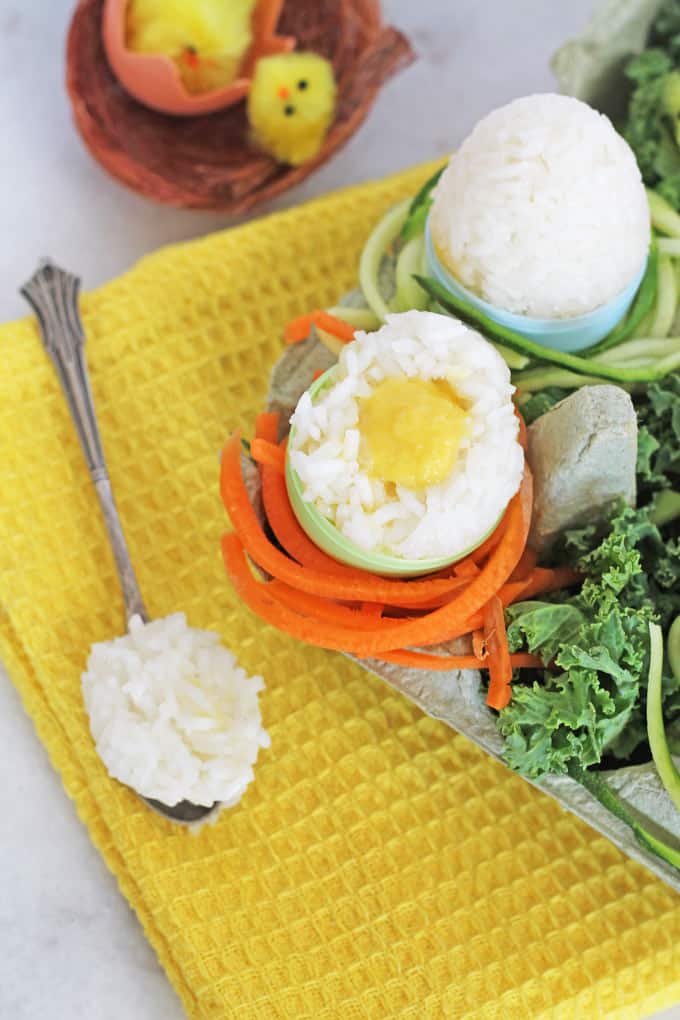 My fussy eater really got a kick out of these healthy Easter eggs and I even caught her nibbling on the veggie nests. Anything that makes vegetables a little less scary and a little more fun for kids is definitely worth trying!
Print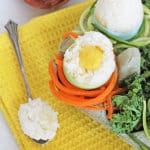 Healthy Rice & Veggie Easter Eggs
---
Author:

Prep Time:

10 mins

Cook Time:

10 mins

Total Time:

20 minutes

Yield:

4

1

x
Category:

Main Meal

Cuisine:

European
Description
A healthy twist on Easter eggs, made with sticky rice and spiralized vegetables. Crack open the rice egg to reveal the hidden vegetable "yolk"!
---
Ingredients
8

plastic egg molds

2

egg boxes

2 cup

s cooked sticky rice

100

g tinned sweetcorn

1 cup

kale

1

carrot

1

courgette
---
Instructions
Cook the rice and place it to one side in a bowl to cool slightly. But don't let it get cold as warm rice will mold together easier than cold rice.
Make the sweetcorn puree by blitzing it in a blender. You may have to add a little water to get it to blend smoothly.
Spoon the cooked rice into the egg molds and press down hard with a spoon to ensure the rice goes all the way to the bottom. Make a small well in the middle of each of the egg halfs and add about a teaspoon of the sweetcorn puree to each. Close the egg molds and press together. Put the mold to one side to cool and repeat with the remaining eggs.
Prepare the egg boxes by filling them with raw kale. Spiralize the carrot and the courgette and make nests by twirling the strands round and placing them on top of the kale.
When the rice has cooled, carefully open the egg mold and remove the top half of the mold, leaving the bottom half of the mold in place. If the rice gets stuck run a sharp knife along the inside of the mold and it should pop out easily.
Place the rice egg on top of the spiralized vegetables.