Packed full of nutritious ingredients, these Chocolate Coconut Flapjacks make a delicious, healthy and filling snack for the whole family!
With an abundance of information at our fingertips about food, nutrition and healthy eating it's no wonder that so many of us feel a little overwhelmed when it comes to feeding ourselves and our families. Having resources available to us is great but sometime too much information can be baffling, especially when we are bombarded by mixed messages about what is healthy or not.
Flapjacks are one particular food which gets a lot of people confused. Often labelled "healthy" or "natural" most packaged flapjacks are actually far from nutritious. Food brands will use the fact that flapjacks contain oats to push their health food claims, conveniently forgetting to mention the amount of refined sugars and highly processed oils or margarines that are also present.
However, made at home with more natural ingredients, flapjacks can be fantastic. They make a great high-energy snacks for kids or an easy grab-and-go breakfast for busy adults. This recipe is free from refined sugar, instead using date syrup to sweeten the mixture. It is also vegan friendly as I replaced the butter with coconut oil.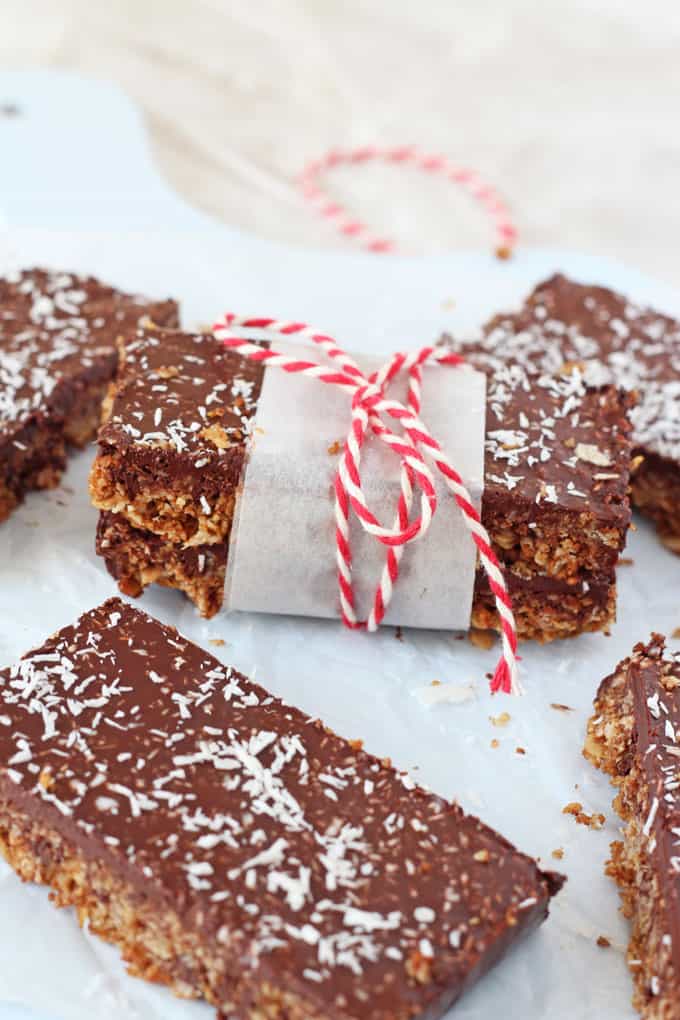 I've kept the actual oat base of the flapjack pretty plain, only mixing some desiccated coconut into it. But you can add chopped nuts or dried fruit to it too, or even leave the coconut out if you prefer.
When deciding what type of chocolate to top the flapjacks with, remember that the higher the cocoa content of chocolate, (usually!) the lower the sugar and milk solids content. I've used 70% cocoa chocolate in this recipe. The addition of the coconut oil helps to sweeten the chocolate a little but if you are making these flapjacks for kids then maybe it would be best to start with a lower percentage chocolate and gradually build up.