Liven up the humble potato side dish with these Hasselback Sweet Potatoes, also known as Hedgehog Sweet Potatoes in our house!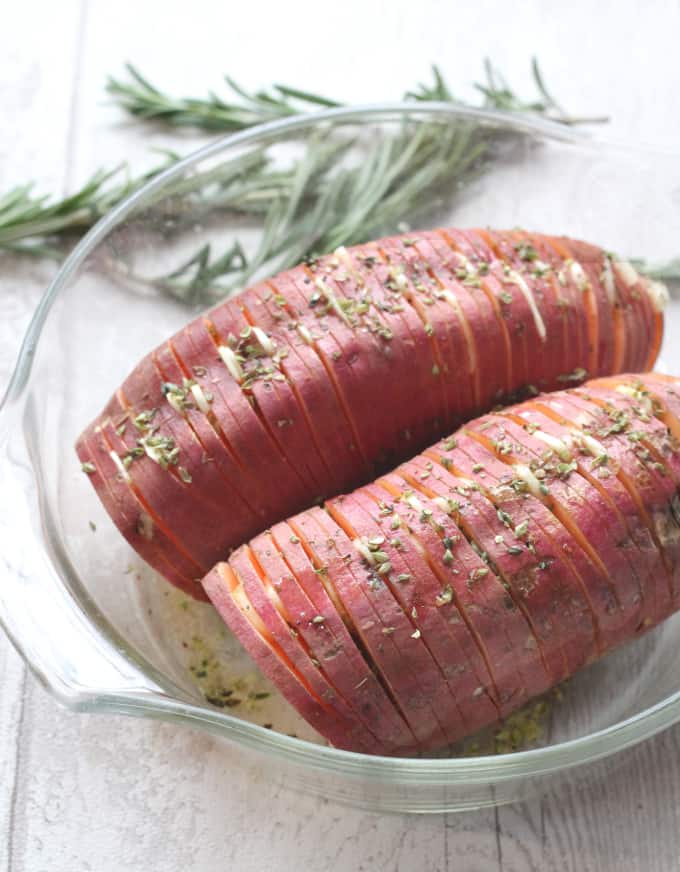 Sweet potatoes…do you love 'em or hate 'em? I'm a massive fan but much to my despair my fussy eater doesn't share my enthusiasm. She prefers her potatoes white and in fry form! In an attempt to encourage her to eat more sweet potatoes I've introduced the Hasselback Potato to our house, aka the Hedgehog Potato.
We all know sweet potatoes are incredibly healthy. They are very high in both vitamin A and C and also beta-carotene, a powerful anti-oxidant that helps to keep our immune system boosted throughout the winter months.  They are also a very good source of potassium and fibre. Just be sure to eat some of the skin to get as much nutritional benefit as possible.
If you are thinking "this looks way too complicated" don't worry, I promise it's not. The hasselback potato looks impressive but its very very easy to make. You can even cut up the sweet potatoes a few hours ahead of time, keep them in the fridge and then add the garlic and herbs and whack them in the oven when you are ready to eat.
If you do a quick search online you will see there are dozens of recommended ways to cut a hasselback potato. Placing the potato on a wooden spoon or between two chopsticks are a couple of popular methods of ensuring that you don't slice all the way through. I prefer to just judge it myself. If you take your time it is easy to see where to stop cutting. It's up to you how thick or thin to cut the slices but cutting them thinner will help them to crisp up.
I served these sweet potatoes as a side dish but you could also make them into a main meal by adding some toppings once they are cooked; maybe cheese and beans, sour cream and bacon or tuna mayo.
Do you have other ways of sprucing up the humble sweet potato or some tricks and tips to get kids to eat them more?
Print
Garlic & Herb Hasselback Sweet Potatoes
---
Prep Time:

10 mins

Cook Time:

40 mins

Total Time:

50 minutes

Yield:

2

1

x
Category:

Side Dish

Cuisine:

European
Description
Liven up the humble potato side dish with these Hasselback Sweet Potatoes, also known as Hedgehog Sweet Potatoes in our house!
---
Ingredients
2

large sweet potatoes

2

garlic cloves, thinly sliced

1 tsp

oregano

1/2 tbsp

olive oil

2

sprigs rosemary (optional)
---
Instructions
Preheat the oven to 220c.
Wash the sweet potatoes under running water and scrub them to remove any dirt. I also like to cut the ends off.
Using a sharp knife make a cut into the potato and keep cutting until you are about 3/4 of the way down. The idea is to keep the bottom of the potato uncut so that the top fans out but the whole potato still stays intact. Continue to make cuts into the potato all the way along. It is up to you how thin or thick to make your slices.
Once both potatoes have been cut, place them into a baking dish. I would recommend a smaller dish where the potatoes sit quite snugly as this will ensure that they don't collapse as the potato cooks. Add slices of garlic into some of the slits, sprinkle the oregano on top and then drizzle on the olive oil. If you want to add some extra flavour add the rosemary sprigs on top of the sweet potatoes.
Bake the sweet potatoes in the oven for between 40 and 60 minutes, depending on their size. Remove the rosemary before serving.