Celeriac Fries – A delicious low carb, low calorie and low fat side dish or snack!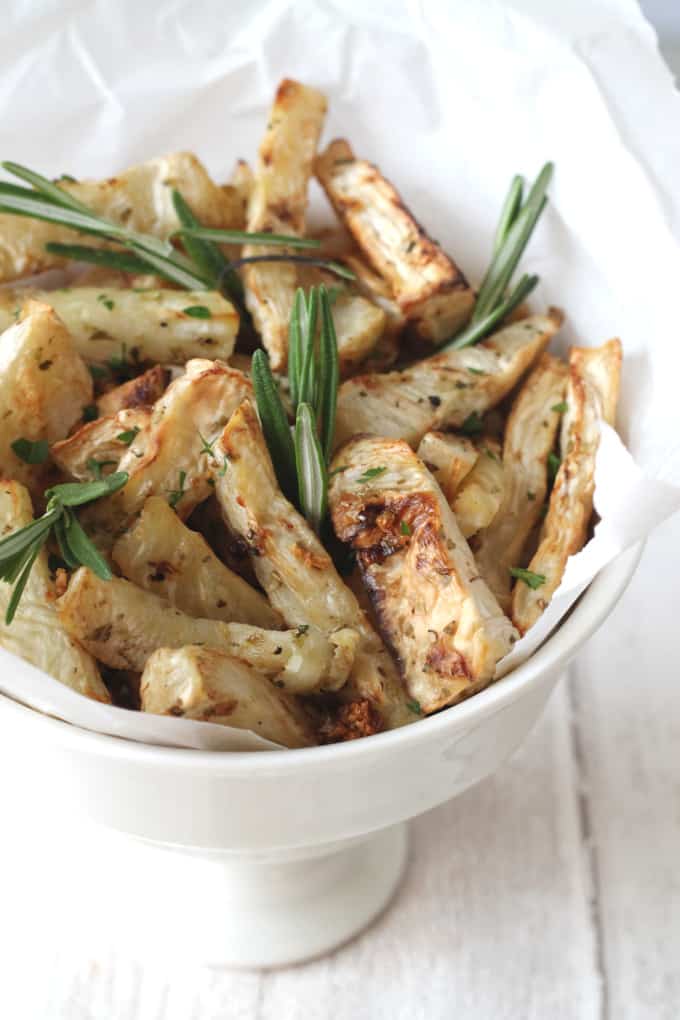 The poor celeriac. It's not going to win any veggie beauty awards is it. This clumpy, gnarly brute of a vegetable may look U-G-L-Y on the outside but don't let that scare you.
I first discovered celeriac when I went on a low-carb diet before my wedding about 18 months ago. The diet didn't last (I went straight back to mainlining bread, pasta, rice and cakes when I fell pregnant after our honeymoon!) but this recipe for Celeriac Fries has stayed with me.
I think a lot of people are put off celeriac simply because of its outer skin. It looks like it might be a nightmare to cut and prepare but believe me, once you chop off the rough outer skin the flesh inside is a lot softer than most root vegetables, making it super easy to cut into wedges or fries.
Another thing which put people off is the name…celeriac…it's going to taste like celery!
You may disagree but I really don't think it tastes like celery at all. I find it a more earthy, nutty taste.
It also takes on other flavours really well. I've roasted it with garlic and herbs in this recipe but I also like to make a slightly spicy version with chilli powder and chilli flakes.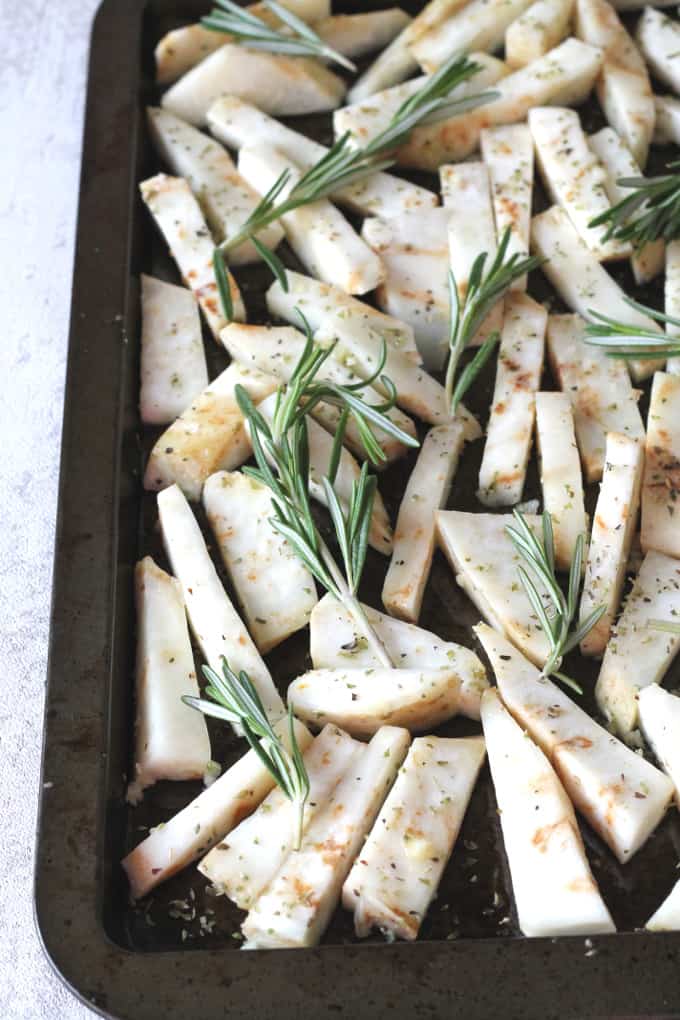 For me the key to getting some crisp on these fries is to boil them briefly first, then pop them on a tray with hot oil and straight into the oven.
I don't want to get your hopes up and say they are the crispiest fries you've ever taste.
Unfortunately the lack of starch means that they won't crisp up as much as potato fries, but the edges do get a nice crunch to them.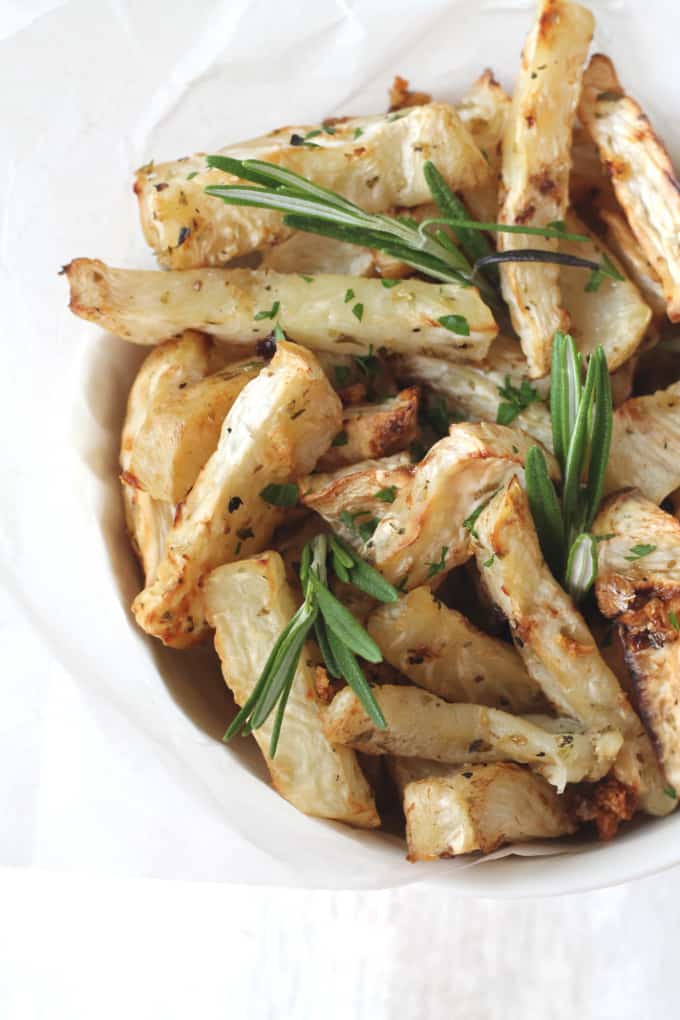 If you are nervous about swapping your family's normal fries for these, then you can do what I do and simply mix a few of these celeriac ones in with the potato fries. They may surprise you and not even notice!
Print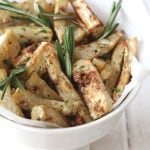 Garlic & Herb Celeriac Fries
---
Author:

Prep Time:

10 mins

Cook Time:

35 mins

Total Time:

45 minutes

Yield:

2

1

x
Category:

Side Dish

Cuisine:

European
Description
Celeriac Fries – A delicious low carb, low calorie and low fat side dish or snack
---
Ingredients
1

celeriac

2 tbsp

oil (olive oil or coconut oil works best)

2 tsp

oregano

1

clove garlic, crushed
salt and pepper

4

stalks of rosemary
---
Instructions
Preheat the oven to 200c.
Peel and cut the celeriac in wedges or fries. Fill a pan with cold water and add the celeriac. Bring to the boil, drain the fries and allow them to steam dry. Add the oregano, garlic, salt and pepper and mix well.
Heat the oil on a baking tray in the oven. When the oil is hot, remove from the oven and add the fries to the tray. Top with the rosemary stalks and return the tray to the oven for 35-40 minutes.