Our family meal plan for the week commencing 8th January 2018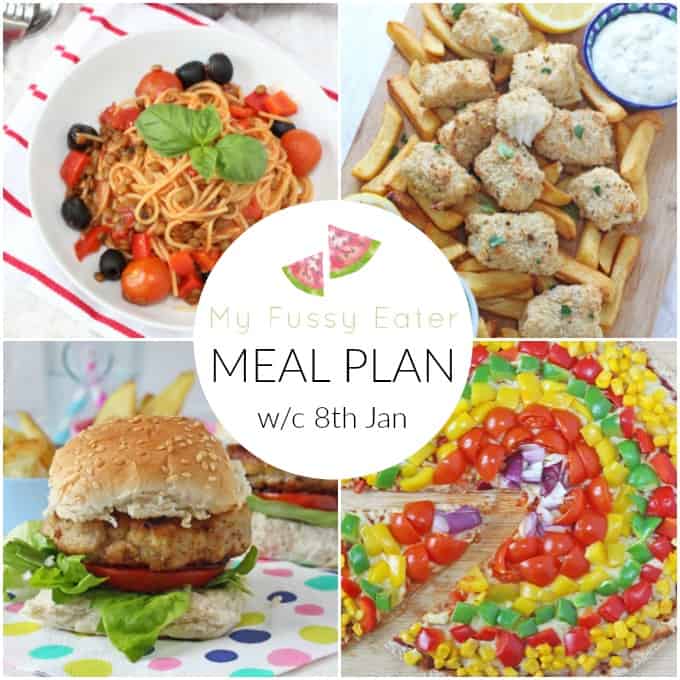 New year.. new meal plan! Last year I promised myself I would get more consistent with meal planning. It was going well for a couple of months but a few things got in the way, the biggest being my cookbook. Once I started writing the cookbook and testing over 80 brand new recipes, my ability to meal plan at the beginning of every week went completely out the window.
But rather than berate myself about last year's failure, I'm simply going to get back on the meal planning wagon this year. To help keep my accountable I've set up a Meal Planning Facebook Group where I'm going to be sharing my meal plans and keep you updated with how I'm doing during the week. I'm also hoping lots of other people will share their meal plans so we can all get some ideas and inspiration from each other. So pop over and join us!
MEAL PLAN W/C 8th JANUARY
Monday: Sausage & Butterbean Casserole – My kids love this. It's really easy to make and so comforting to serve at this time of year too! I'll probably serve it with some rice.
Tuesday: Irish Stew – I have to make this recipe for a magazine that I write for. If it works out well I'll share the recipe here!
Wednesday: One Pot Lentil Pasta – I love this recipe for busy days. Simply throw all the ingredients into one pan and it will cook away. The lentils are packed with protein and fibre and it makes a really budget-friendly veggie meal.
Thursday: Chicken & Apple Burgers – These burgers use chicken thighs rather than chicken breast making them much cheaper to make and more delicious in my opinion! I will serve them in burger buns with chopped veggies on the side.
Friday: Homemade Fish Fingers – Fish is something I really struggle to get my kids to eat, unless it's in fish finger form of course! I will serve these with homemade potato wedges.
Saturday: Tortilla Pizzas – This cheat's pizza recipe is made with tortilla wraps instead of the usual pizza base. So easy to make and everyone can choose their own toppings.
Sunday: Freezer Pie – I am out all day Sunday but I have a ready-made pie in the freezer that I'm going to defrost and just whack in the oven when I get home.
See you next week!
Ciara