Family Meal Plan w/c 29th January 2018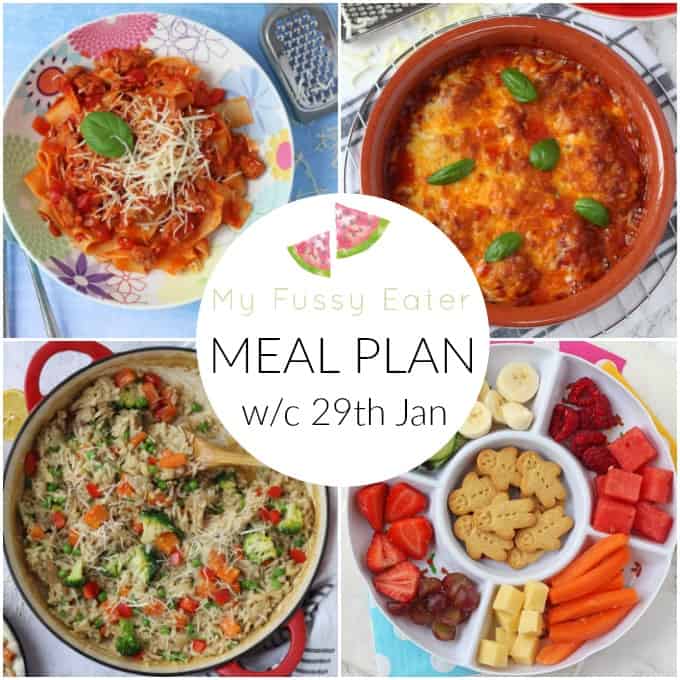 Hello! It's me again back with my weekly meal plan for my family!
Last week went well. There was only one day when I didn't stick to the plan as an unexpected meeting came up in London which meant I didn't have time to get the slow cooker on. Not too bad overall though!
This week has a new family favourite in it – Sausage Meat Ragu – definitely worth trying! If you'd like some meal planning inspiration don't forget to come join my Meal Planning Group on Facebook.
MEAL PLAN W/C 29TH JANUARY
Monday: Leftover Roast Chicken Risotto – a simple chicken and vegetable risotto made from last night's leftover roast dinner! Recipe coming later this week!
Tuesday: Easy Sausage Ragu – this simple 20 minute recipe is our new favourite. So delicious, so easy and so comforting!
Wednesday: Veggie Pastry Tart – I want to try out a new recipe on the kids this week. If it works out well I'll get it on the blog next week!
Thursday: Smoky Meatball Bake – I haven't made this in months but I bought some turkey meatballs so I'm going to use those instead of beef meatballs in the recipe. With some crusty bread for dipping!
Friday: One Pot Salmon Linguine – this is a recipe from my cookbook which isn't out till April, sorry! But its basically a one pot pasta recipe with salmon and some veggies thrown in.
Saturday: Daddy Dinner! – I am out in the afternoon/evening so I'll leave dinner to Daddy. He likes to make those Taco Kits with the kids so it will probably be that!
Sunday: Picky Dinner – Finn has his 4th birthday party on Sunday with a late lunch. I know the kids will be tired so I'll just do a picky dinner for them with fruits, veggies, cheese, ham and maybe some crackers or low sugar cookies.
Have a great week!
Ciara x