Healthy Eating Week and the importance of family mealtimes with Uncle Bens and Dolmio (sponsored post)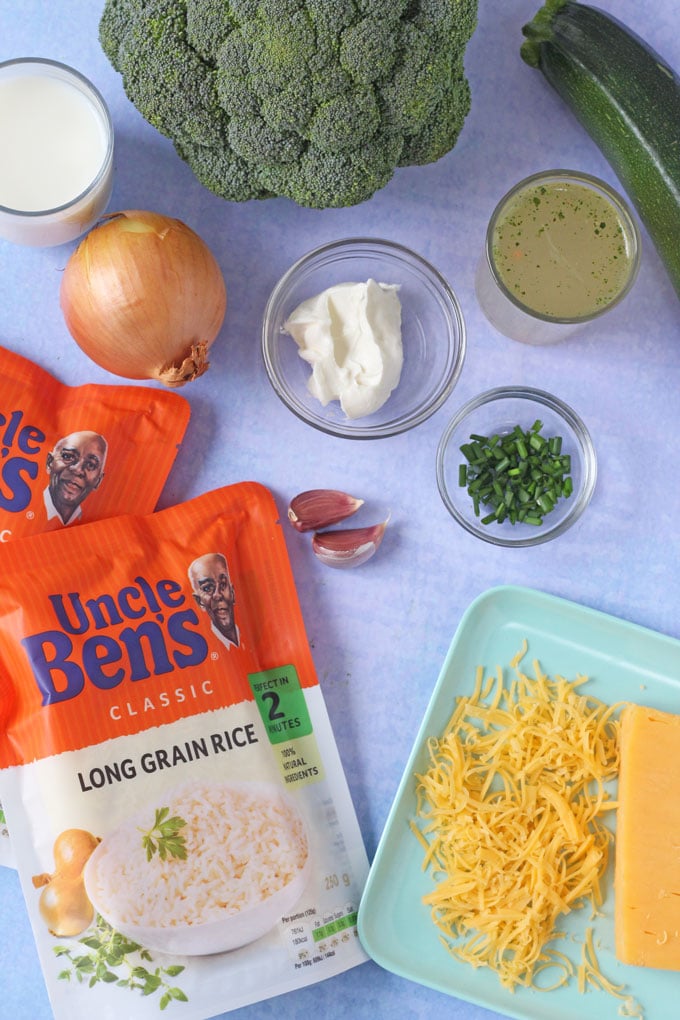 This week just gone was Healthy Eating Week here in the UK and I partnered up with Uncle Bens and Dolmio to talk about the important role that dinnertime plays in fostering a happy and healthy relationship with food for the whole family.
Modern life is very hectic and it is so easy for several days to pass by without everyone sitting down to eat together. With different work and school schedules this can be impossible some days, but it is important to grab some time every week when everyone can enjoy a meal together as a family. It has so many benefits for everyone.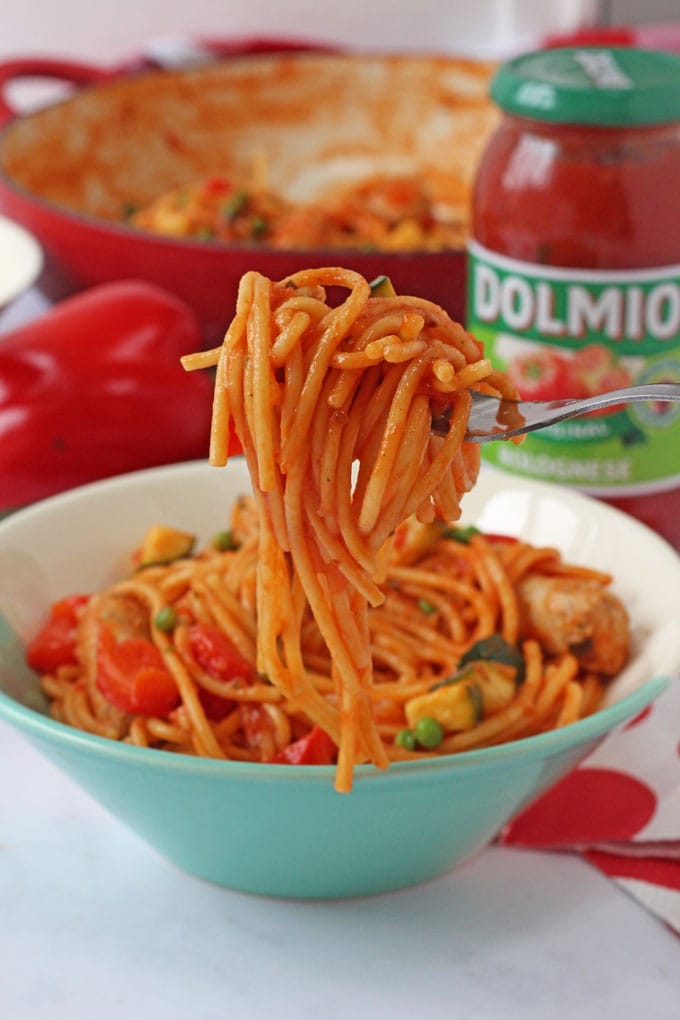 Benefits of cooking & eating together:
1. Nutrition – cooking together as a family helps kids to understand the importance of a nutritional and balanced diet and can encourage them to explore healthier meal options. If a child is involved in the process of making a meal, then they are much more likely to show an interest in eating it.
2. Family bonding – dinnertime is the ideal time for busy families to come together and communicate over good food, even if it is only for 10 or 15 minutes in a day.
3. Health & Wellbeing – preparing meals together and sitting down to share and enjoy food can have a very positive affect on parent-child relationships.
4. Adolescent Wellbeing – finding the right time and route in to talk to teenagers can be very difficult for parents. The time spent preparing and cooking family meals provides a non-confrontational space in which to facilitate important conversations.
This week I've worked with Uncle Bens and Dolmio to create two quick and easy family meals that can be whipped up in 20 minutes or less and are perfect for getting everyone pitching in, helping out and enjoying good healthy food together.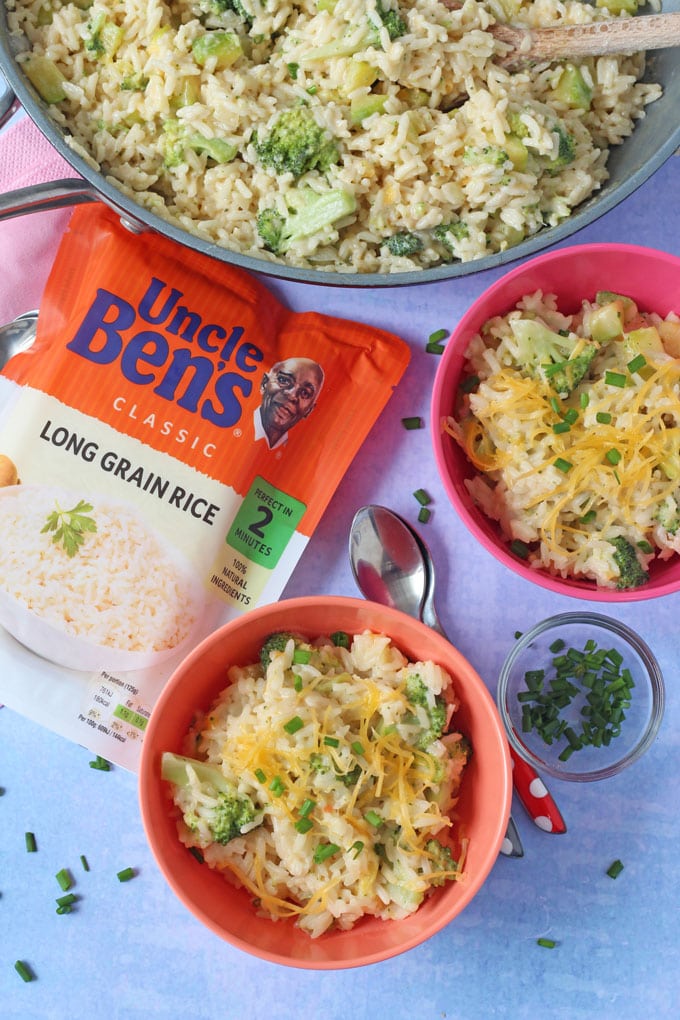 The first recipe I created was a One Pan Cheesy Broccoli Rice. Made using Uncle Bens Express Long Grain Rice, this recipe is ready in just 10 mins and it all cooks together in one pan, meaning less washing up afterwards! It's delicious, comforting, super speedy and my kids love it. Plus it contains two portions of veggies!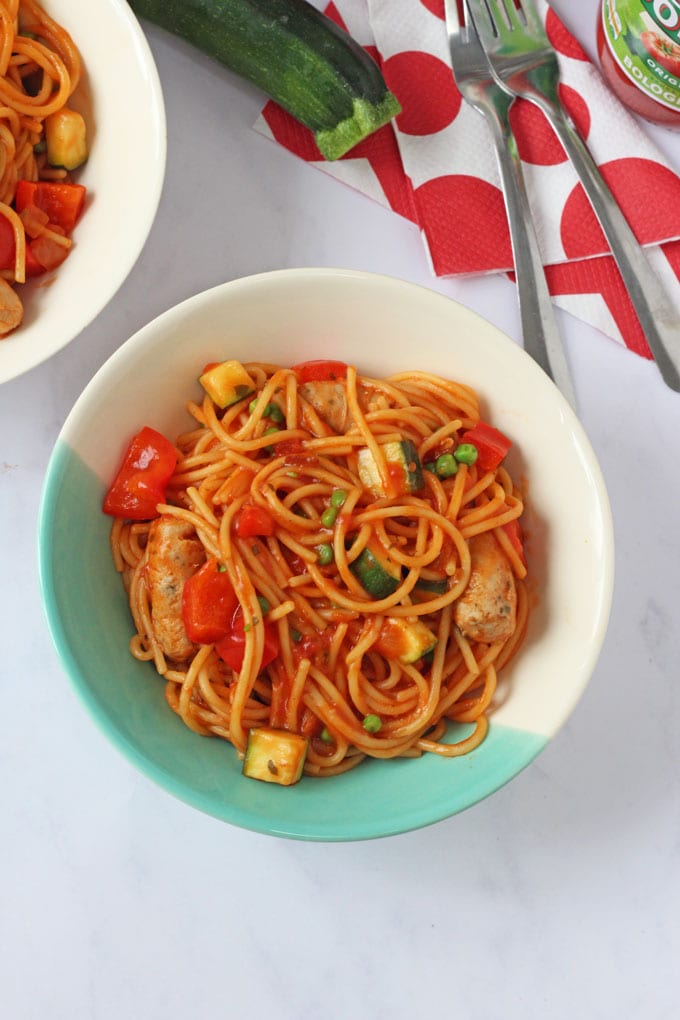 The second recipe was my One Pot Sausage & Veggie Spaghetti. Made with Dolmio Original Bolognese Sauce, it's packed with vegetables and makes a tasty and nutritious mid week meal that the whole family will love. And again there is minimal washing up!
To assist in my understanding of family mealtimes can contribute to the overall wellbeing of the whole family, I spoke to UK Mars Food Expert Lucy Jones:
1. What are the main benefits of eating together as a family.
Eating together as a family has benefits far above those associated with a balanced meal. It provides protected time as a family to talk about events, worries or feelings; allowing families to support one another and strengthen the bonds between them. It is one of the last havens from the interruptions of devices from TV to computers to phones, meaning you have each other's undivided attention.
Children learn from watching and doing so from their parents and siblings, they can learn an appreciation for different varied foods and meals, how to cook and prepare a meal and how to respect time together. One of the mainstays of overcoming faddy eating habits is modelling good eating behaviours and repeated exposure to new foods; two techniques easily accomplished when eating together as a family.
2. If it's not possible for a family to sit down and eat dinner together every evening, what's the next best thing, or how else can they get the benefits.
Busy lives and working to different schedules can make eating together as a family challenging on a day to day basis. Try to set days in the week where you can all eat together such as the weekend and then during the week, make sure you still sit with your child whilst they eat, without distractions, giving them the time to talk.
Getting your children involved in meal planning for the week, shopping, prepping, growing, cooking and the dinnertime chores like setting the table and clearing the dishes can reap similar benefits if done together, as a team as helps them to understand the importance of a balanced meal and the effort that goes in to prioritise it. Even if you can't eat together every day, making sure there are still times in the week you do can make a big difference.
3. What are your tips for making healthy mealtimes less stressful and more fun for families.
Have expectations that are realistic for the time you have. Its no good trying to cook a roast if you have half an hour before you need to get them in the bath and prepped for bed. There is nothing more stressful than trying to rush through the evening routine. Therefore, prep ahead where you can, making the most of batch cooking at weekends; stuff like bolognese that you can pair with some quick rice or pasta or bringing in the genius of a slow cooker that can be popped on in the morning before you all set off.
If short on time, go for quick options like omelette and salad or a stir fry with microwave rice. Try to keep it fun and add in an element of gamefication like splitting the table into 2 halves and see who can set their half the best (not quickest if you want any unbroken plates left). Make sure everyone gets involved and plays a role – this keeps it more enjoyable and increases the time you spend together too.
Children often love helping in the kitchen, whether breaking eggs, stirring ingredients or helping to dish up so try to involve them as much as you can. Most of all, keep the conversation positive and no arguing. Mealtimes are a time for peace and enjoyment, save the more challenging chats for later.
Disclosure: I have worked with UK Mars on this campaign for Healthy Eating Week but as always all thoughts are honest and are my own.
Print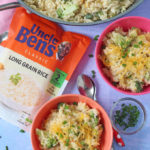 One Pan Broccoli & Cheese Rice
---
Author:

Prep Time:

2 mins

Cook Time:

10 mins

Total Time:

12 minutes

Yield:

4

1

x
Category:

Dinner

Cuisine:

European
Description
A quick and easy one pan family meal ready in just 10 minutes
---
Ingredients
 1 onion

1

garlic clove

150g

broccoli

1

courgette

150

ml veg stock (low or no sodium)

150

ml milk

2

pouches Uncle Bens Express Long Grain Rice

100g

creme fraiche
a small amount of grated cheese (can use low fat)
---
Instructions
1. Add the oil and onion to a large pan and fry for 2 minutes until soft.
2. Add the garlic, broccoli and courgette and cook for another minute.
3. Pour in the stock and milk, pop on a lid and leave to cook for 4 minutes or until the veggies are soft.
4. Mix in the Uncle Bens Express Long Grain Rice pouches and cook for a couple of minutes until the rice has warmed through.
5. Finally stir in the creme fraiche and grated cheese and serve immediately.
Print
One Pot Sausage & Veg Spaghetti
---
Author:

Prep Time:

2 mins

Cook Time:

20 mins

Total Time:

22 minutes

Yield:

4

1

x
Category:

Dinner

Cuisine:

European
Description
A delicious spaghetti dinner all cooked together in one pot!
---
Ingredients
 1 teaspoon Oil

300g

Chicken Sausages

1

Red Pepper

1

Courgette

350g

Spaghetti

600

ml Veg Stock (low or no sodium)

1

jar Dolmio Bolognese Sauce

100g

Peas
---
Instructions
1. Add the oil and chopped sausages to a large pan and fry for 6-7 minutes until browned.
2. Add the red pepper, courgette, spaghetti, stock and Dolmio and stir until everything is well combined.
3. Bring to the boil then reduce to a simmer for 12-15 minutes or until the spaghetti is cooked and the stock has been absorbed.
4. Add in the peas, stir well and cook for another 2 minutes.
5. Serve immediately. Serves 4.