A delicious breakfast parfait made with  honey caramelized bananas, greek yogurt,  granola and cinnamon!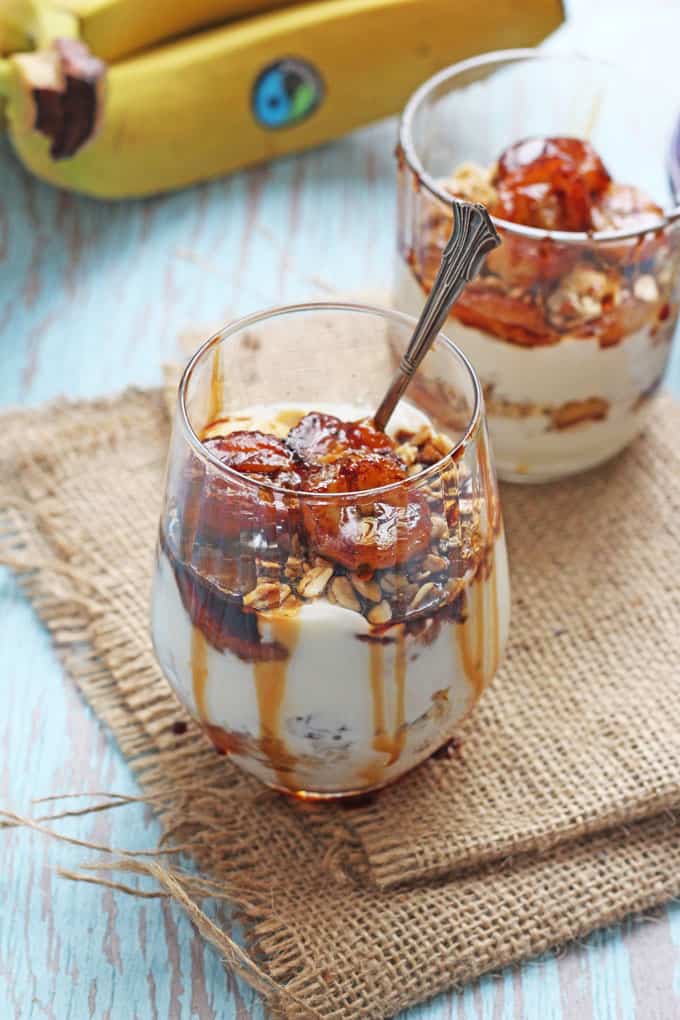 This is going to sound a bit bizarre but I think I actually dreamed up this recipe while I was sleeping last Friday night! Because on Saturday morning I woke up with an inexplicable craving to make caramelized bananas. I literally cannot remember the last time I have eaten, or even seen a recipe for caramelized bananas so I figured I must have dreamt about them! 
8am wasn't the best time to whip up a caramelized banana dessert so instead I dug out my trusty greek yogurt and granola and decided to put them all together to make a delicious breakfast parfait. And boy was it good!
I am all about the greek yogurt and granola combo at this time of year and have been scoffing it with fresh fruit most days since summer finally decided to make an appearance in the UK. But I have to admit I was getting a little bored of the same old flavours until I had that flash of inspiration to add caramelized bananas.
Bananas are a delicious fruit anyway but by frying them in coconut oil and honey they become incredibly soft and sweet and literally melt in your mouth. This contrasts so well with the sharpness of the greek yogurt and the crunch of the granola.
As for the rest of the family, it went down really well with my husband, and the baby even scoffed down two portions! My fussy eater wasn't so keen but two out of three aint' so bad!