My review of Caesarstone quartz worktops
(sponsored post)
If you follow me on Instagram you may remember that we did a big refurb on our kitchen last year. The original kitchen, although on paper looked like a lot of space, in reality it was badly laid out and included a utility room to one side. This in effect cut off a lot of the space and left us with an L-shaped kitchen that felt very cramped and lacking in storage and cupboard space.
We decided to knock the wall down between the kitchen and the utility room to open up the room and give us a bigger and more family-friendly kitchen.
We worked with a local building firm to carry out the structural work to remove the wall and secure the room with an additional RSJ. We then worked with a local kitchen fitter to plan the new kitchen layout.
Two issues which I wanted to resolve with the new kitchen were lack of storage and worktop space, and the worktops themselves.
Previously we had wooden worktops but we are a busy family with two young children and the maintenance and upkeep required was too much. The wood wasn't robust enough to deal with our hectic kitchen. Being a food writer I spend several hours a day cooking. I would often place hot pans down onto the wooden worktops which would of course leave dark heat marks. The wood around the sink also started to warp and stain through water damage.
So we it came to refurbishing our kitchen I knew I wanted a more durable family and work-friendly surface. We were really lucky to team up with Caesarstone who offered us some of their gorgeous quartz for our kitchen. Quartz is strong and durable and could provide the kind of robust family worktops that we needed.
The second issue we wanted to resolve was actual worktop space. It's not unusual for me to be cooking several recipes at once and I never felt like I had enough space to do this in my old kitchen. But with the wall between the kitchen and utility removed we now had space for an island.
The island has now become the focal point of the whole kitchen. The kids sit there to eat food, do their homework and to chat to me whilst I'm cooking and chose to use the same Caesarstone quartz for the top of the island.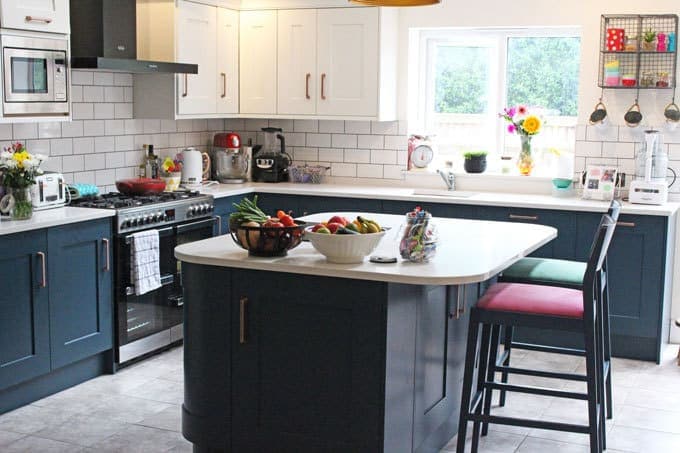 Caesarstone were fantastic in helping guide us through the whole worktop selection process, from the colour and design to the thickness of the quartz. In the end we settled on Frosty Carrina. The quartz is sold in slabs so you need to hire a fabricator who can cut the stone to the layout you need.
Although this is an extra step in the process it was relatively painless. Our kitchen fitter was able to recommend a local fabricator who came and "templated" the kitchen; i.e. measured out in detail the exact sizes of quartz to be cut for each part of the kitchen. They then took delivery of the quartz from Caesarstone, cut it on their site and brought it to our house for installation. The installation process was very straightforward and took no more than a couple of hours for the whole kitchen.
The Caesarstone worktops have been an amazing addition to our new kitchen. They are bright and shiny and we get so many compliments about them. They are also very hardwearing and so far have proved to be completely stain resistant. Red wine, the kids' crayons and markers, tomato sauce,it all comes off easily with a little kitchen spray or even just a baby wipe.
They are also brilliant for keen bakers. Pastry chefs and top bakers have long used marble and quartz worktops as they help to keep dough cool, making it easier to work with.
We are more than happy with our Caesarstone worktops and would gladly recommend them to anyone thinking of installing them in their home.
Disclosure: I was provided the quartz free of charge by Caesarstone but my review of the worktops is honest and all thoughts and opinions are my own.
Suppliers used:
Builders – Countrystile Builders
Kitchen Fitters – Nutshell Interiors
Quartz Fabricator – Stonewright UK
Quartz – Caesarstone in Frosty Carrina
Floor Tiles – British Ceramic Tile in Grey Matt Floor Tile
Island Stools – Cheeky Chairs