Pizza for breakfast that's delicious AND healthy! Try this Wholemeal Pizza recipe topped with pesto, mozzarella and quail eggs.
Pizza for breakfast?
Yes please!
We always think of pizza as being really unhealthy and maybe a treat meal that we give to the kids at the weekend.
So I thought it was time to shake off that bad rap that pizza gets and bring it back to the table… but this time for breakfast!
For the base of this recipe I am using my Honey Wholemeal Pizza Dough recipe.
It does require a bit of time to let the dough prove but other than that it's so simple to make.
I usually make a big batch of it every couple of weeks and keep some in the freezer, ready to have on hand for busy days.
If you take it out of the freezer the night before the dough will have defrosted in time to make these Breakfast Pizzas in the morning. Perfect!
Alternatively you can use ready-made pizza bases, flatbreads, pitta breads or even wraps to make your own super quick pizza.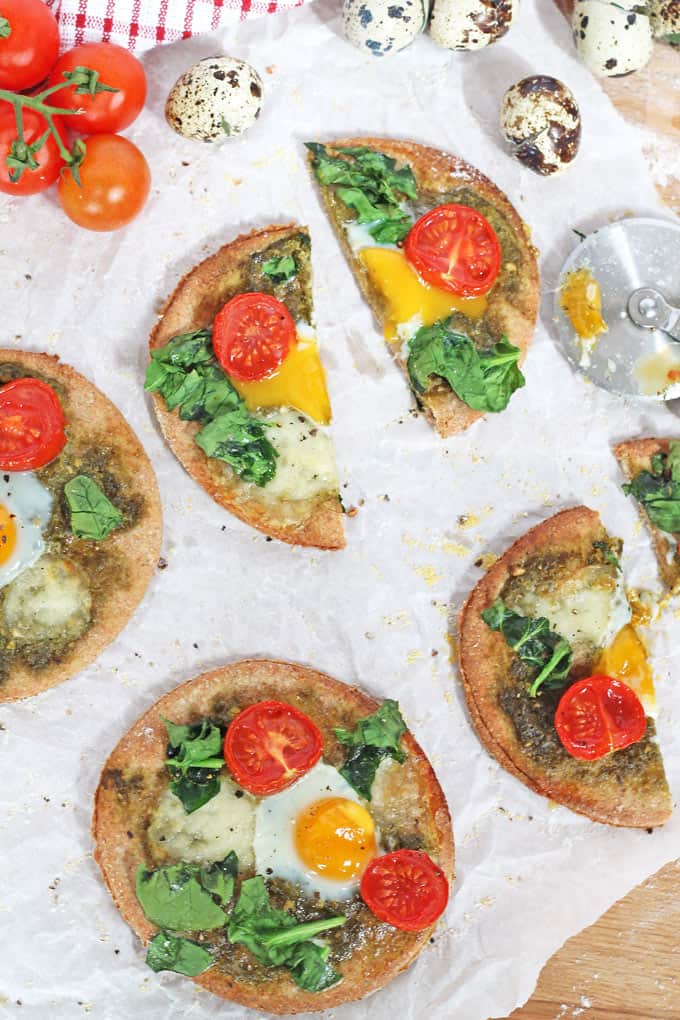 Pretty much any toppings would work well on this pizza. I used green pesto, tomato, spinach and mozzarella.
And because it's a breakfast pizza I had to include an egg! I made my dough into small individual pizzas so the quails egg fitted perfectly.
If you are using a normal chicken egg then you could use a slightly bigger base.
Top Tip!
Just a quick tip for quails egg!
Don't try to crack the shell by breaking them against the side of the bowl or pan like you normally would.
The shells are quite hard and you will probably end up using so much force that you break through the yolk too.
Instead gently tap on the egg shell with a knife and it should crackly open easily!}
The Cheese!
I really like using just a small amount of mozzarella on these pizzas. It feels so much lighter to eat than the mounds of cheddar that you might be used to on a normal pizza and of course it keeps it a lot healthier too.
If you are not a fan of pesto then some tomato sauce or tomato purée would work really well too.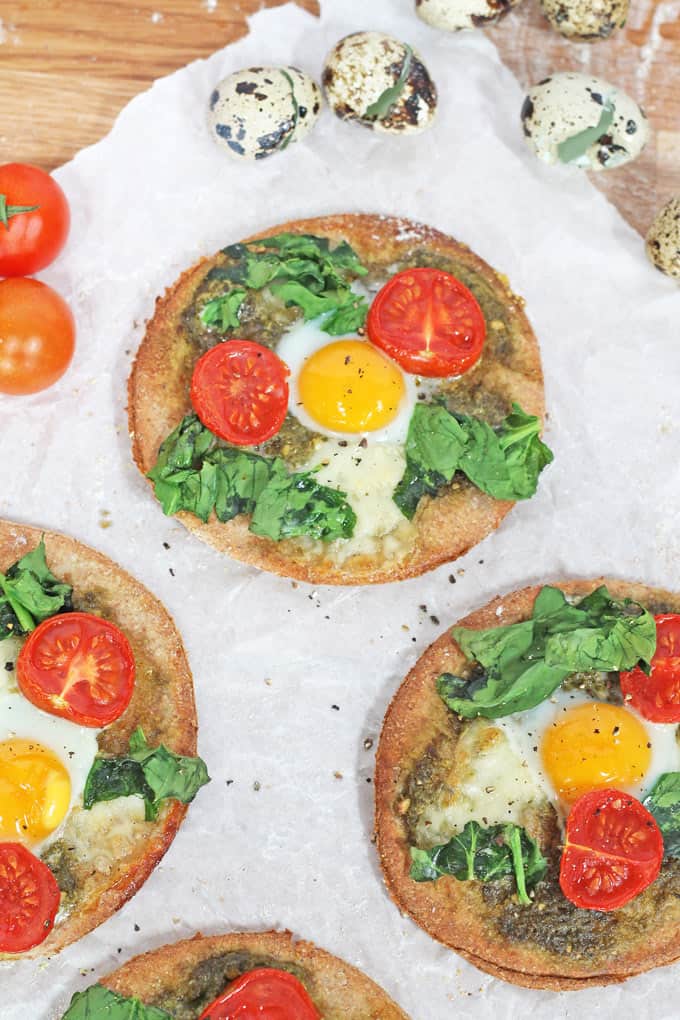 Can you see your family getting excited about the prospect of pizza for breakfast? Mine certainly were!
Print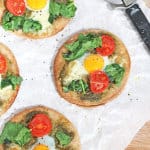 Breakfast Pizza with Quail Eggs, Tomato & Spinach
---
Author:

Prep Time:

5 mins

Cook Time:

12 mins

Total Time:

17 minutes

Yield:

4

Category:

Breakfast

Cuisine:

Italian
Description
Pizza for breakfast that's delicious AND healthy! Try this Wholemeal Pizza recipe topped with pesto, mozzarella and quail eggs.
---
Ingredients
For the base:
wholemeal pizza dough (I used half from this recipe) or another pizza / pitta bread or flatbread bread
flour or cornmeal to dust the baking tray
For the toppings:
pesto or tomato puree
tomatoes
mozzarella
spinach
quail eggs
---
Instructions
Preheat the oven to 200c / 390f.
Roll out the pizza dough to your desired thickness. I rolled mine out to 2mm as I like it thin and crispy. Use a dough or pastry cutter to cut the dough into individual pizzas. Or alternatively you can roll the dough into one large or dough medium sized pizzas.
Dust a baking tray with some flour or cornmeal (the cornmeal will help the make the crusty super crispy!) and place the pizzas on the tray.
Spread on a little pesto or tomato puree and add the mozzarella and tomatoes. Bake in the oven for 8 minutes before adding the spinach and quail eggs. Return to the oven for another 4-5 minutes. Larger pizzas will take a little longer to cook so please factor this in.
Season with black pepper and serve immediately.