50 Delicious and Healthy Breakfast Recipes for Kids!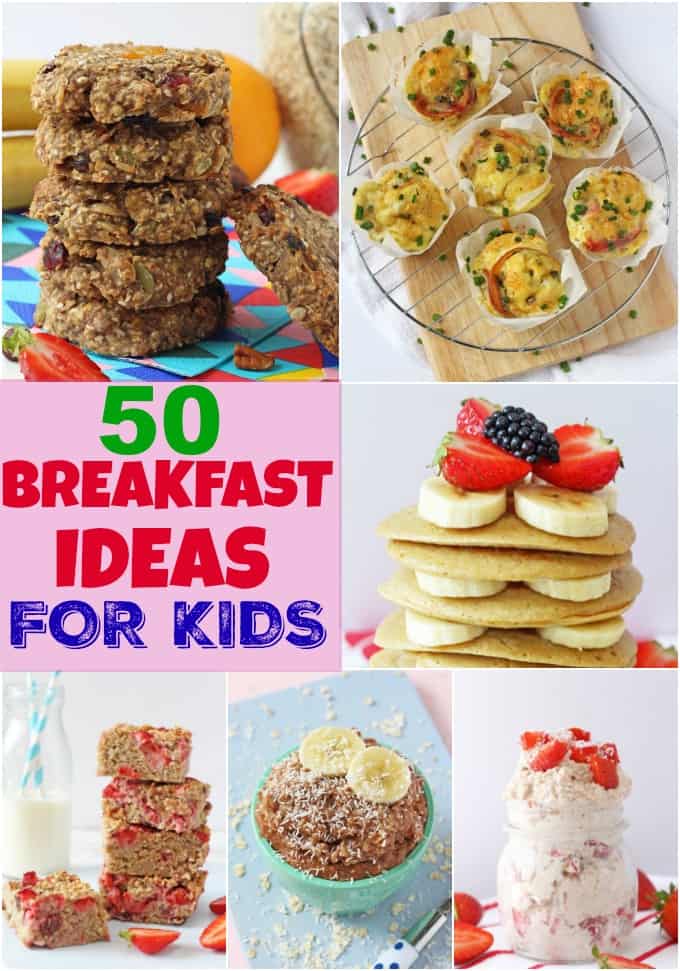 If like me, you struggle to perform even the simplest of tasks before a gallon of coffee has been consumed, breakfast time with kids can be stressful!
It's often the one meal of the day that has to be prepared in double quick time in order to make sure everyone is out the door for pre-school/nursery/school and/or work and so it's easy for us to fall back on the same old trusty breakfast staples.
But variety is really important when it comes to children and food and so in an effort to expand our range of breakfasts I've put together my Top 50 Breakfast Recipes that are delicious, filling and healthy too.
Many of these can also be made in advance or frozen too, perfect if you don't have a lot of time to prepare food in the mornings.
A simple but super easy bircher muesli breakfast for kids packed with oats, seeds, yogurt and fruit. Spend just 3 minutes prepping this tonight and tomorrow you'll wake up to this delicious breakfast perfect for Spring and Summer!
A super healthy recipe that's also gluten free since it uses no flour, and it can also be dairy free if you substitute the butter with coconut oil!
Strawberry Quinoa Breakfast Bars
A delicious and filling breakfast bar recipe, packed full of healthy ingredients such as quinoa, oats, bananas and strawberries. These bars make the perfect nutritious start to the day for the whole family and are a great grab and go breakfast!
Healthy Egg & Veggie Breakfast Casserole
This casserole is teeming with great nutrition for kid's growing bodies.
Healthy Berry Breakfast Muffins
Delicious and filling Berry Breakfast Muffins packed full of healthy ingredients including oats, yogurt, coconut oil, banana and apple sauce.
Sweetened with bananas and a little honey, these Breakfast Cookies are packed with slow releasing carbs and fibre too. Perfect for feeding your family on busy mornings!
A quick and easy granola recipe – made in the microwave in just 5 minutes!
Coconut & Almond Breakfast Bars
Delicious gluten and dairy free Coconut & Almond Breakfast Bars. The perfect recipe to batch make at the weekend for a grab-and-go breakfast during the week!
Delicious Genius gluten free breakfast bagels with peanut butter or cream cheese and topped with fresh summer fruit.
Blueberry & Lemon Weetabix Muffins
Delicious breakfast muffins made with Weetabix and wholemeal flour, flavoured with blueberries and lemon. Perfect for an instant breakfast for kids and adults too!
Healthy Chocolate Breakfast Cookies
Chocolate cookies for breakfast? Yes please! These cookies are packed full of slow releasing carbs, fibre and nutrients, helping to keep you and your family full until lunchtime!
Lemon Meringue Pie Overnight Oats
The meringue on this is made using greek yogurt, vanilla, and a touch of honey. It goes in a cute little swirl on top and really makes the breakfast just that much more special…
Galaxy Breakfast Bars are perfect for busy mornings and we paired ours with some fresh fruit to round out the meal.
Peanut Butter Toast & Fruit Breakfast Kebabs
Make breakfast time a little more fun with these Breakfast Kebabs made with peanut butter on wholemeal toast and fresh fruit.
Healthy Breakfast – Pumpkin, Date & Almond Loaf
This pumpkin, date and almond loaf has all the essential ingredients for a healthy breakfast!
Strawberry Shortcake Overnight Oats
So easy to make and super healthy, these Strawberry Shortcake Overnight Oats honestly taste like strawberry ice cream and are sure to be a hit with the kids!
Delicious Chocolate & Raspberry Pancakes packed with healthy ingredients like oats, eggs and bananas and sweetened with just a little honey.
Carrot, Apple & Oat Breakfast Cookies
Vegetable Cookies?! A delicious breakfast cookie recipe, packed full of healthy oats, carrots, apples and banana. Great for picky eaters!
Vibrant, fresh, and healthy, these on-the-go Frozen Breakfast Bars are the busy mom's perfect meal for the road for her and her family.
Chocolate Coconut Porridge For Kids
A delicious creamy Chocolate & Coconut Porridge or Oatmeal. Perfect for breakfast for kids this winter!
They are perfect for popping in the fridge for self service breakfast…imagine if the kids could grab breakfast from the fridge on the weekend and eat it without waking you up? SOLD!
These are a fantastic way of getting your kids involved in and excited about their food. They will have so much fun choosing their toppings and decorating their bowls that they won't even realise they are eating something super healthy for breakfast!
Tropical Banana & Pineapple Oat Bars
With no added refined sugar, these aren't going to give a sugar high before school, but will help sustain kids until first break due to the oats. Egg and dairy free, these bars are the perfect combination of crunch and fruit to get kids through the morning.
This recipes uses plain greek yoghurt sweetened with a little vanilla extract but you could use any flavour of yoghurt that your kids (or you!) enjoy.
Bacon, Mushroom & Spinach Breakfast Egg Cups
These delicious bacon, mushroom and spinach breakfast egg cups will fill the void, can be frozen and are super easy to make.
Chocolate Peanut Butter Banana Smoothie
A delicious and healthy kid-friendly Chocolate, Peanut Butter & Banana Smoothie packed with hidden spinach and flaxseed for extra nutrition!
Make your littles a fox, hedgehog, and/or owl any day of the week! Turn your gluten free bread into magical breakfast Woodland Animal Toast with these fall-inspired cuties.
Healthy Red Velvet Beetroot Pancakes
A delicious, healthy and gluten free recipe for Red Velvet Pancakes. Made with no artificial colourings, just beetroot!
These veggie filled breakfast pizzas are sure to make breakfast time fun!
These freezable oat breakfast bars are packed with brain boosting blueberries and are super easy to make!
These breakfast toast faces are a great way to introduce new vegetables to your little ones like radishes or bell peppers or even black olives!
Granola Crust Breakfast Tarts With Yoghurt & Berries
Liven up breakfast time with this recipe for Granola Crust Tart with Yogurt & Berries. Delicious AND healthy!
The yogurt in these delicious fluffy Strawberry Yogurt Pancakes give them a real protein boost and they sweetened only with honey. Perfect for a snack or breakfast for the whole family.
Spiced Pear & Oat Breakfast Muffins
Warming and fruity these spiced pear breakfast muffins are gluten free, dairy free and refined sugar free.
Healthy Frozen Yoghurt Breakfast Pops
These simple but delicious treats are healthy enough for breakfast but fun enough for dessert – I call that a win win where the kids are concerned!
Delicious and nutritious Cottage Cheese Pancakes packed full of protein, slow releasing carbs and with no refined sugar. The perfect healthy breakfast or snack the whole family will love!
Apple Pie Oats
Full of fibre, antioxidants, minerals and vitamins, these oats are a great filling breakfast.
Superfood Breakfast Muffins with Rowse Manuka Honey
Healthy breakfast muffins packed with superfood ingredients such as manuka honey, chia seeds and flaxseed.
Fruit & Veggie Sheet Pan Pancakes
Love pancakes but hate standing over the griddle while the family eats? We have a solution: sheet pan pancakes! Plus, these include fruits AND veggies (and they're whole wheat)! An easy, wholesome family breakfast that also tastes great.
Caramelized Banana Breakfast Parfait
A delicious breakfast parfait made with honey caramelized bananas, greek yogurt, granola and cinnamon!
A delicious and healthy Breakfast Bar packed with oats, fruit, nuts and yogurt. A really nutritious and filling start to the day for kids and adults too!
Oat & Banana Breakfast Cookies
These Oat & Banana Cookies are about as healthy and tasty as they come. The ripe bananas naturally sweeten the oats and you can add whatever extras or flavourings you like.
A perfect Sunday breakfast!
Peanut Butter & Banana Breakfast Waffles
These no-cook waffles are perfect for a naughty weekend brunch or a special birthday breakfast.
Cauliflower Cheese Egg Muffins
These cauliflower cheese egg muffins are perfect for giving kids a veggie loaded breakfast, snack or light meal.
Bacon, Cheese & Chive Egg Muffins
The whole family will love these delicious Egg Muffins packed with streaky bacon, cheddar cheese and chives!
Spinach, pear, dates, ginger and water make up this vibrant smoothie. You can serve it in a glass or make more of a meal out of it.
Orange, Coconut & Vanilla Overnight Oats
Delicious and healthy, this easy Overnight Oats recipe with orange, coconut and vanilla is sure to put a spring in your step in the morning!
Apple and Cinnamon Super Breakfast Muffins
The perfect little breakfast for those busy mornings when you want your little one to be eating porridge but don't have the time to let them mush it all over their faces.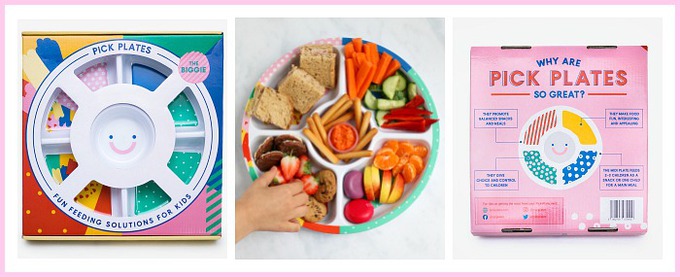 If you liked this you may also enjoy: